Félix "xQc" Lengyel is at the centre of another streaming controversy, as the Canadian Twitch streamer has been banned from the popular NoPixel 3-0 GTA RP (role-playing) server.
On 22nd February, xQc discovered while streaming that, to his surprise, he could no longer access the server. 
One of the big reasons for the temporary suspension stems from xQc's acts of defiance, constantly breaking the rules of the servers with prohibited activities such as going for VDM (Vehicle Death Match) kills, which means running over other players with a car for no reason without continuing the RP.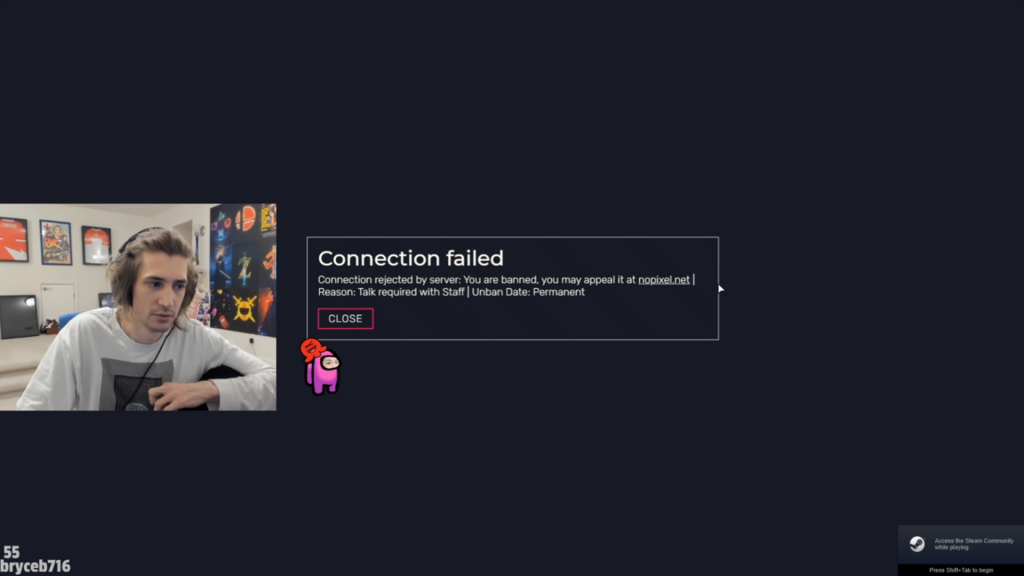 (Image: xQc)
Lengyel admitted to this behaviour, claiming that he "wouldn't do more VDM," and that he "genuinely didn't know" it was bad or that "you couldn't do it in the way I did it."
Despite xQc not being allowed into the server, Twitch streamer Whippy, who is also part of NoPixel's GTA server, claims the Canadian isn't banned, he just needs to read a message sent by the server admins to be allowed back in.
"X was reached out by an admin a couple of days ago, and he missed his message, so, he's banned until he reads it. That's it."
Whippy reassured fans that the admins "understand that not everyone's gonna be a role-play god and they are very very happy on wanting people to learn before getting them banned."
Fellow streamer Chance "Sodapoppin" Morris attributes xQc's behaviour to a constant need to "create content".
"I watched his stream for a second, this guy is the most b-line to content I've ever seen in my life. B-line, b-line, b-line, content, content, content. Downtime bad."
We'll keep you updated about xQc's future, or lack thereof, in regards to the NoPixel server.