Another Twitch streamer has left their grassroots to sign exclusively with YouTube Gaming, this time being Benjamin "DrLupo" Lupo. 
DrLupo has been one of the biggest streamers on the Amazon-owned platform since Fortnite exploded onto the scene in 2017. His rise, like many other streamers, directly coincided with the skyrocketing popularity of Fortnite. Lupo also benefited from Tyler "Ninja" Blevins' newfound stardom, as the duo often played the game together. 
However, DrLupo, like many other streamers in the past, is leaving Twitch to sign exclusively with YouTube Gaming. The deal likely involves a large sum of money over a set number of years for DrLupo to do all of his streaming on Google's video platform. It's the end of an era for Twitch but the start of a new beginning for DrLupo.
DrLupo heads to YouTube Gaming in new deal 
The deal was announced through DrLupo's Twitter with a short video explaining the streamer's backstory on Twitch. He started out with Destiny content prior to Fortnite being released but then switched exclusively to the popular battle royale as many other streamers did. 
August 30, 2021
Since Fortnite has declined on Twitch the past year or so, DrLupo has switched games once again, mainly streaming Escape From Tarkov these days. While his audience has declined since the transition, it's widely known that DrLupo is much more than a large streamer. 
He's best known for his many charity streams over the years. He's donated millions of dollars to St. Jude's Children's Hospital and other charities, even receiving donations from Twitch during these streams.
Obviously, the platform is sad to lose the popular figure to a rival site but they waived him goodbye with a heartfelt message on Twitter: 
"As a creator, a gamer and a father, you're many things to many people. Above all, DrLupo, you're someone who works hard to put good into the world. We wish you nothing but the best in everything that comes next."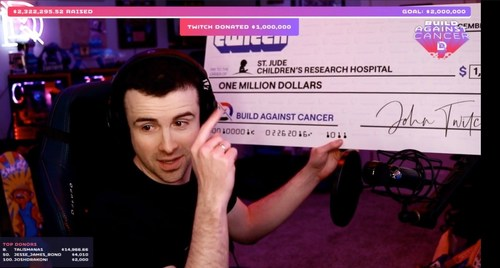 As for what this means moving forward, fans can find DrLupo on his already-established YouTube channel, which boasts nearly 2 million subscribers. He'll be starting streams on the channel on 31st August. Fans can expect the same kind of content and streams from DrLupo, just on a different platform now.
Don't forget to check out our dedicated Twitch section for news, streamer antics, drama, and more