Joe Rogan has finally addressed the criticism he'd received following claims of COVID-19 misinformation on his podcast, The Joe Rogan Experience. This comes after streaming platform Spotify announced in a press statement that it would be adding content advisory warnings to all podcast episodes that discusses COVID-19.
The UFC commentator pledged to do better, citing that his show has spun "out of control". Rogan's comments were made in response to Neil Young's objections that Rogan has used his podcast to spread "life-threatening COVID misinformation".
Joe Rogan apologises for COVID-19 misinformation drama
In a nine-minute video posted to his Instagram, Rogan responded to the #CancelSpotify drama regarding his podcast featuring episodes dealing with COVID-19 misinformation.
During the video, Rogan said, "It's a strange responsibility to have this many viewers and listeners. It's nothing that I've prepared for. I'm going to do my best to balance things out."
 

 

View this post on Instagram

 
The episodes in question featured Rogan, Dr Robert Malone and Dr Peter McCullough, who discussed somewhat controversial theories about the virus and vaccines.
The podcast host revealed that he wanted to interview these "highly credentialed, very intelligent, very accomplished" guests as they presented arguments not discussed by the mainstream media.
"If there's anything that I've done that I could do better, it's having more experts with differing opinions right after I have the controversial ones," Rogan expressed. "I would most certainly be open to doing that. And I would like to talk to some people who have differing opinions on the podcasts in the future. I do all the scheduling myself, and I don't always get it right," he added.
Rogan continued, stating that while he aims to do better by putting more effort into research, he would apologise for his actions while thanking fans for the support. "I'm going to do my best, but my point of doing this is always just to create interesting conversations and ones that I hope people enjoy," Rogan commented.
Spotify stock plummet amid Joe Rogan controversy
According to an article by Variety, the streaming platform lost a record $2.1 billion within three days since pulling Neil Young's catalogue off Spotify. On 27th January 2022, Spotify closed the day "at a 19-month low of $171.32/share" as market shares dropped 6% between 26th-28th January 2022.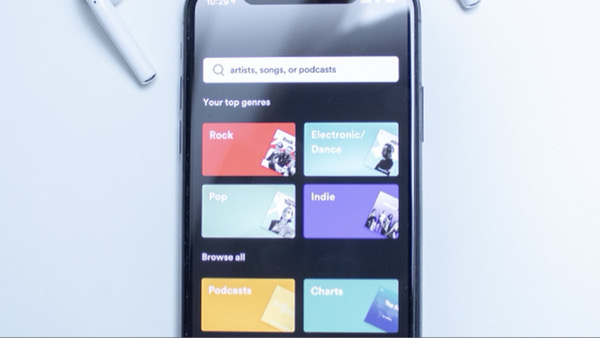 Spotify responded to the controversy in a press statement, saying they would implement content advisory warnings on podcast episodes that discuss the virus and direct its listeners to a dedicated COVID-19 portal.
The portal will contain resources and information shared and updated regularly by qualified and trusted sources. Additionally, the streaming platform will publicly make its Platform Rules available to the general public to bolster its clarity on the issue further.
Rogan applauded Spotify's efforts of implementing a disclaimer on podcast episodes, citing that the warnings would inform his listeners on varying opinions being discussed on his show.
Featured image courtesy of Spotify & Haithem Ferd / Unsplash.