The bout that has encapsulated the state of the fight game in 2021, Logan Paul vs. Floyd Mayweather is already producing fireworks. And while the recent press conference was for Logan's fight, it was his brother, Jake, who stole the show.
The presser at the Hard Rock Stadium (which will host the event) took place on 6th May 2021, and things quickly escalated. The younger of the Paul brothers, Jake, untied Floyd's shoes while the champ was on stage posing next to Logan.
While it might seem like a childish jab, Floyd clearly was not thrilled with Jake's antics. Things then boiled over when Floyd and Jake exchanged words, and Jake stole Floyd's hat.
Jake Paul scuffle with Floyd Mayweather
While the video shows Floyd and his surrounding team's immediate reaction to Jake stealing his hat, there was more to come. Things spilt over into the stadium's tunnel where there was a mob of cameras, reporters, and clashing entourage's.
When the dust had settled and the groups were finally able to be separated, it was pretty clear that Jake screwed up. Sure he garnered loads of attention from the scuffle, but there was no doubt that Floyd and his team taught Jake a lesson.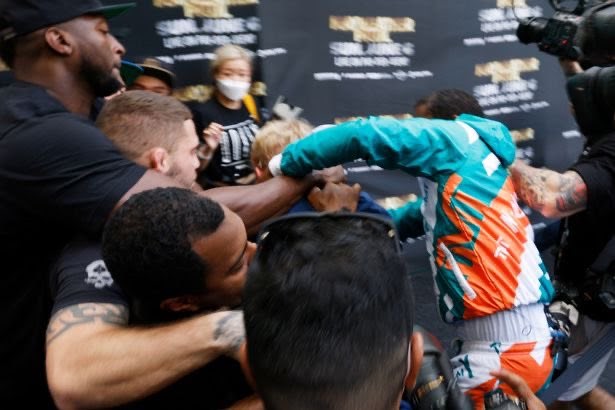 (Picture: RyanHobbsMMA)
Logan Paul increases security precautions
In response to videos showing an enraged Floyd Mayweather threatening to "kill" Jake Paul, Logan has opted for an uptick in security. During a recent interview with TMZ Sports, Logan admitted he and Jake will be posting bodyguards around them "everywhere at all times."
"Dog, when you have a guy with the resources and wealth that Floyd Mayweather has, and the connections and the network, and he's saying **** like, 'Imma kill that mother****' — kill?" Paul said. "Death? You're gonna kill my brother over a ****ing hat? Yeah, we take that **** seriously, man."
Now that the Paul brothers have a real fight on their hands, it will be interesting to see how the next press conferences (if any) are handled. We'll be sure to keep you updated on everything leading up to the big fight on 6th June.