Content creators and streamers, especially those in the upper echelon of fame, constantly deal with the headache of users reuploading their content without attribution.
While uploading a Twitch or YouTube clip might be considered okay for some outlets, outright taking edited content and sharing it on social media without permission is not.
The former face of Twitch and current YouTube exclusive content creator blasted the site Esports.GG for not only utilising edited content meant for his TikTok account but also belittling his editor Radstads in the process.
Ludwig slams Esports.GG over stolen Tiktok content
On 15th March,  Ludwig's editor Rad followed up on criticism made in November towards Esports.gg, blasting them for taking other creators' edited videos and posting them on their TikTok page without permission, claiming a simple credit would suffice.
Yo @esports, is there any reason you, as a verified brand account, are shamelessly ripping all of the content on your Tik Tok from other accounts/creators?

Like literally just downloading and reposting Tik Toks with the watermark removed and improper tagging pic.twitter.com/GLAahtcOdh

— Radstads (@Radstads) November 4, 2021
Radstads revealed that Esports.gg blocked him on Twitter in a follow-up post. Later, the editor said that he was also blocked by Christian Bishop, one of the heads that run the site.
"You don't just get to steal my work as well as numerous other creators, ignore all my attempts to talk to you and then block me for calling you out again," Rad wrote on Twitter.
Ludwig calls out esports site for stealing TikToks
By this point, Ludwig took notice. In a YouTube video uploaded to his Mogul Mail channel, a place for more informal and personal content, he bashed Esports.gg and defended his TikTok editor.
"I don't mind people using my clips, it happens. Re-editing streams to make your own unique content, it's fine," Ludwig clarified. "But taking someone else's edit and then spinning as your own is weird. You did zero work."
What makes things more egregious is the Head of Digital at Esports.gg, Gillian "Kendryx" Linscott, called Radtstads a "f*cking nobody" in a private conversation. This was after Esports.gg was called out by the broader community for stealing content.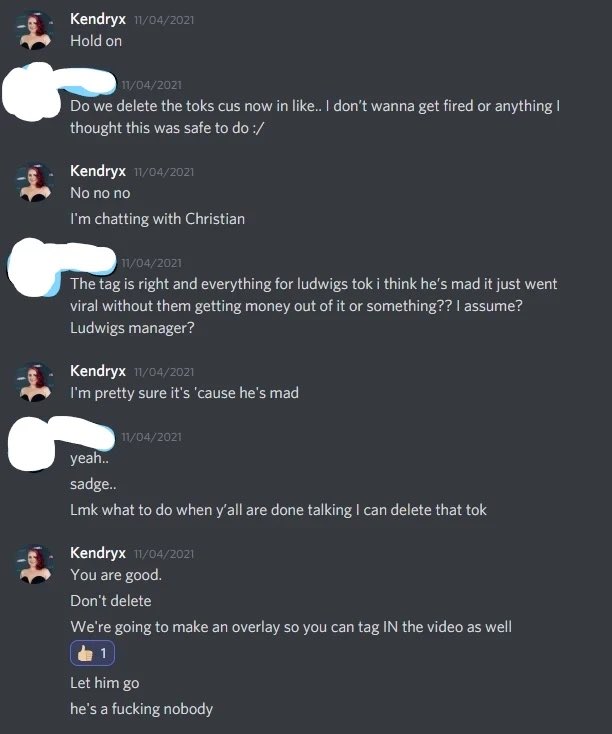 "How do you talk to people like that unironically? These are the same people who are like buddy-buddy in the DMs with me and suck me off cause I have followers. It's so f*cking cringe."
Eventually, Esports.gg shared an apology via Twitter, explaining that they had removed all their TikToks and will only return once they "feel confident" about meeting their "high standards" for original content.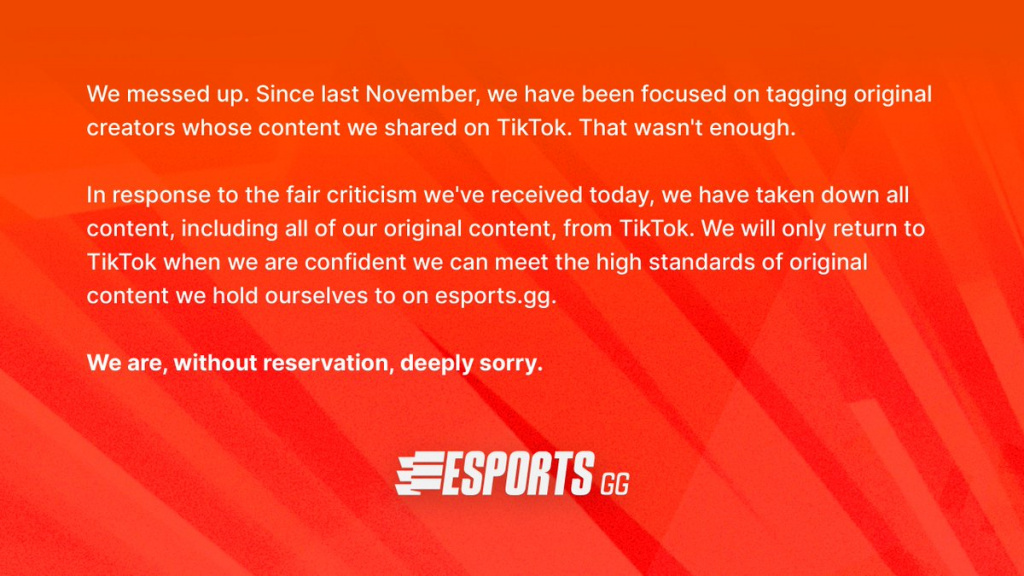 Kendryx eventually apologised on their personal Twitter account before making it private.
Rad responded that it was a long-overdue apology. "You've known about the issues for months and chose to willingly dismiss it because you thought I wasn't 'relevant' enough to call you out for it and are only apologizing now because the issue went viral."
Featured image courtesy of Ludwig.