Popular YouTube content creator and philanthropist Jimmy "MrBeast" Donaldson
first announced
that he would create a real-life version of the popular Netflix Original Series "
Squid Game
" early in October this year. However, after recently revealing that he has finished recreating all of the show's games, which cost him
over $2 million
to build, people have been trying to cancel him online.
According to some critics, MrBeast missed the show's core message entirely and should have instead used his immense wealth to "benefit the impoverished" and not exploit the poor for his amusement and financial gain -- statements which I find ill-informed and ridiculous.
MrBeast is getting cancelled for recreating Squid Game
"Once you've reached this level of wealth, maybe you should be using said wealth to benefit the impoverished and not use it to recreate a show that is a direct critique of the exact thing being done here," a Twitter user wrote. "Way to miss the point of the entire show," said another.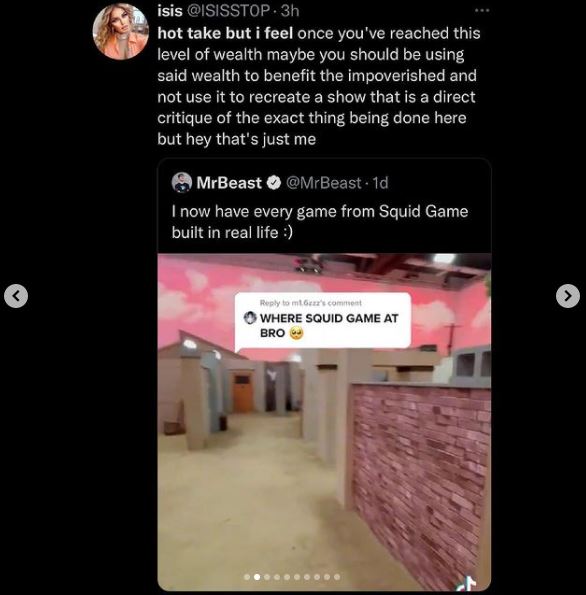 Other users have lambasted MrBeast, claiming that he has "lost the plot so f***ing bad" and that he didn't understand Squid Game at all.
"I keep thinking that this must be satire because how do you watch a show like Squid Game and immediately conclude that the VIPs were right," a different Twitter user said. The user then added that he should have donated the money to charity rather than investing millions of dollars in recreating Squid Game.
Admittedly, these statements sound comical when you consider that MrBeast is one of the most philanthropic content creators on YouTube. For example, through his "Beast Philanthropy" YouTube channel, MrBeast has provided aid in the form of over 550 million Lbs of food, over 300,000 USD to struggling students, and has donated directly to families in need.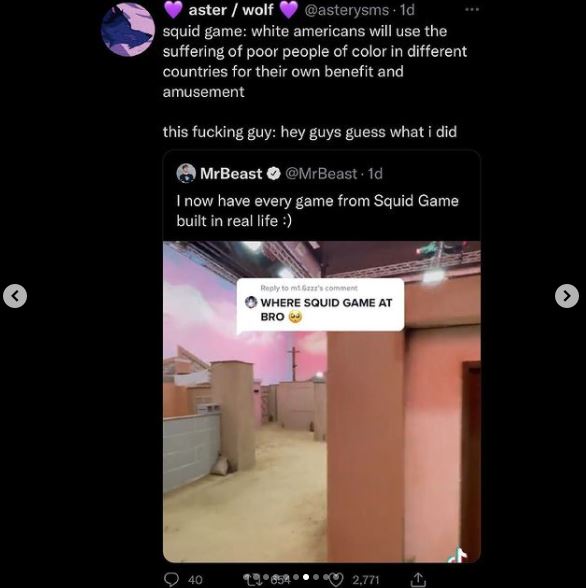 To put the cherry on top, MrBeast also helped pioneer the Team Trees and Team Seas initiatives, which has raised 23.4 and 15.6 million USD, respectively. Given this, the only reasonable assumption that I can think of is that the people attempting to cancel MrBeast are wholly misinformed.
Perhaps this is just another example of 'haters gonna hate.' Otherwise, if you're interested in seeing the other hilarious comments or want to have a good laugh, then check out the original Twitter post embedded below.
I now have every game from Squid Game built in real life :) pic.twitter.com/kzeeuSF7Rv

— MrBeast (@MrBeast) November 13, 2021
MrBeast has not commented on the backlash at the time of writing, and nor should he.
Don't forget to check out our dedicated YouTube section for the latest news, updates, streamer antics, drama and more.
Featured image courtesy of YouTube / Mr Beast & Netflix.