Over the past few weeks, marginalized Twitch streamers have been the target of orchestrated "hate raids" that saw bot accounts bombard their chat channels with hateful, racist, transphobic, sexist and outright disgusting messages. After tremendous public outcry from streamers on the platform, the #TwitchDoBetter trended on social media.
Twitch subsequently announced that they would take action but failed to remediate the situation, despite identifying a vulnerability in their proactive filters. This instigated a call by streamers, RevItRaven, LuciaEverBlack and ShineyPen, to start the #ADayOffTwitch movement, which prompted all streamers not to stream on Twitch, on September 1st, in a bid to bring attention to the racist cyberattacks plaguing the platform.
Twitch streamers take a day off in protest of hate raids
According to a report by The Washington Post, the organizers aimed to bring greater awareness to the now growing problem that marginalized streamers face on a daily basis. They also note Twitch's apparently lacklustre approach and slow response to resolving the problem. While "hate raids" are nothing new, the report also refers to the use of bots to exaggerate the frequency of these hateful attacks.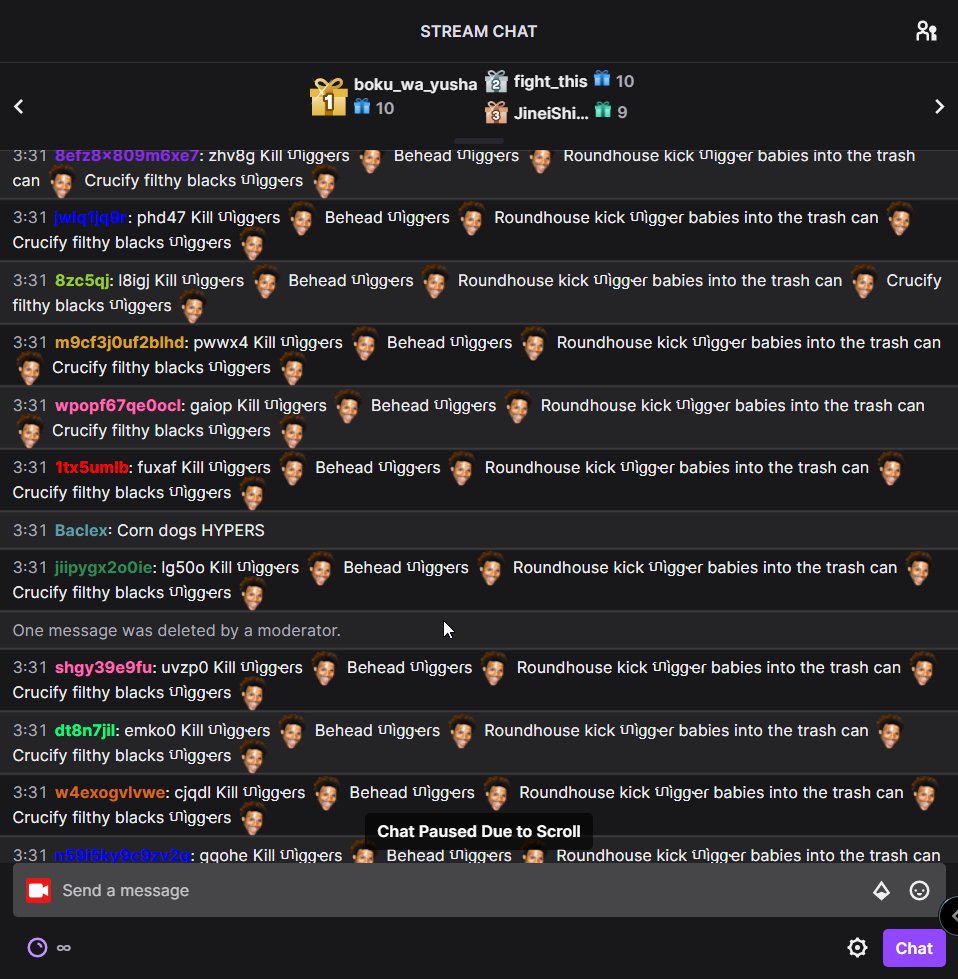 ShineyPen, who is a Filipino trans streamer, told The Verge that "A Day Off Twitch is largely about coming together in solidarity. The one day off is a step in the many steps we have to take towards change."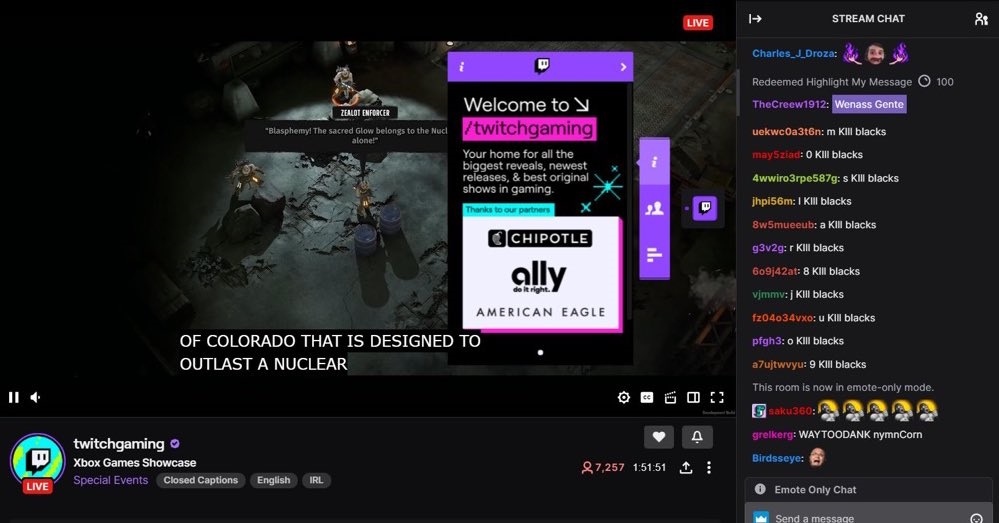 RevItRaven told Kotaku that "it's so heartbreaking to see all the stories of marginalized people on the platform being attacked for something outside of their control like their skin colour, gender identity, sexual preference, or otherwise." They added that streamers "shouldn't have to feel fear to press 'go live' " and we totally agree.
The #ADayOffTwitch protest will last for a full 24-hours, start on September 1st. The movement encourages Twitch viewers to support the cause by not watching any streams or participating in any Twitch chat. Essentially, Twitch users should stay off the platform for the duration of the campaign.
Which streamers are supporting the #ADayOffTwitch protest?
Several streamers have proclaimed their support and will not be streaming today. These include Twitch partners like CypherofTyr, Limmy and ggGibi, led by RekItRaven, LuciaEverBlack and ShineyPen.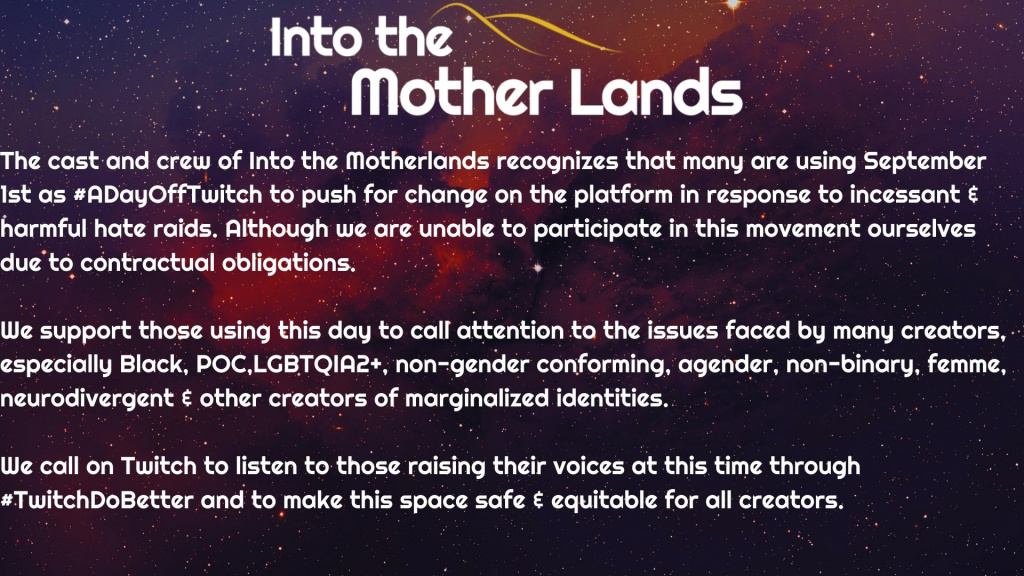 Several other Twitch channels, both big and small, are also rallying behind the cause and have taken to Twitter to express their support, including:
You can read some of their accounts in the Twitter posts below.
No Stream from me today, I'm grateful & lucky enough to not have been hate/racial abuse raided.

The screenshots & tweets I've seen are heartbreaking on a platform we make a living from, just because of our skin colour. #TwitchDoBetterpic.twitter.com/4s7lwyxQGM

— TheCaramelGamer (@TheCaramelGamer) September 1, 2021
I will not be streaming tomorrow as I'm taking the day away to support that movement that is #ADayOffTwitch.
To everyone in the ZA community that may have not heard of it.. do your research, lets stand together. #Uplifthttps://t.co/0oLvmYOllcpic.twitter.com/YYqcSv83MH

— viazUU (@viazUUApex) August 31, 2021
No one should feel unsafe streaming. No one should be subjected to hate on a mass scale.
No one should feel as though their voice doesn't matter.
We need to protect black content creators.
We need to end hate raids and hold @Twitch accountable.
#TwitchDoBetter#ADayOffTwitchpic.twitter.com/lKrv7Qzi52

— Melanin Gamers (@melaningamers) September 1, 2021
So I completely forgot. Today is #ADayOffTwitch. I don't stand for Racism and believe @Twitch need to address this soon and properly. So no stream today see you all Tomorrow. pic.twitter.com/t0FsWAeBep

— ItsMeJarrod (@ItsMe_Jarrod) September 1, 2021
No stream today in support of #ADayOffTwitch ♥️🐙 pic.twitter.com/V2F6RJJm3K

— Xris Dredd (@Xris_dredd) September 1, 2021
A Twitch spokesperson told The Verge: "We support our streamers' rights to express themselves and bring attention to important issues across our service. No one should have to experience malicious and hateful attacks based on who they are or what they stand for, and we are working hard on improved channel-level ban evasion detection and additional account improvements to help make Twitch a safer place for creators."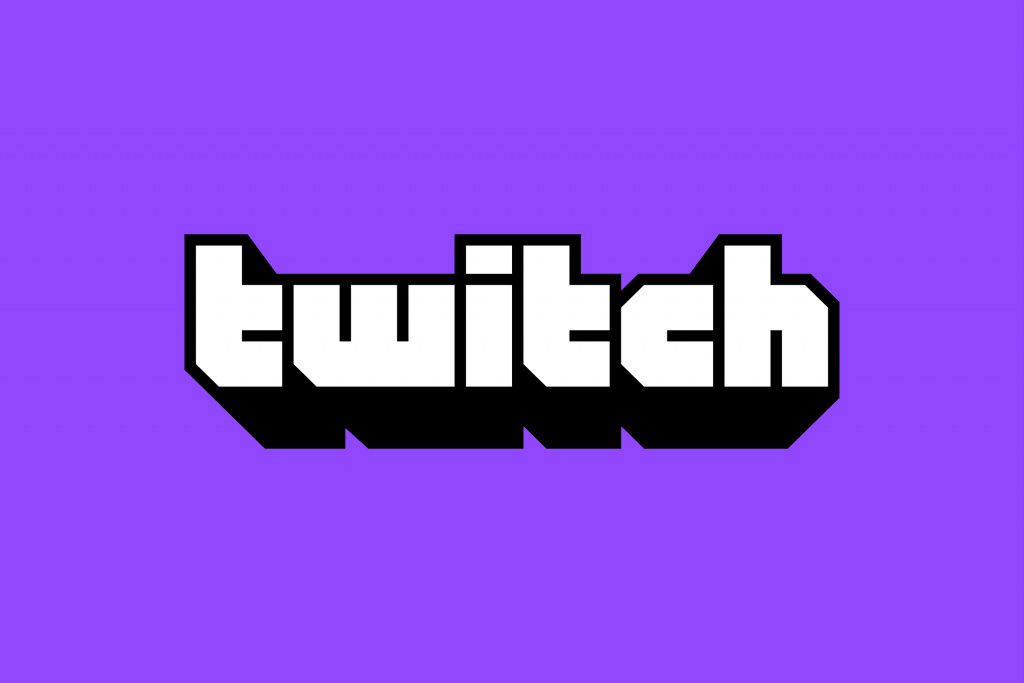 Despite previously promising to resolve this emerging issue using new "channel-level evasion detection" tools for creators, Twitch has yet to provide a timeline for this feature rollout. In the interim, hate raids continue and marginalized streamers remain targeted by these attacks. Twitch, do better.
Don't forget to check out our dedicated Twitch section for news, streamer antics, drama, and more.
Header image via Twitch.