Con menos lugares disponibles para la Capcom Cup, una de las regiones que tendrá más representación es la República Dominicana, con el campeón de 2017, Saúl Leonardo "MenaRD" Mena convirtiéndose en el tercer dominicano en asegurar su lugar en la competición más importante de Street Fighter V, derrotando al main Sakura y veterano de la escena, el mexicano Kusanagi, en las Finales.
We have our #CPT2020 Central America 2 Qualifier Champion!!

(Abigail) @_MenaRD__ defeats (Sakura) @KusanagiFGC with a 3-0 win!

📺 Watch live at:https://t.co/t4GGgezqj3https://t.co/PKc7WCDRSmhttps://t.co/jUUoXy65Edhttps://t.co/hb490hZXJXpic.twitter.com/kwxbsJNB8Z

— Capcom Fighters (@CapcomFighters) October 19, 2020
Mena mostró su flexibilidad mostrando una variedad importante de personajes, desde Sakura hasta Seth, e incluso Abigail, y esto solo en las Finales, mientras buscaba adaptarse a la optimizada Sakura de Kusanagi.
Ahora que Mena está de regreso en la Capcom Cup, buscará repetir su histórica hazaña de 2017, en donde se convirtió en campeón logrando uno de los rompequinielas más importantes en la historia del FGC, derrotando al legendario Hajime "Tokido" Taniguchi en las Finales.
Jugadores calificados a la Capcom Cup 2020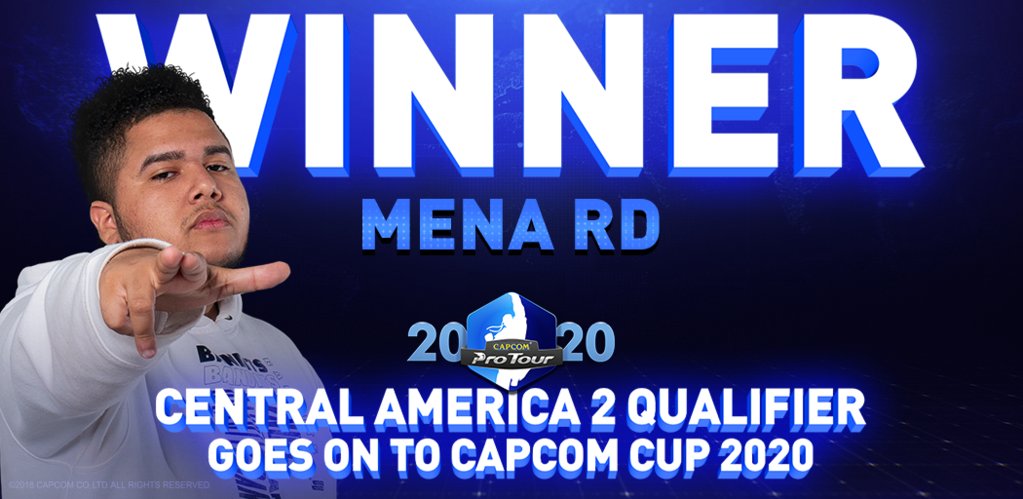 Como lo mencionamos, MenaRD es el tercer dominicano en clasificarse, uniéndose a Cristopher "Caba" Rodriguez and Yoryi "DR Mandrake" Bueno. 
Aquí están todos los jugadores calificados:
Derek "iDom" Ruffin 
Arman "Phenom" Rabiee 
Yoryi "DR Mandrake" Bueno 
Niel "SKZ" Chong 
Gonzalo "Pikoro" Buleje
Houmaid "Takamura_B" Rabie 
Daigo Umehara 
Cristopher "Caba" Rodriguez 
DC "Infexious" Coleman 
Alexandro "Jah_Lexe" Rodrigues
Kun Xian Ho
Amjad "AngryBird" Al-Shalabi
Bryant "Smug" Huggins
Alan "Nephew" Sun