World of Warcraft fans were no doubt excited when the first big update for Shadowlands was announced by Blizzard, earlier this year. The patch, entitled "Chains of Domination", brings along with it a bundle of new content updates, including flying, a new raid, zone and covenant armour; and mega-dungeon. More recently, Blizzard has announced the introduction of a Mythic+ dungeon rating, which strives to enable players to better gauge their skill; and to prepare for other challenges found in the Mythic+ dungeons.
What is Mythic+ Dungeon Rating?
For those unfamiliar with the term, "Mythic+'' refers to the World of Warcraft dungeon system, which endlessly scales in difficulty, depending on the dungeon's level. The higher the level of the dungeons, the harder they are to complete.
Of course, players challenged with higher Mythic+ dungeons are rewarded with equally higher level loot. This makes them attractive challenges for more experienced players to attempt to complete. The challenges are timed, but are more lenient to emphasize the skill in execution of the raid, rather than the speed.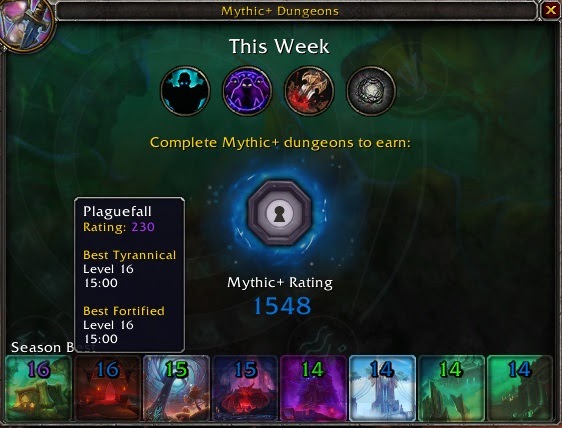 (Picture: Blizzard Entertainment)
With the introduction of Mythic+ dungeon ratings, Blizzard indicates that players can "take charge of their own progress and see how well they're performing". Players will be able to view their personalized rating scores within the Group Finder(I) user interface, underneath the Mythic+ dungeons tab, within the game client.
Finding your Mythic+ Dungeon group
Players will also be able to view the Mythic+ rating of group leaders in the Dungeon Finder. This addition is great news since it will allow players to make more informed decisions on which groups they want to join.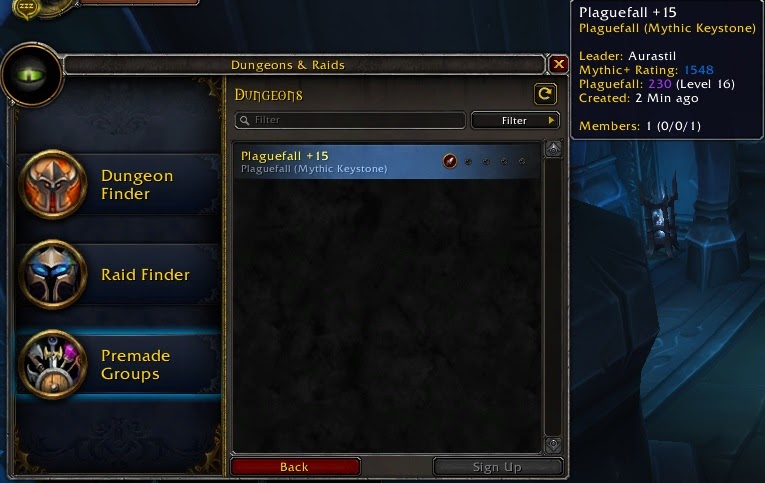 (Picture: Blizzard Entertainment)
It may also equip players with the option to join groups that are of a similar level to theirs, to avoid potentially disastrous runs. Likewise, group leaders will be able to view the Mythic+ ratings of all incoming requests, prior to them joining the group.
How to increase your Mythic+ rating in Shadowlands
Naturally, you can improve your Mythic+ ranking by completing new dungeon challenges or by beating your time in previously explored dungeons. Blizzard explained that completing a key will provide a rating that is based on three factors, listed below. 
The key's level
Affixes in the key
The time of runs, versus the dungeon's timer
An additional feature, which may pique the interest of many players is that: if anyone in the group improves their rating during a run, then everyone will earn bonus Valor Points. This is a great incentive for more experienced players to assist lower-ranked players during their runs.
Players will also be able to maximize their ratings by completing dungeons on both Tyrannical and Fortified, as they work through the dungeon system. Blizzard also indicated that Mythic+ ratings will reset at the end of each season.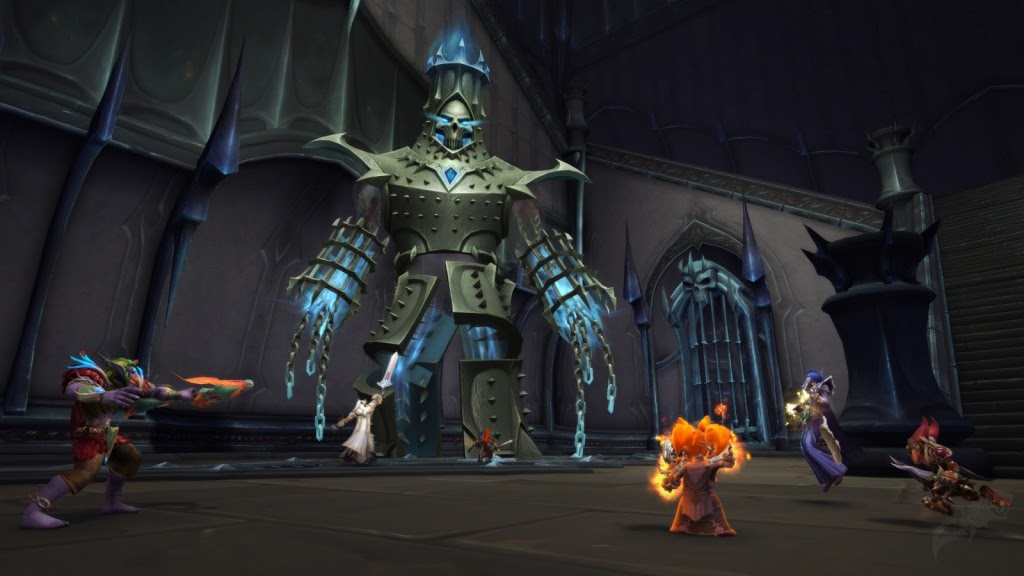 (Picture: Blizzard Entertainment)
Blizzard finally listened to the WoW community
For those who are unaware, the World of Warcraft mod, "Raider.IO" was already in use by many WoW players. The mod allowed players to view their Shadowlands Mythic+ score, as well as their raid progress. Fans have long requested that Blizzard implement its own in-game rating system, subsequently cutting out Raider.IO as the middleman; and it seems that they have. Well played on listening to the community, Blizzard!
Indeed, the new scoring system is a great addition to the upcoming Chains of Domination patch and will allow players to explore even further into the Mythic+ dungeon system. But what are your thoughts? Are you pleased with Blizzard's latest addition, or do you think it will provoke elitist or toxic gameplay? Let us know by tweeting us at @ginxnews or @ginxtv on Twitter.
Don't forget to check out our dedicated World of Warcraft section for news, guides and much more.
---
Check out our video below, where we dive deep into the lore of the Dragon Aspects in World of Warcraft, discussing all the leaders, their history, and some family drama!
For more World of Warcraft news, be sure to check out our dedicated section or some of our WoW Guides & Tutorials below:
Dragonflight Guides - Primal Storms Event| Content Roadmap| Play On Steam Deck| Raid Schedule| Dracthyr Evoker Class| Dragon Isles Zones| Max Level & Progression Path| Crafting Orders| Dragonriding| Editions & Bonuses|Dracthyr Evoker|Twitch Drops & Rewards|Maintenance Schedule US & EU|Check Server Status|Performance & Stuttering Fix|DPS Tier List|Mythic+ Affix Rotation Season 1|Reset Talents | Transfer Aborted & World Down Issues | Tangled Dreamweaver Mount | Stuck on Loading Screen Error Fix | Vault of the Incarnates Loot | Wrathion or Sabellian? | 
Dragonflight Tier Lists - Best DPS Class & Build | Best Healer Class & Build | Best Tank Class & Build
Dungeon Guides - Nokhud Offensive | Neltharus | The Azure Vault | Brackenhide Hollow | Ruby Life Pools | 
WotLK Classic Guides - Best Death Knight Builds| Retribution Paladin PVE| Herbalism Leveling| PvE Beast Mastery Hunter DPS| Shadows of Doom| Cold Weather Flying| Fire Mage PvE| Flying Carpet 
Holiday Events - Hallow's End| Feast of Winter Veil  
Featured image courtesy of Blizzard.