The Call of Duty League (CDL) announced just last week that all competitors will be moved to an online format. This includes both CDL events and Challengers events that run alongside them.
As well as the usual Challengers events that are played in conjunction with CDL Home Series, the CDL also announced five separate Challengers Cups.
These cups will be played throughout the season with the first one this weekend 18-19th March.
Each event will be open to amateurs in North America, Europe and Asia-Pacific with a prize pool of $50,000 in each. More players will be able to earn prizing in these cups with deeper award distributions and no top-two finish rule.
Format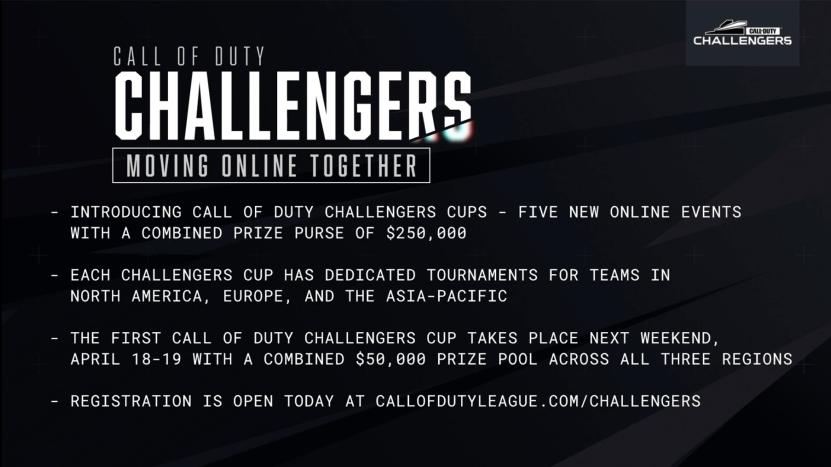 Schedule
The schedule for the various regions in the Call of Duty Challenger Cups can be found on the official Call of Duty League website.
Prize Pool
North America ($25,000)
Europe ($20,000)
Asia-Pacific ($5,000)
The Challengers Cups will have dedicated broadcasts on the official CDL YouTube channel. This will steam live matches with up-and-coming broadcast talent from the community casting each one.
The CDL said: "two amateur casters will be joined by veteran Call of Duty League talent to bring top matches from the Call of Duty Challengers Cup, presented by PS4 events to fans around the world."
Call of Duty Challengers Cup: How-To Watch