A trailer for Call of Duty: Modern Warfare and Warzone Season 3 has been released, showcasing new operators and maps.
The third season is set to arrive on 8th April following the end of Season 2, with an update expected around 1pm ET/5pm GMT.
A new trailer shows off operator Alex heading from the Modern Warfare campaign to multiplayer, who was previously leaked prior to the official announcement.
There's also three new multiplayer maps in Talisk Backlot from Call of Duty 4, new map Hovec Sawmill and Aniyah Incursion.
On the Warzone side, there's new weapons in a SKS sniper and Renetti pistol, the addition of quads and vehicle skins set to be thrown into the mix.
Following the trailer, a roadmap was released on what to expect down the line too - confirming new operators Ronin and Iskra.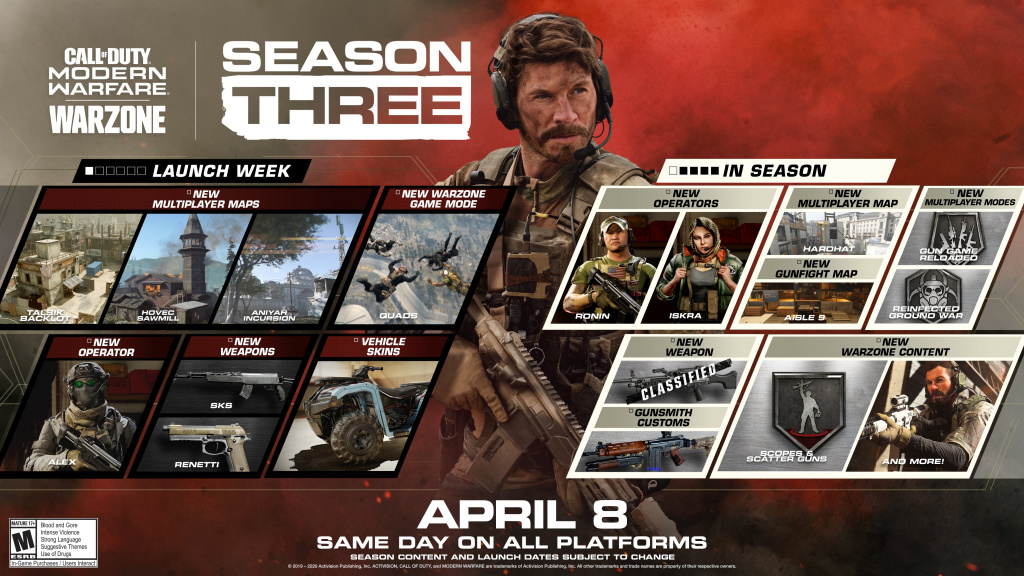 The season 3 roadmap (Picture: Activision) 
The rest of the season will feature new multiplayer map Hardhat, gunfight map Aisle 9, multiplayer modes Gun Game Reloaded and Reinfected Ground War, along with gunsmith custom options. 
There's also scopes and scatter guns coming to Warzone, although it's unclear when these will be rolled out. 
According to the PlayStation blog, there'll also be exclusive content for PS4 players, including Shoot House being added into the platform's exclusive mode Survival. 
PS Plus subscribers will also receive the Sony Combat Pack 2 for free, which includes: 
Epic Operator skin for Wyatt
Epic sniper rifle blueprint
Epic handgun blueprint
Epic tactical knife
Epic weapon charm
animated calling card
spray
60-minute Double Weapon XP Token
A new Battle Pass is expected to arrive for the third season, with past passes available for 1,000 Call of Duty points or around $10.
Activision previously teased the new season with an image showing the three new operators, which you can check out below.
This update also arrives ahead of the return of the Call of Duty League, which is switching to an online format. 
Call of Duty: Modern Warfare Season 3 releases on PlayStation 4, PC, and Xbox One on 8th April.