There is nothing quite like a surprise Warzone tournament to get the blood pumping. Announced on the FaZe Clan Twitter on 16th, kicking tomorrow Thursday, 17th. You love to see it.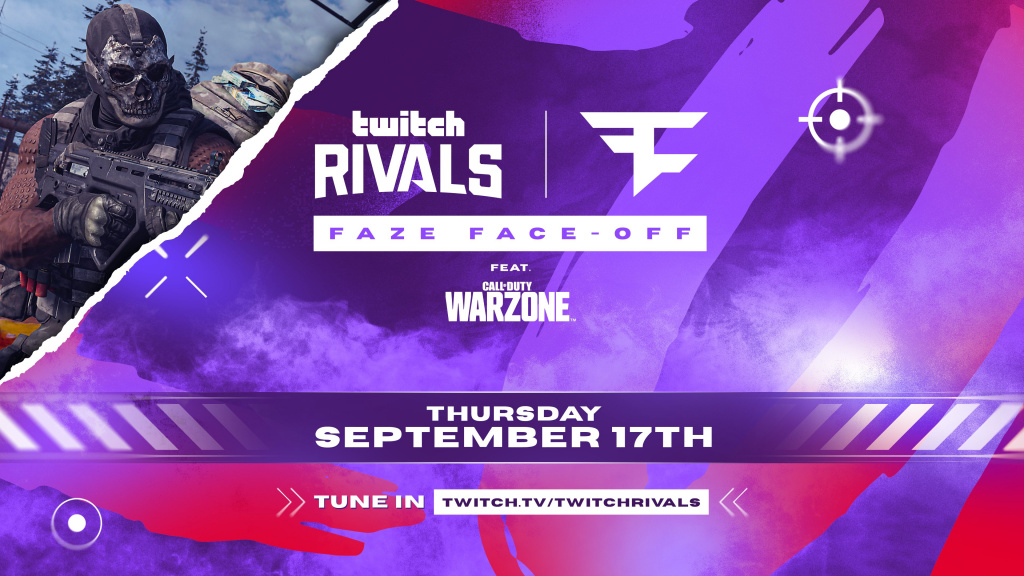 (Picture: FaZe Clan)
And frankly guys you know the drill, FaZe Clan x Atlanta FaZe have scooped up the best COD professionals, found some of the biggest streamers, roped in some of their celebrity friends, all mixed together for some pub stomping fun.
- FaZe Clan
- Twitch Rivals
- Call of Duty: Warzone
- 100 Pros, Streamers, Athletes, Artists & Celebrities
- $75,000 in prizing

... tomorrow. 🔥 pic.twitter.com/p0IGLQGrEl

— FaZe Clan (@FaZeClan) September 16, 2020
It's fun, competitive, and not too serious.
We have collated all the information for you so you can kick back and enjoy the spectacle.
See you in Verdansk.
Schedule
This tournament is a one-day event and takes place on Thursday, 17th September at 2 pm PT / 5 pm ET / 10 pm BST.
Format
Quads Kill Race w/ Playoff Race
20 Teams
3 Hours of Quads

Best 3 Games count towards Tournament score

Top 8 Teams advance to Playoffs
1 Hour of Playoffs

Best Game counts towards Tournament score
Point System
Victory: 25 Points (+5)
Reach Top 2: 20 Points (+5)
Reach Top 3: 15 Points (+5)
Reach Top 4: 10 Points (+3)
Reach Top 7: 7 Points (+3)
Reach Top 10: 4 Points (+2)
Reach Top 15: 2 Points (+1)
Reach Top 20: 1 Point (+1)
Each Elimination = +1 Point
For a complete breakdown of the rules check out the FaZe Clan Face-off Twitch Rivals page.
Teams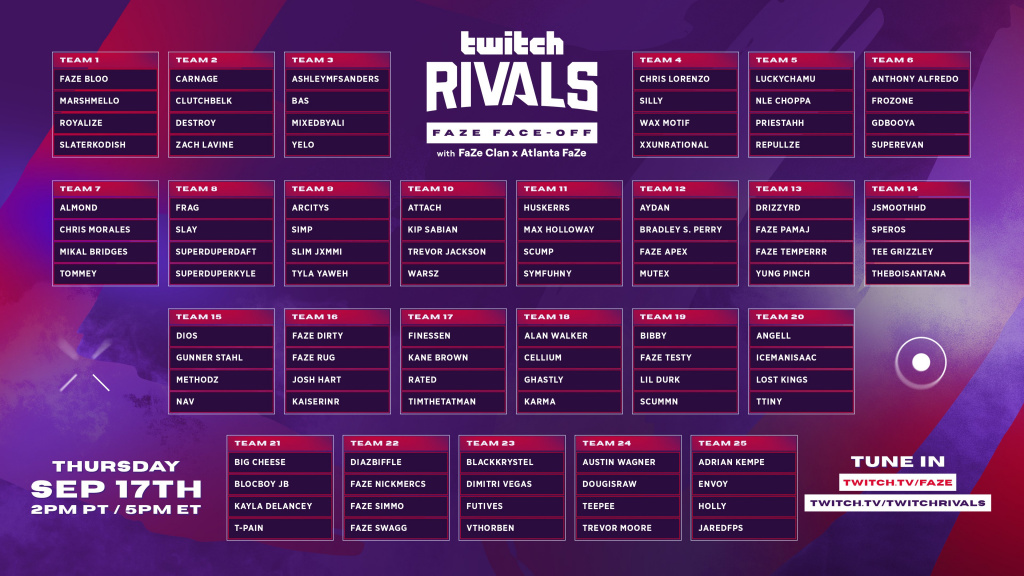 (Picture: Twitch Rivals)
Prizing
All we know so far is there will be $75,000 to be won. Expect a high top prize.
How to watch FaZe Clan x Atlanta FaZe Twitch Rivals tournament
You can catch all the action from either the Twitch Rivals channel or FaZe Clan's very own.
We have embedded both below.