One of three new Modern Warfare weapons recently leaked included the Sykov Pistol. This sidearm has some content creators very excited with the thought of taking down many players with ease. Without completing any tasks, you can view the weapon yourself by entering Co-op mode, set up a private match, and then set it to survival mode in Modern Warfare.
When the game has started, you can view the weapon by scrolling across the purchase screen, move down the list of Handguns, then at the bottom you will see it.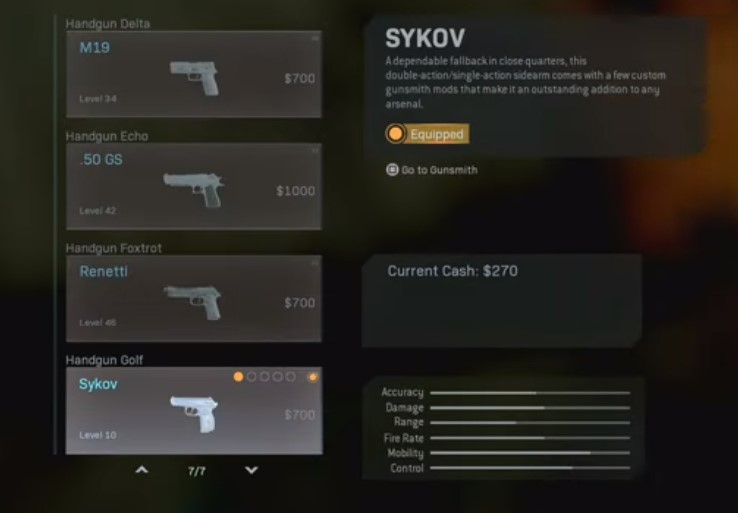 (Picture: JGOD)
How to unlock the Sykov in Warzone
To unlock this weapon, you must kill four opponents in a single MW multiplayer match --five times.
This can also be done in Warzone, just in case you prefer the challenge. After this has been done, If you launch survival mode, you can then purchase a Sykov pistol and use it. In survival mode, you can use it, level it up, and add attachments.
It is unclear in this moment whether progress made with the weapon will move over to warzone once it gets released, but you can get hands on experience right now. 
Why is the Sykov overpowered?
What makes this pistol unique and soon to be feared is the three attachments it has. You can use Akimbo, 80 round magazine, and enable full auto fire.
The Sykov has little to no recoil and with the attachments on top, it is sure to cause carnage in Verdansk. Below is a statistical chart that compares all of the handguns currently in Modern Warfare and Warzone.


(Picture: JGOD)
As the chart shows, Sykov has the ability to clear waves of opponents, and It has all the potential to be deadlier than the infamous dual renetti or Snakeshots. It will also be the first ever full auto pistol to enter Verdansk, and with Season 2 fast approaching, we can only wait to see how much chaos this sidearm can really do.