Twitch Rivals have brought us some of the best Warzone tournaments to date and they are at it again. with the Call of Duty Warzone Showdown 3. The two-day event will see teams compete through open qualifiers for their chance to join the invited teams, comprised of huge name content creators and pros, as they battle it out for a lion share of the ,000 prize pool.
The tournament will use everyone's favourite Warzone format - Trio pubstomp - so expect lots of kills and plenty of highlight-reel moments. 
The action kicks off Wednesday, 12th August with the European region, followed by North American on Thursday, 13th.
Below is all the information you need to know before it kicks off including how you can follow all the action.
So sit back, read up, and enjoy.
Teams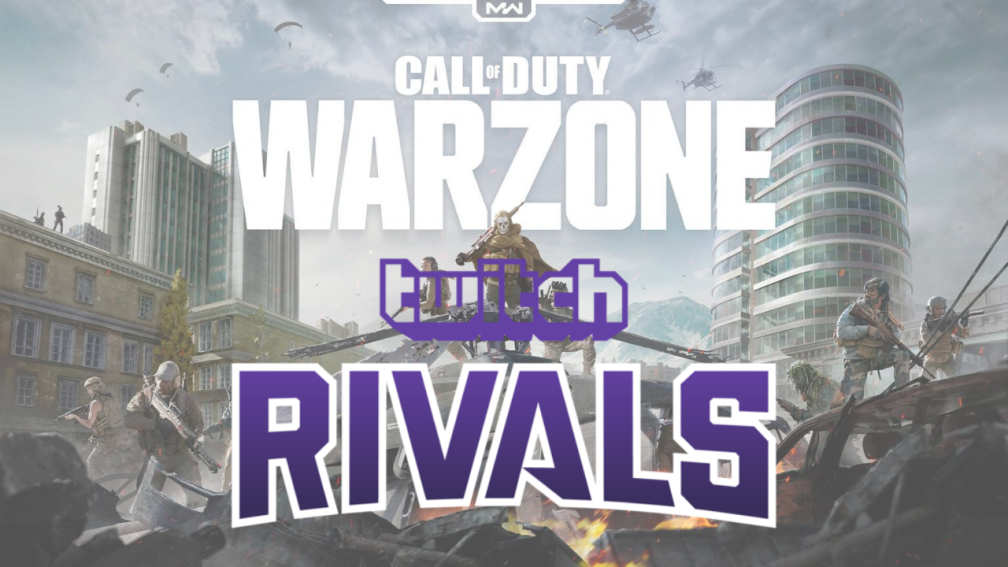 (Picture: Twitch)
North America
Team Nickmercs
NICKMERCS
Swagg
DiazBiffle
Team TimTheTatman
TimTheTatman
Rated
TheDezmond
Team Tfue
x2Pac_ThuGLorD
Destroy
Tfue
Team Frozone
SuperEvan
Frozone
GD_booya
Team Symfuhny
HusKerrs
Symfuhny
cloakzy
Team ThumblessCudi
ThumblessCudi
ThumblessJaydar
Braalik
Team Ifdeez
Ifdeez
dreamcrazzy
Matty_ReRe
Team TeePee
Merk
TeePee
DougisRaw
Team IceManIsaac
IceManIsaac
averagejoewo
exzachtt
Team Trainwreckstv
Neslo
Trainwreckstv
Royalize_
Team Pineaqples
BRONANA
Pineaqples
austinFBZ
Team Aydan
Yungstaz
MuTeX
Aydan
Team JaredFPS
aHTracT12
JaredFPS
colorss95
Team chocoTaco
chun
chocoTaco
Pieman
Team Bartonologist
Bartonologist
RussDaddy
BryanTheJet
Team BobbyPoffGaming
Censor
Dashy
BobbyPoffGaming
Team Tommey
Tommey
AlmxndTV
newbz
Team ProblemWright
Braxtvn
ProblemWright
lamxnte
Team Tourva
Tourva
Redman_Lyons
Ranksss
Team Alex_Zedra
grewal024
Alex_Zedra
Myka_B
Team SypherPK
SypherPK
Repullze
LuckyChamu
Team Metaphor
Metaphor
StayFinessen
xxUnRationaL
Team Bloo
Bloo
ScummN
ClutchBelk
2 Zoomers 1 Boomer
Trick2g
Cookiemanman
TGLTN
Team JasonDolley
kekoa_us
JasonDolley
bradley_s_perry
Team Kalei
xcudi
Pz_Blue
Kalei
Team Karma
Karma
Ricky
stukawaki
Team SuperDuperGaming
Pacesetter
Mayappo
superdupergamingco
Team SuperDuperDaft
Madison Beer
ShIayy
Skatees
Shively
Team The Recon Farmers
OPMarked
Horizem
iFishTV
Schedule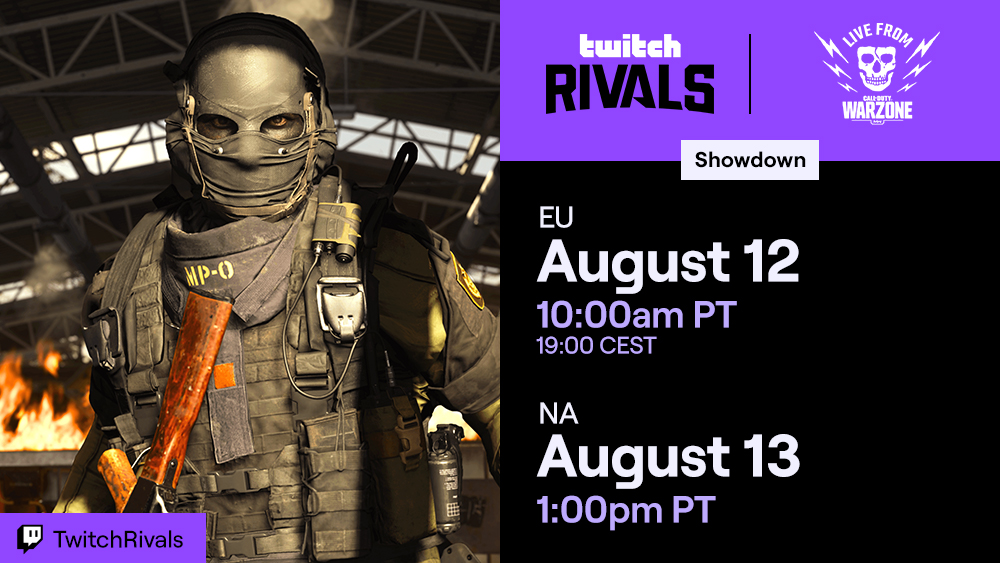 (Picture: Twitch Rivals)
Format
The Call of Duty Warzone Showdown 3 is a Trios tournament, with two phases, Open Leaderboard and the Main Event. 
200 teams will compete in the Open Leaderboard with the top 3 teams qualifying for the Main Event. They will join the 27 invited teams.
The Top 4 teams from the Main Event will play a final round of games to settle the winner.
Main Event
Rules: Pubstomp (Points scored based on a combination of placement and number of kills)
Teams: 20 Trios.
Time Limit (Qualifier): 2 Hours 30 Minutes
How To Qualify: Play as many games as possible within the time period. Top 3 scores count towards your tournament score. Top 4 Teams will advance to Finals.
Time Limit (Finals): 45 Minutes
How To Win: Qualifier score carries over into Finals score. In the Finals, Teams play as many games as possible within the time period. Teams are ranked based on the team's qualifier score + the team's best Finals score.
Scoring System
Victory: 25 Points (+5)
Reach Top 2: 20 Points (+5)
Reach Top 3: 15 Points (+5)
Reach Top 4: 10 Points (+3)
Reach Top 7: 7 Points (+3)
Reach Top 10: 4 Points (+2)
Reach Top 15: 2 Points (+1)
Reach Top 20: 1 Point (+1)
Each Elimination = +1 Point
Prize Pool
There is $75,000 allocated to each region with the prizing distributed throughout the Open Leaderboard and Main Event. There is also bonuses based on most kills in one game, most kills by one player in all games and most wins in all games.
Open Qualifiers
1st: Advance to Main Event
2nd: Advance to Main Event
3rd: Advance to Main Event
4-10th: $600
11-15th: $450
16-20th: $300
Main Event Paytable
1st: $9,000
2nd: $6,000
3rd: $4,200
4th: $3,600
5th: $3,000
6th: $2,700
7th: $2,400
8th: $2,100
9th: $1,800
10th: $1,500
For the full prize distribution refer to the official Twitch Rivals page.
How to watch the Call of Duty Warzone Showdown 3
The official broadcast will take place over on the Twitch Rivals channel, however, the open qualifiers won't be streamed there. We have embedded it for you below for your convenience.
Every participant will also be streaming their POV on their own streams. As players and teams are confirmed we will update this with some of our favourites.