With World of Warcraft: Burning Crusade Classic out now, someone has spotted the infamous WoW Token, which has led to concerns from several players, including One True King (OTK) founding member Asmongold. To be clear, the WoW Token is currently not active in Burning Crusade Classic but a leak does point towards the possibility of the item being added at a later stage.
WoW Token for TBC Classic spotted
Before we get started, the WoW Token can be purchased for real money (giving game time when used). It can also be sold no the Auction House for gold, basically adding a pay-to-win element to the game if you consider having a lot of gold and its uses "winning".
WoW content creator and dataminer, MrGM, recently took to Twitter to reveal that he has spotted the WoW Token on the Battle.net shop with a Burning Crusade colour theme, which could indicate the item could release for Burning Crusade classic.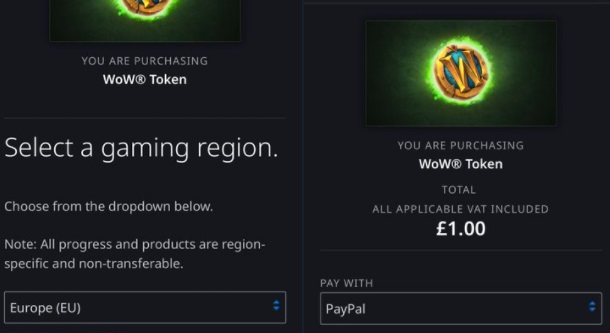 (Picture: MrMG via Twitter)
Thankfully, so far, players are not able to purchase the WoW Token for TBC Classic in Europe or NA. However, there is a page up for the token which gives an error when trying to purchase.
MrGM explains: "Not sure how long it's been there but it looks like the WoW Token for TBCC is on the EU/NA Blizzard Store. Luckily it throws up an error when purchasing, so my assumption is that this is a mistake. Don't panic!"
It is important to note that the Chinese version does have the WoW Token, so the EU and NA pages couldn't have been created in error. 
Asmongold lashes out at Blizzard
In a recent video from Asmongold, the famous World of Warcraft content creator lashed out at Blizzard, noting how the possibility of the WoW Token for Burning Crusade Classic is a terrible idea. 
This would make the classic servers a pay-to-win affair, allowing people to buy PvP and raid carries easily. 
On the topic, Asmongold explains: "I adamantly oppose the WoW Token. I do not think the WoW Token should be in WoW Classic TBC. I think that it is negative. I think that it makes the game worse. And I think it is just a bandage Blizzard puts on the game in order to make up for the fact that their game... they're not balancing and they are not dealing with gold sellers.
"That's what it comes down to. It f$#ks the economy, it makes every single achievement which can be achieved with gold, which is basically all accomplishments, basically an eBay achievement."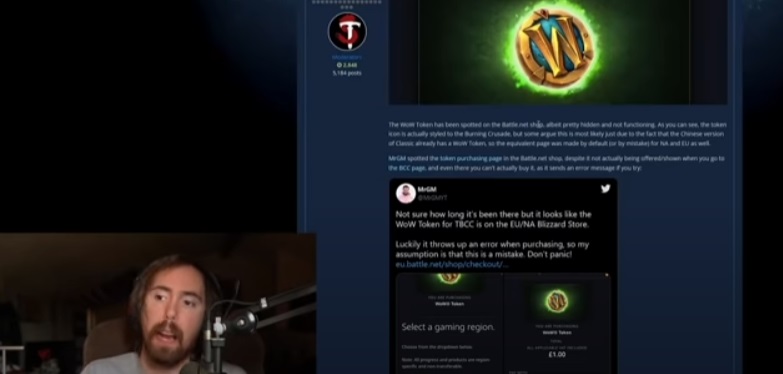 (Picture: Asmongold)
Asmongold continues to say the WoW Token enables pay-to-win in the game. Clearly, if Blizzard does decide to add the item to Burning Crusade Classic, there could be a lot of backlash from the community.
At the time of writing, Blizzard has not confirmed nor denied that the WoW Token could be coming to Burning Crusade Classic. 
Check out our dedicated World of Warcraft section for news, guides and more.