The trainer features a corduroy material inspired by the infamous Sean Wotherspoon Air Max 97's and red playmaker leather outlining the shoe. There is also 100 Thieves embroidery on the tongue and the heel, as well as a metal badge on the front engraved with "LDN '19" and "LA '19", representing the two events the Call of Duty team have won so far in the 2019 Black Ops 4 season.
CEO Matthew "Nadeshot" Haag got to design the shoe from scratch and surprise the CoD team with a big reveal, running through with them what the shoe is and what it means to himself and the organisation as a whole.
Nadeshot also launched into an impassioned speech with the team, saying:
"On a more serious note, it's been an incredible year. Honestly, all of your efforts really bring the organisation to the level of which you have brought it. It's just nothing short of greatness. You guys had a target on your back this entire year. Everyone wanted to see you guys fail, and you were resilient, you stuck together, and you won championships. Like I said, we got one more and I think you guys can take that. At least, you'll have these sneakers to always remember your time on this team and I hope you guys enjoyed it."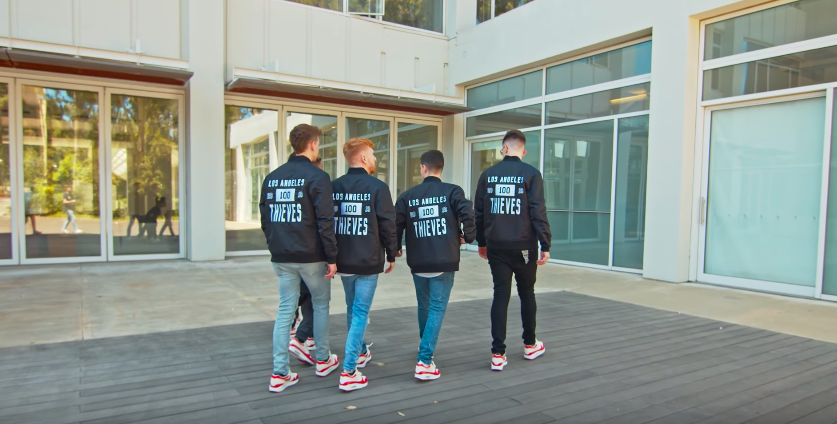 Kenny was the first to speak up and say that it was "way better than last year" – a year in which he was commended as rookie of the year but had numerous struggles with his organisation.
"And I got Air Max. I love shoes," he finished, jokingly.
The players all went on to discuss how great they felt about 100 Thieves as an organisation and the team that they get to work with, which is a testament to Nadeshot and co.'s incredible work over the last year.
The Air Max 1 is really just the icing on top of a very sweet cake.
Make sure to tune into Champs at www.twitch.tv/callofduty and keep up with everything CoD esports here on GINX Esports TV.