In the early days of the Call of Duty: Vanguard beta, the MP40 has dominated the submachine gun category, and for good reason. The weapon is easily the best in class, featuring very little downside to using it. 
However, this doesn't mean that there aren't other guns players can try out and have success within the SMG class. The next best option, for example, is the Sten. The classic World War II weapon is making a return in Vanguard and fans can take advantage of the strange-looking gun to great effect. 
While players don't have access to many attachments in the Vanguard beta, we can build a strong loadout for the Sten that can compete with the MP40. Of course, the loadout will change when the full game arrives in November but for now, this is what players can use on the Sten in Vanguard.
Best Sten loadout in the Vanguard beta 
The biggest asset the Sten possesses is its ability in close-range combat. It has a fast fire rate and decent mobility to make a beast up close, even besting the MP40 in certain situations. 
This is what the Sten's loadout will be based around, as the range is not going to be its strong suit even with every attachment slot being filled with range-boosting qualities. 
Muzzle: M9 Flash Hider

Stock: Gawain Para

Underbarrel: Carver Foregrip

Magazine: 9mm Para 50 Round Drums

Ammo Type: FMJ Rounds

Rear Grip: Leather Grip

Proficiency: Acrobatic

Kit: Fast Melee
At the core of this loadout are attachments that help with recoil at a distance while also maintaining its prowess at close range. Attachments like the M9 Flash Hider and Carver Foregrip help immensely with improving accuracy so the Sten isn't a one-trick pony.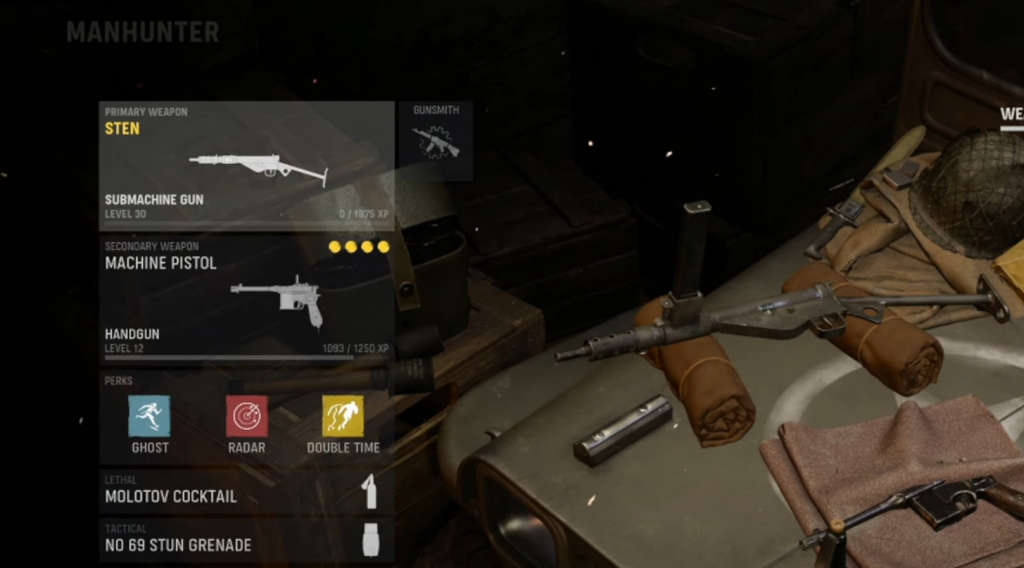 However, these attachments lower the Sten's ADS time. To bring the stat back, we've equipped the Leather Grip and Gawain Para, which improves ADS and sprint-to-fire time. This ensures the Sten can still compete at close range. 
The supporting elements of the loadout include FMJ Rounds to help with shooting through destructible surfaces and the 9mm Para 50 Round Drums to give the Sten some extra time before reloading. 
This Sten loadout won't excel at range combat on a map like Red Star but it can become a monster in close to the medium range during the Vanguard beta.
Don't forget to check out our dedicated Call of Duty section for franchise leaks, news, guides, loadout setups, weapon tier lists and much more.
Featured image courtesy of Activision.
---
For more Call of Duty news, be sure to check out our dedicated section or some of our MW2 Guides & Tutorials below:
Modern Warfare 2 Guides - Jack Links Skin | Unlock All Operators | Check Server Status | Get Twitch Drops | Post-Credit Scene Explained | Unlock Gold Camo | Get Burger Town Operator | MGB Nuke | Unlock Every Weapon | All Killstreaks| Safe Code Locations|Check KD Ratio|XP Farm Trick|Chopper Gun Glitch|Weapon Tuning|Change Name Color|Hardcore Tier 1 Mode| Turn Off Crossplay|Steam Deck| Raid: Atomgrad | How To Play "Support A Team" | Unlock Orion Camo | Aim Assist Settings | 
Modern Warfare 2 Fixes & Issues-Best NVIDIA GeForce Drivers | Dev Error 6036 | MW2 Missing Items | Unlimited Tactical Sprint Bug | Stuck On Installing Bug | Display Name Not Allowed Bug|Gold Camo Not Unlocking|Voice Chat Not Working| Display FPS Counter | 
Best Modern Warfare 2 Loadouts -  Best Weapon Tier List |  M4 Loadout|  PDSW 528 Loadout|TAQ-V Loadout|M4 Loadout|Fennec 45| No Recoil M4 Loadout | SA-B 50 Loadout | Kastov-74U Loadout |