As if
skill-based matchmaking
wasn't bad enough, another controversial feature appears to have made its way into Call of Duty: Black Ops Cold War. While this is unconfirmed and likely a glitch as of right now, Reserves have been seen in the Open Beta.

(Picture: Activision Blizzard)
Otherwise known as Supply Drops, Reserves were Treyarch's version of the loot crate in Black Ops 4. Paired with the Battle Pass, the crates were extremely controversial and widely disliked by the community. However, this might not deter Activision, as one player encountered a glitch that may have confirmed their return. 
Reserves to come back in Black Ops Cold War?
As previously stated, this is merely a glitch, and since Black Ops Cold War is still in beta form, doesn't mean Reserves are officially coming to the game. This could just be some leftover code from Black Ops 4 that Treyarch mistakingly left behind or implemented accidentally. 
Although, on the other hand, the details of the glitch appears to be pretty substantial. One beta player, going by the name NoobOfVerdansk on Twitter, found that if you plug in a keyboard and mouse on PS4, you can scroll through different layers of the Message of the Day. 
On the #BlackOpsColdWarBeta , Reserves,Purchase Crate and many other options were found if you use a Keyboard and Mouse to check out the message of the day. pic.twitter.com/hkMEWyba4G

— James (@NoobOfVerdansk) October 8, 2020
Normally, the Message of the Day in Black Ops Cold War only shows you an image and some text. However, this user was able to see several tabs underneath the image. These tabs are labeled "Contracts, Black Market, Reserves, Crate Bundle, Inventory, Purchase Crate".

(Picture: NoobOfVerdansk)
Naturally, many fans took this to mean as Treyarch is bringing back Reserves and even the Black Market from Black Ops 3. The tabs are clearly in place and this glitch looks too sizeable to be leftover code from previous games. 
However, this simply doesn't make sense. Activision was praised for its free DLC model that was implemented in Modern Warfare. A game with no Supply Drops, free after-launch content, and ways to earn every cosmetic was something fans had been asking for for years. To throw that out the window the very next year seems like a strange maneuver by the publishers.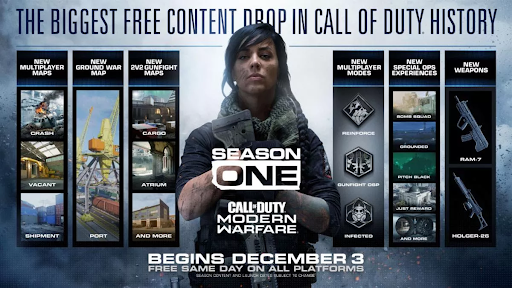 (Picture: Activision Blizzard)
Of course, we don't know the full story. Perhaps the Reserves will be cosmetic-only and contain items that you can unlock in other ways, like through contracts. There is a way to design a cosmetic system to hold a Battle Pass and supply drops.
However, Activision has yet to figure that out and fans are worried Black Ops Cold War will go down a similar road as games past.