There's been a lot of buzz surrounding
Call of Duty 2020
, believed to be entitled Black Ops: Cold War. Now, Activision has announced the release date window. This comes from Activision President Rob Kostich during the company's Q2 earnings call. Further, it seems the Call of Duty 2020 reveal could happen inside of Warzone, as the publisher believes it Warzone is a platform to announce franchise news.
Call of Duty 2020 release date window
In the Q2 earnings call, Activision President Rob Kostich revealed Call of Duty 2020 is being developed by both Treyarch and Raven Software. This is the first time since Modern Warfare 3 that a Call of Duty title is being co-developed.
The release date window for Call of Duty 2020 was also revealed as Q4 2020, which means somewhere between October and December this year. Judging by past releases, the Call of Duty 2020 release date should be somewhere between late October and mid-November.
While Activision didn't reveal the exact Call of Duty 2020 release date, it is great to know the game is on track for a release this year, and shouldn't be delayed due to the COVID-19 pandemic.
Call of Duty 2020 reveal inside Warzone?
Call of Duty 2020's reveal might just happen inside of Warzone, the free-to-play Battle Royale title which has taken the world by storm. The first hint dropped by Rob Kostich is: "The new Call of Duty premium title coming in Q4 will be launching into what we believe is the most engaged and highest player base ever."
Don't hold your breath for a Call of Duty 2020 reveal during the next PS4 State of Play, or a Microsoft Xbox Series X event. Instead, it looks like Call of Duty 2020 will be revealed inside Warzone. 
According to Activision's president, Warzone is a platform they can "share new franchise news and information."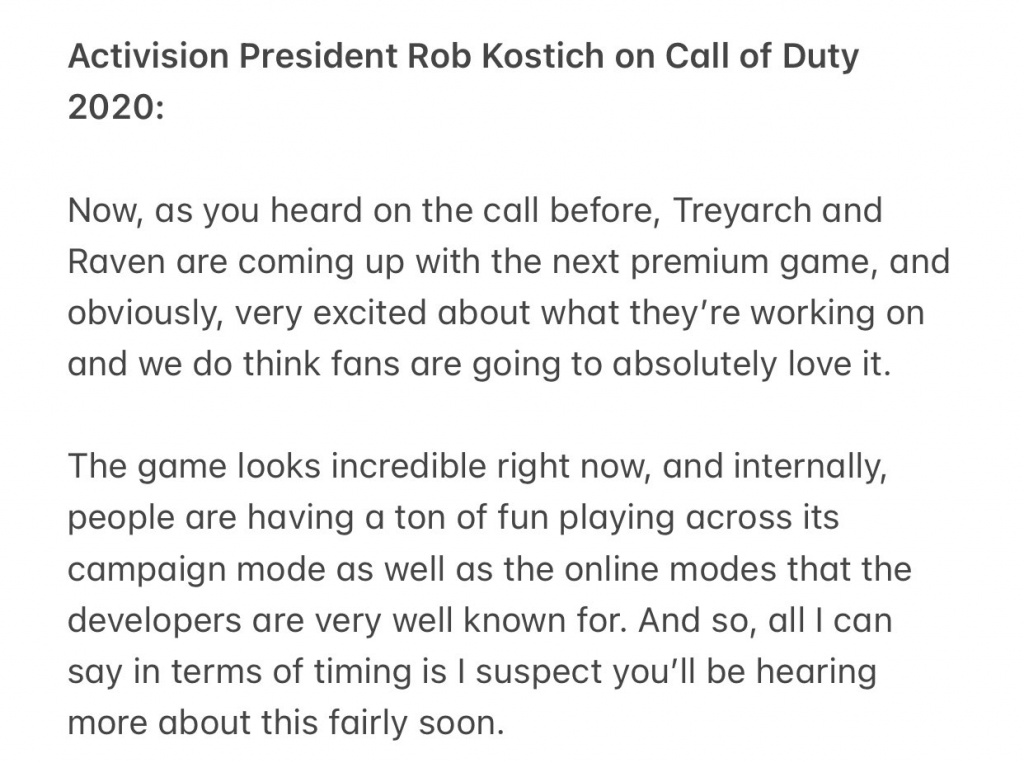 A statement about COD2020 (Picture: CharlieIntel)
Speaking about Call of Duty 2020, the president of Activision said: "we can't wait to share with the community, & we think it's going to be very different & more engaging than anything that we've done before."
This all points towards a Call of Duty 2020 reveal inside of Warzone, and we will just have to wait and see when / if it actually happens.
While you wait for the official Call of Duty 2020 reveal, you can always spend some time watching the latest episode of our Lockdown video series.
Lockdown: Fall Guys and Tekken 7 Season 4 (03.07.2020)