Call Of Duty is one of the biggest game franchises in the world, with latest entry Call Of Duty Modern Warfare unsurprisingly becoming one of the best-selling games of the year.   
Considering its huge appeal, it's perhaps surprising the competitive scene hasn't secured a growing audience like other shooters like CS: GO and Overwatch. Activision-Blizzard, however, is hoping to change all that with Call Of Duty League 2020.
The new Call of Duty® League™ will be 'a global, city-based esports league composed of 12 professional teams, representing 11 markets across North America and Europe', with Call of Duty esports receiving franchising that sees many big names from the CoD scene such as 100 Thieves absent from the inaugural season.
Which cities / territories have CDL teams?
The Call of Duty League 2020 will have the same the number of launch franchises the Overwatch League had for Season 1 in 2018. The confirmed list of cities on the website lists the European and American locations and the two separate 'KSE' and 'IGC' Los Angeles teams. The competition will travel between these cities for home and away games for all teams as part of the 'world tour'.
Atlanta (Atlanta Esports Ventures)
Chicago (NRG Esports)
Dallas (Team Envy)
Florida (Misfits Gaming)
Los Angeles x2 (Immortals Gaming Club + Kroenke Sports & Entertainment)
London (ReKTGlobal)
Minnesota (WISE Ventures)
New York (Sterling Equities)
Paris (c0ntact Gaming)
Seattle (Luminosity Gaming)
Toronto (OverActive Media)
What are the names of the new CDL teams?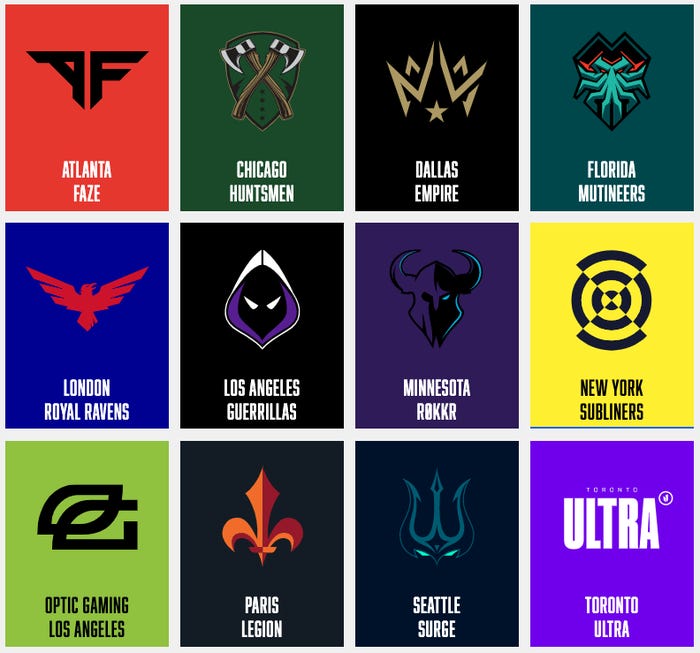 (Picture: Call Of Duty League) 
Which players have been confirmed / signed for the CDL?
Below are all of the confirmed players and confirmed signings for the upcoming Call of Duty League next year.
Atlanta FaZe
Roster
Tyler "aBeZy" Pharris 
Chris "Simp" Lehr
McArthur "Cellium" Jovel
Michael "MajorManiak" Szymaniak
Preston "Priestahh" Greiner
Thomas "GRVTY" Malin (Substitute)
Juan "JurNii" Antonio Gonzalez (Substitute)
Team
James "Crowder" Crowder (head coach)
Richard "RJ" Simoncelli (coach)
Austin "Easy Mac" O'Neil (analyst)
Chicago Huntsmen
Roster
Seth "Scump" Abner
Matthew "FormaL" Piper
Alec "Arcitys" Sanderson
Dylan "Envoy" Hannon
Pierce "Gunless" Hillman
Dallas Empire
Roster
James "Clayster" Eubanks
Ian "Crimsix" Porter
Indervir "iLLeY" Dhaliwal
Cuyler "Huke" Garland
Anthony "Shotzzy" Cuevas-Castro
Thomas "Tommey" Trewren (Substitute)
Florida Mutineers
Roster 
Preston "Prestinni" Sanderson
Bradley "Frosty" Bergstrom
Chance "Maux" Moncivaez 
Colt "Havok" McLendon
Cesar "Skyz" Bueno
Team
Ricky "Atura" Lugo (coach)
London Royal Ravens
Roster
Dylan "Dylan" Henderson
Jordan "Jurd" Crowley
Rhys "Rated" Price
Matthew "Skrapz" Marshall
Bradley "wuskin" Marshall
Sean "Seany" O'Connor (Substitute)
Dylan "MadCat" Daly (Substitute)
Team
Joseph "Joee" Pinnington (head coach)
James "Dominate" Batz (coach)
Shane "ShAnE" McKerral (coach)
Los Angeles Guerrillas
Roster
Patrick "Aches" Price
Ulysses "AquA" Silva
Jacob "Decemate" Cato
Renato "Saints" Forza
Andy "Lacefield" Lacefield
OpTic Gaming Los Angeles
Roster
Thomas "TJHaLy" Haly
Brandon "Dashy" Otell
Kenny "Kenny" Williams
Austin "Slasher" Liddicoat
Jordan "JKap" Kaplan
Minnesota Rokkr
Roster
Alex "Alexx" Carpenter
Adam "Assault" Garcia
Adam "GodRx" Brown
Justin "SiLLY" Fargo-Palmer
Obaid "Asim" Asim
Kaden "Exceed" Stockdale (Substitute)
Devin "TTiny" Robinson (Substitute)
Team
Brian "Saintt" Baroska (head coach)
New York Subliners
Roster
Dillon "Attach" Price
Lamar "Accuracy" Abedi
Donovan "Temp" Laroda
Trei "Zer0" Morris
Thomas "ZooMaa" Paparatto
Doug "Censor" Martin (Substitute) 
Nick "Happy" Suda (Substitute) 
Team
John "Revan" Boble (coach)
JohnPaul "JP Krez" Krez (analyst)
Paris Legion
Paul "Breszy" Breszynski
Denholm "Denz" Taylo
Matthew "KiSMET" Tinsley
Luke "Louqa" Rigas
Timothy "Phantomz" Landis
Conrad "Shockz" Rymarek
Zach "Zed" Denyer
Seattle Surge
Roster
Bryan "Apathy" Zhelyazkov
Ian "Enable" Wyatt
Damon "Karma" Barlow
Sam "Octane" Larew
Josiah "Slacked" Berry
Casey "Pandur" Romano (Substitute)
Nicholas "Proto" Maldonado (Substitute)
Team
Toronto Ultra
Roster
Daniel "Loony" Loza
Mehran "Mayhem" Anjomshoa
Carson "Brack" Newberry
Anthony "Methodz" Zinni" 
Alejandro "Lucky" Lopez
Adrian "MeTTaIZ" Serrano
Nicholas "Classic" DiCostanzo (Substitute)
Cameron "Cammy" McKilligan (Substitute) 
Ben "Bance" Bance (Substitute) 
Mehran "Mayhem" Anjomshoa (Substitute) 
Tobias "CleanX" Juul Jonsson (Substitute) 
Team
Mark "MarkyB" Bryceland (coach)
What format will the CDL follow? What platform will it be played on?
It has been confirmed that professional play will continue to be 5v5 game modes and played exclusively on PlayStation 4. Fans of Call of Duty were previously frustrated by Survival mode being tied to the PS4 platform exclusively for the first year after launch.
No further details about the game modes played have been released, but rumours suggest the game will launch without Hardpoint.
When does it take place and what is the prize pool? 
The inaugural season of the Call Of Duty League will kick off 24 January 2020 at the Minneapolis Armory in Minnesota, US.   
Matches will take place in a series of home events for each respective team. The prize pool will be over $6 million (£4.9 million) in its first year.   
What is the schedule?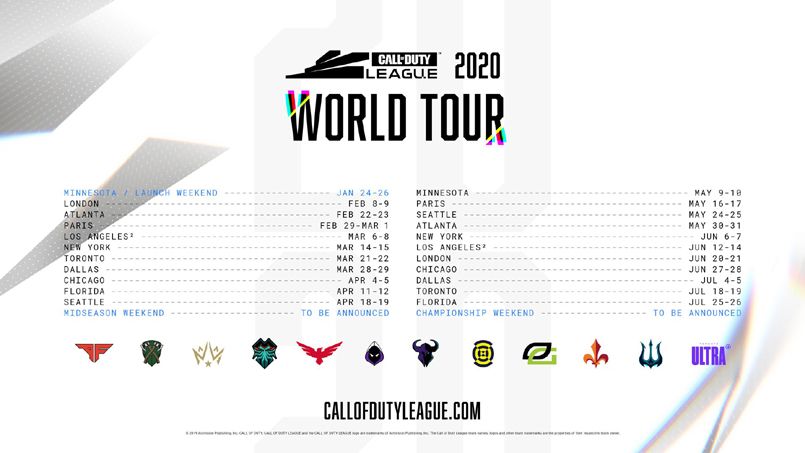 (Picture: Call Of Duty League) 
What is Call Of Duty Challengers?   
Alongside the league's debut, Call Of Duty Challengers is the amateur circuit which will provide a path for teams into the Call Of Duty League. This circuit is comprised of online and offline competitions.  
The prize pool for the Call Of Duty League Challengers circuit is $1 million.  
While it was initially ruled that anyone signed to a contract with any of the 12 member franchises would be granted a 15,000 point bonus, this rule has since been changed due to a backlash – who criticized it for making it almost impossible for players not signed to pro teams to climb the leaderboards.  
Under the new rules, players will now no longer receive the bonus points if signed to one of the 12 franchises. Those signed will instead receive 1,000 Challengers points for each week there is a 2000 Series Tournament held prior to the Call Of Duty League kicking off in January.  
These points will only be used for seeding purposes and won't count towards the league rankings, which determines the teams who will receive travel coverage to key events. Points earned from the 2000 and 1000 Series Tournaments will count toward the top 16 travel coverage.