In terms of popularity, the Krig-6 isn't at the top of the food chain in Call of Duty: Black Ops Cold War. Both the XM4 and AK-47 are more popular with players and that's just in the assault rifle category. However, for fans that have taken the time to get accustomed to the Krig, they know how powerful it can be. 
Fairly decent stats all-around make the Krig an attractive choice for any situation or map in Black Ops Cold War. Although, as with most other weapons, there are certain attachments that turn the Krig into a much better gun and perhaps one of the best ARs. 
Best Krig-6 loadout in Black Ops Cold War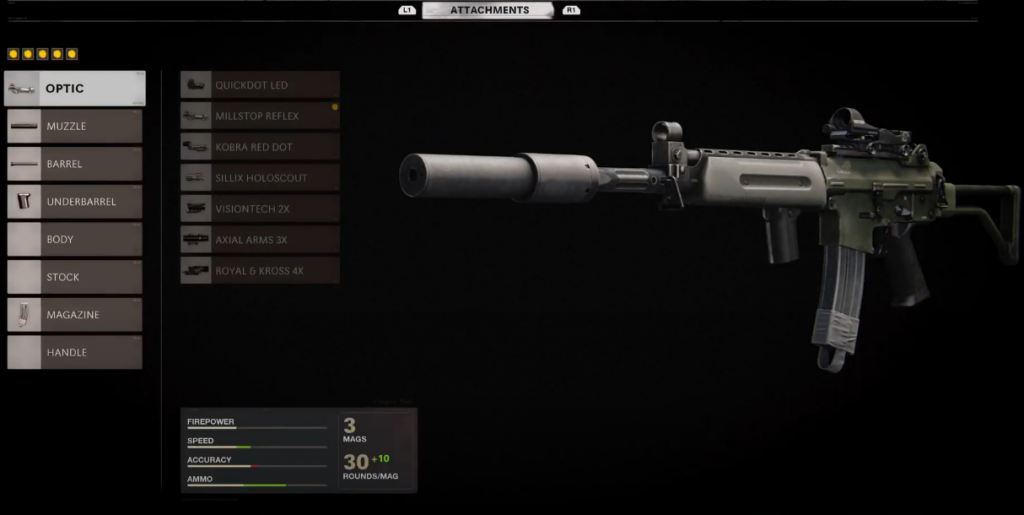 (Picture via ItsLukeeyy on YouTube)
For this loadout, we've chosen to go with only five attachments instead of the eight you would get with the Gunfighter Wildcard. This choice was made simply because the Krig-6 doesn't need an onslaught of attachments to perform well. 
Each of the five attachments picked in the Gunsmith helps out the AR in some way. Although the Krig is balanced across the board, a little extra benefit in each area never hurts. 
Optic: Millstop Reflex
Muzzle: Agency Suppressor
Barrel: 19.3" Paratrooper 
Underbarrel: Marshal Foregrip 
Magazine: 40 Round Speed Mag 
For the Krig, you most likely want an optic seeing as the iron sights aren't the best. The Millstop Reflex is the consensus best sight but still, this is mostly personal preference. Moving on, Suppressors are back in style with Black Ops Cold War.
The Agency Suppressor is a great choice as it keeps you off the radar but also slightly improves vertical recoil control, which is the direction the Krig tends to kick.
Your recoil is also reduced with the Marshal Foregrip. While your hipfire accuracy suffers, firing from the hip with an AR isn't a great idea in the first place. Finally, the 19.3" Paratrooper offers some extra damage range and the 40 Round Speed Mag simply helps with magazine capacity. 
---
For more Call of Duty news, be sure to check out our dedicated section or some of our MW2 Guides & Tutorials below:
Modern Warfare 2 Guides - Jack Links Skin | Unlock All Operators | Check Server Status | Get Twitch Drops | Post-Credit Scene Explained | Unlock Gold Camo | Get Burger Town Operator | MGB Nuke | Unlock Every Weapon | All Killstreaks| Safe Code Locations|Check KD Ratio|XP Farm Trick|Chopper Gun Glitch|Weapon Tuning|Change Name Color|Hardcore Tier 1 Mode| Turn Off Crossplay|Steam Deck| Raid: Atomgrad | How To Play "Support A Team" | Unlock Orion Camo | Aim Assist Settings | 
Modern Warfare 2 Fixes & Issues-Best NVIDIA GeForce Drivers | Dev Error 6036 | MW2 Missing Items | Unlimited Tactical Sprint Bug | Stuck On Installing Bug | Display Name Not Allowed Bug|Gold Camo Not Unlocking|Voice Chat Not Working| Display FPS Counter | 
Best Modern Warfare 2 Loadouts -  Best Weapon Tier List |  M4 Loadout|  PDSW 528 Loadout|TAQ-V Loadout|M4 Loadout|Fennec 45| No Recoil M4 Loadout | SA-B 50 Loadout | Kastov-74U Loadout |