Call of Duty: Vanguard is finally here, but unfortunately for not a small number of fans, crashes and freezes are currently preventing them from enjoying the game.
Numerous players have been reporting about the annoying "Scan & Repair" bug which occurs with the Battle.net version of the game (PC) and in the most severe cases it completely locks them out from the game, while others are simply unable to play Vanguard normally, as the game crashes constantly.
And to make things worse, it seems that this annoying bug is rather persistent, as it keeps bothering players even after they have exhausted all options. Still, even if some of the options didn't work for them, that doesn't mean that they will not help you with your issue.
Read further to find several common steps you should try in order to possibly fix the Call of Duty: Vanguard crashing issue.
How to fix COD Vanguard crashing "Scan & Repair" bug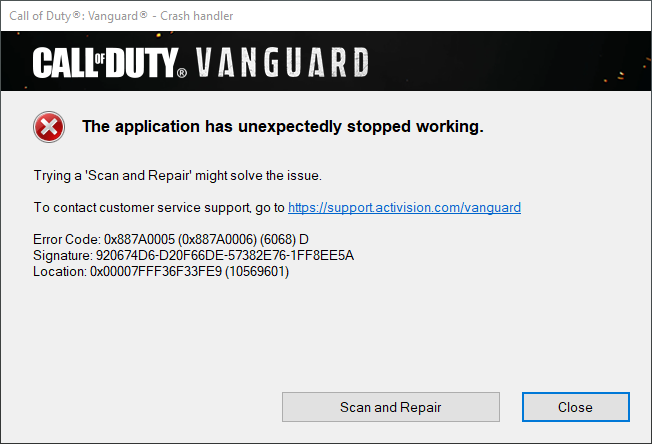 There are several basic check-ups you should undertake in order to make sure that everything is working properly and potentially fix the problem with constant COD Vanguard crashes.
The most basic procedure is to try to restart your PC and your internet connection and see if that will solve the problem:
Restart your PC and disconnect the power to your modem and/or router for 60 seconds.
Reconnect the power and wait for the internet connection to be restored before powering your PC back on and attempting to access the game.
Try switching from a wireless connection to a wired one (if possible).
The next basic thing you should check is if your GPU drivers are up to date. Both NVIDIA and AMD have released Vanguard-ready drivers prior to the game's launch, and you should definitely install them before playing the game.
You can check for the latest driver via your GPU apps, or alternatively, you can download them from the links below:
If that doesn't help, try uninstalling and reinstalling the Battle.net launcher (with another restart of your PC in between).
Since the error message says that you should Scan & Repair the game, you might as well try doing exactly that, if you already haven't.
Open Battle.net
Open the Call of Duty: Vanguard page
Click on a blue "Options" button (small cog) just right from the "Play" button 
Select the "Scan and repair" option and let it do its work
When complete, restart the PC once more, just in case
If you are still having problems, try uninstalling and reinstalling Vanguard on Battle.net (with another restart of your PC in between).
After all of this COD Vanguard is still crashing? When people are not certain what exactly is causing issues, then it's most likely some 3rd-party software that's running in the background and causing compatibility issues.
Make sure to disable all unnecessary background apps, as they might cause you problems. Software like Razer Synapse is known to cause problems with Call of Duty games.
If you are still unable to eliminate the COD Vanguard crashing, then we advise you to visit the official Activision Support page or try to contact them directly.
Don't forget to check out our dedicated Call of Duty section for Vanguard news, loadouts, tier lists, leaks and much more.
Featured image courtesy of Activision.