The
Call of Duty League Playoffs
heightened both impressive turnarounds and questionable online issues, as the huge .6 million prize pool on the line came into view. 
It started on a worrisome note, with multiple opening matches seeing players like Trei "Zer0" Morris on London Royal Ravens and OpTic Gaming LA's Kenny "Kuavo" Williams disconnected from matches - blaming supposed "booters" aka hackers trying to throw games by interfering with player connections, to possibly secure their own online bet payouts. 
It led to the Call of Duty League broadcasting matches with a delay, albeit without saying officially - leading to a confusing, messy situation which could have been tempered if organisers were more upfront about the online issues that will, to some degree, inevitably occur.
While this issue sent London Royal Ravens to the losers bracket, it allowed the team to pull off the most impressive turnaround of the Playoffs - eliminating Paris Legion and New York Subliners to fight their way back to a rematch against Toronto Ultra. 
Despite going down in the opening Hardpoint, London Royal Ravens fought their way back to equalise in the Search and Destroy. The pivotal moment however was Ravens managing to beat Toronto Ultra at Domination, which is historically the team's worst mode by some margin. 
After some spectacular plays by Sean "Seany" O'Connor, Ravens secured their place in the Championship with a 3-1 win - making them the only team from outside the US to make it to the top four. 
OpTic Gaming LA looked on track for a Cinderella run after starting in the losers bracket, but their path was cut short with an intensely tight match-up with Chicago Huntsmen - which ran the full course with a five-game match. 
It culminated in an 11-round Search and Destroy and a chaotic, almost incomprehensible shootout, with Chicago Huntsmen managing to emerge victorious with a 3-2 win. 
London Royal Ravens and Chicago Huntsmen join both Dallas Empire and Atlanta FaZe in the Championship Weekend, who both predictably sailed through via the winners bracket. 
It'll be a real test for Ravens in the Championship Weekend, who have yet to prove themselves against the top of the table - with Chicago Huntsmen their first barrier to the finals. 
Who won the 2020 Call of Duty League MVP?

Shotzzy wins the MVP award (Picture: CDL) 
Dallas Empire's Antony "Shotzzy" Cuevas-Castro was awarded the MVP trophy for the whole Call of Duty League season, beating McArthur "Cellium" Jovel from Atlanta FaZe, Cesar "Skyz" Bueno, Chris "Simp" Lehr and Dylan "Envoy" Hannon. 
What are the final standings so far and who has qualified for Champs?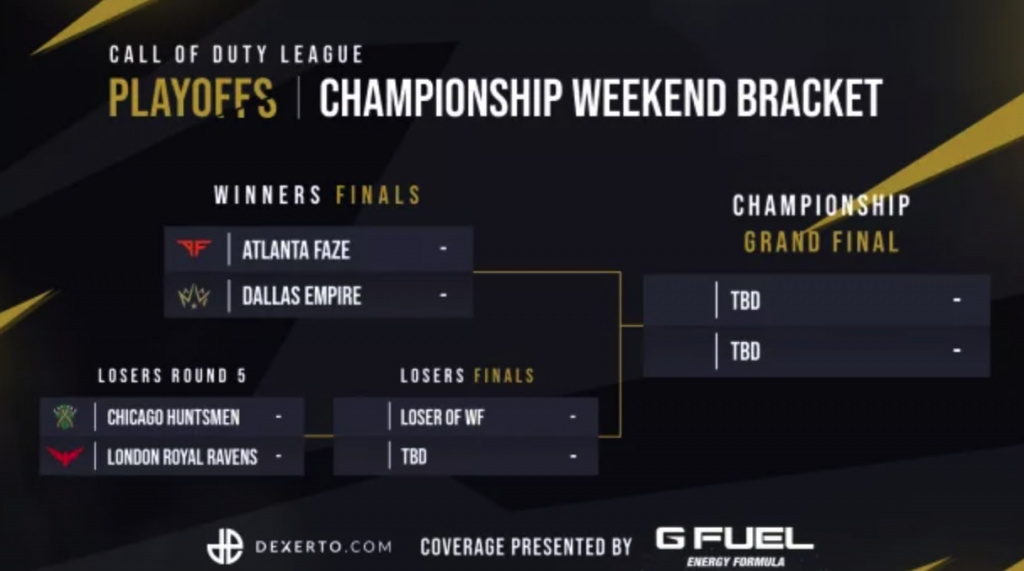 The battle starts next week (Picture: CDL) 
Championship Weekend teams
London Royal Ravens
Chicago Huntsmen
Atlanta FaZe
Dallas Empire
Eliminated teams and current standings
5th: OpTic Gaming LA ($300,000)
6th: Toronto Ultra ($300,000)
7th: Florida Mutineers ($175,000)
8th: New York Subliners ($175,000
10/9th: Minnesota ROKKR ($100,000)
10/9th: Paris Legion ($100,000)
11/12th: LA Guerrillas ($0)
11/12th: Seattle Surge ($0)
The Call of Duty League Championship Weekend starts on Saturday 29th August.