After a turbulent offseason with huge roster switches, the
Call of Duty League 2021 season
will be preceded with Kickoff Classic.
This event will see all 12 teams have one match across two days, including new arrivals LA Thieves and the rebranded OpTic Chicago.
So what do you need to know about the Kickoff Classic? Here's the breakdown. 
When does the CDL Kickoff Classic start?
The event spans two days from 23-24th January at 12pm PST/8pm GMT, with all matches set to take place online.
All match-ups were voted by fans on Twitter, resulting in some excellent storylines - with James "Clayster" Eubanks going up against his former squad Dallas Empire, while LA Thieves vs OpTic Chicago will revive a historic rivalry.
In addition to matches, the event will also have a group selection show for the main CDL 2021 season and other details about what to expect. 
What are the team rosters?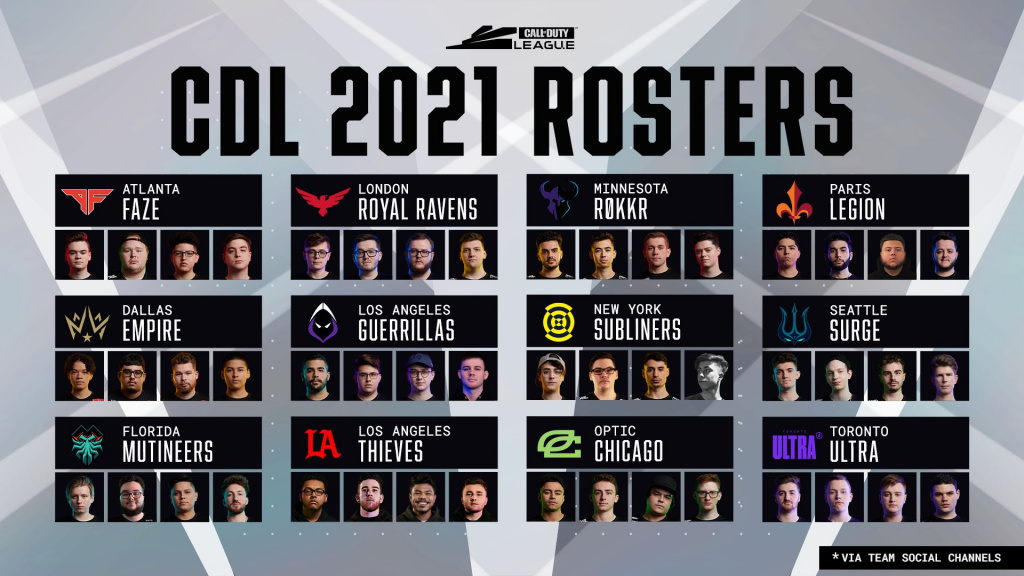 Call of Duty League 2021 rosters (Picture: CDL) 
You can check out every roster below for the 2021 season. 
Chicago OpTic
Seth "Scump" Baner
Matthew "FormaL" Piper
Dylan "Envoy" Hannon
Brandon "Dashy" Otell
Atlanta FaZe
Alec "Arcitys" Sanderson
Tyler "aBeZy" Pharris
Chris "Simp" Lehr
McArthur "Cellium" Jovel
Dallas Empire
Indervir "iLLeY" Dhaliwal
Anthony "Shotzzy" Cuevas-Castro
Cuyler "Huke" Garland
Ian "Crimsix" Porter
Minnesota ROKKR
Preston "Priestahh" Greiner
Michael "MajorManiak" Szymaniak
Lamar "Accuracy" Abedi
Dillon "Attach" Price
LA Guerrillas
Reece "Vivid" Drost
Bryan "Apathy" Zhelyazkov
Adam "Assault" Garcia
Justin "SiLLY" Fargo-Palmer
Seattle Surge
Sam "Octane" Larew
Peirce "Gunless" Hillman
Preston "Prestinni" Sanderson
Daniel "Loony" Loza
Toronto Ultra
Ben "Bance" Bance
Cameron "Cammy" McKilligan
Tobias "CleanX" Jonsson
Anthony "Methodz" Zinni
LA Thieves
Thomas "TJHaly" Haly
Kenny "Kuavo" Williams
Donovan "Temp" Laroda
Austin "SlasheR" Liddicoat
Zack "Drazah" Jordan (sub)
New York Subliners
James "Clayster" Eubanks

Conor "Diamondcon" Johst

Makenzie "Mack" Kelley
Paco "HyDra" Rusiewiez
London Royal Ravens
Sean "Seany" O'Connor
Thomas "Dylan" Henderson
Trei "Zer0" Morris
Alex "Alexx" Carpenter
Florida Mutineers
Cesar "Skyz" Bueno
Cold "Havok" McLendon
Joseph "Owakening" Conley
Josiah "Slacked" Berry
Paris Legion 
Ulysses "AquA" Silva
Nicholas "Classic" DiConstanzo
Matthew "Skrapz" Marshall
Luis "Fire" Rivera
What is the schedule?
Saturday 23rd January
Dallas Empire vs New York Subliners - 12pm PT/8pm GMT
LA Guerrillas vs Seattle Surge - 1.30pm PT/9.30pm GMT
Atlanta FaZe vs Florida Mutineers - 3pm PT/11pm GMT
Sunday 24th January
London Royal Ravens vs Paris Legion - 12pm PT/8pm GMT
Toronto Ultra vs Minnesota ROKKR - 1.30pm PT/9.30pm GMT
OpTic Chicago vs LA Thieves - 3pm PT/11pm GMT
What are the matches to look out for?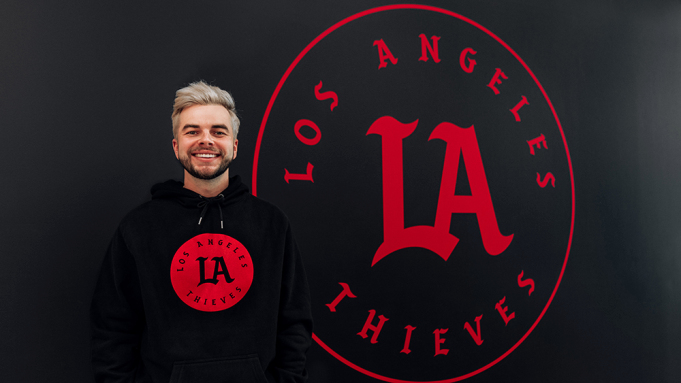 LA Thieves will make their debut (Picture: 100 Thieves) 
The opening match between Dallas Empire and New York Subliners has added weight due to James "Clayster" Eubanks, who was dropped by Dallas shortly after they won the Championship title last year. But will he able to get revenge through New York Subliners?
The London Royal Ravens vs Paris Legion match-up has a similar story, with Matthew "Skrapz" Marshall moving to the latter after being dropped by the Ravens along with his twin brother.
Easily the biggest match of the weekend however will be OpTic Chicago vs LA Thieves. After 100 Thieves were absent from the CDL last year, this will bring back their classic rivalry with OpTic and showcase whether the LA Thieves have what it takes to go up against them.
Where can I stream the CDL Kickoff Classic?
Like the Call of Duty League last year, all matches will be streamed through the CDL channel on YouTube. We'll include a link below when it goes live.