Update:
The Attack Helicopter has been removed from Warzone due to invisibility exploit, and it will remain out of the game until the issue is fixed.
Original story:
Call of Duty: Black Ops Cold War and Warzone Season One arrived on 16th December 2020, bringing a tonne of content, a new Battle Pass and much more. One thing which wasn't planned, however, is a new Warzone invisible player exploit/bug which allows players to turn completely invisible, taking out enemies with ease. 
This Warzone invisible player bug is game-breaking for some, frustrating players as others exploit this issue for some easy kills.
Warzone invisible player exploit
First off, since many players appear to be using this Warzone exploit to dominate the battlefield, we won't be sharing specific details on how to use it, so Rebirth Island and Verdansk won't be completely overrun by invisible players.
In a PSA post on Reddit entitled "There's a new invisibility glitch" fans of Warzone have been discussing the invisible player exploit, and sharing their experiences.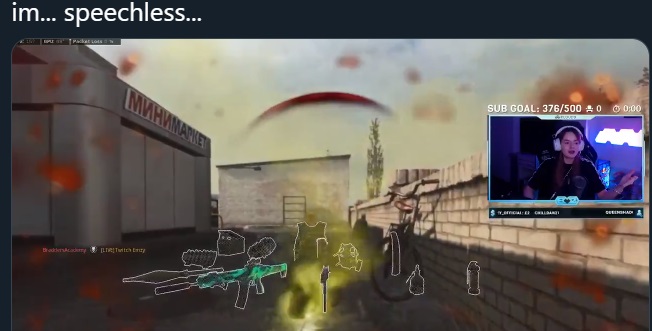 (Picture: C9 Emma)
This exploit has to do with a bug involving the new Attack Helicopter released in the Season One update for Warzone. Once players complete certain steps, they turn invisible for the remainder of the match.
However, they can still be viewed on the killcam. For example, Cloud9's Emma shared a clip on Twitter showcasing how she got killed by this exploit.
Benton Hart shared a short clip on YouTube, showing how an invisible Warzone player killed him with a knife, which you can view below.
At the time of writing, Activision and Treyarch have not fixed this Warzone invisible player exploit, and there's no telling how long it will last.
The only saving grace is that these invisible players can be seen on the radar, which means you could still have a fighting chance in some instances.
Hopefully, the invisible player exploit will be fixed soon, and those who knowingly use this glitch over and over again could get punished accordingly.