Infinity Ward has pushed through yet another update for Call of Duty: Warzone. However, unlike the normal content drop updates that the community's been receiving the past few days, this patch is a little more confusing. As of right now, helicopters have been disabled in the battle royale due to an unknown reason. Although, we can assume that a bug or glitch of some kind was the reason behind the removal. This is only for the night version of Verdansk. 
Along with the helicopters, the popular pumpkin heads have also been removed. The reasoning behind this is known, as the developers stated a bug was plaguing the heads. Whenever they come back, you can check out to earn them in both Warzone and Modern Warfare in our previous article.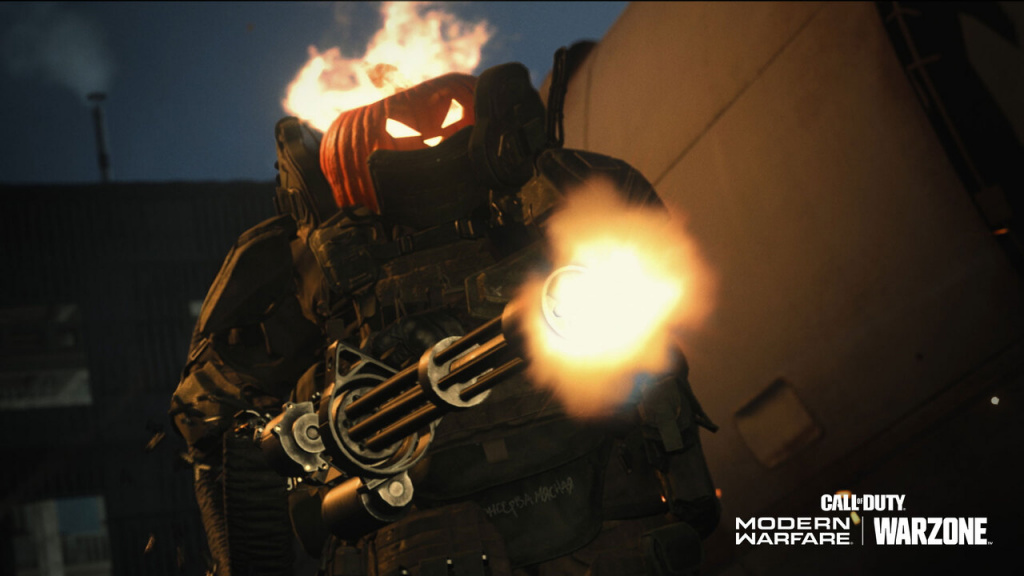 The Flaming Pumpkin Head was one of Infinity Ward's best additions with the Haunting of Verdansk event. (Picture: Activision)
Those were the only gameplay items that were removed from Warzone with this update. Although, there was something added as well, being the new game mode, Juggourdnaut Royale. A simple renaming of the Juggernaut Royale, the new mode is meant to get players in the fall spirit and will see the Juggernaut armor drop considerably more around Verdansk . Infinity Ward also renamed some multiplayer modes in Modern Warfare, as they usually do around the holidays. 
Today's playlist update is now live across all platforms!
- Disabling the pumpkin heads due to a bug
- Disabling the helicopter in the night version of Verdansk#Warzone
- BR Solo Survivor
- Juggourdnaut Royale
- Plunder: Candy Collector

— Infinity Ward (@InfinityWard) October 23, 2020
Also arriving with Juggourdnaut Royale is BR Solo Survivor and Plunder: Candy Collector. Like with the renaming of Juggernaut Royale, Plunder: Candy Collector sees players collecting candy instead of cash, meanwhile BR Solo Survivor takes advantage of the night map of Verdansk, however, it removes the zombies from the Zombie Royale gamemode.
All of this Halloween-themed content will likely remain in Warzone until 3rd November when the Haunting of Verdansk event ends. However, it's unclear when the helicopters or pumpkin heads will return. Hopefully, it's at least a few days before the Halloween event concludes. 
---
For more Call of Duty news, be sure to check out our dedicated section or some of our MW2 Guides & Tutorials below:
Modern Warfare 2 Guides - Jack Links Skin | Unlock All Operators | Check Server Status | Get Twitch Drops | Post-Credit Scene Explained | Unlock Gold Camo | Get Burger Town Operator | MGB Nuke | Unlock Every Weapon | All Killstreaks| Safe Code Locations|Check KD Ratio|XP Farm Trick|Chopper Gun Glitch|Weapon Tuning|Change Name Color|Hardcore Tier 1 Mode| Turn Off Crossplay|Steam Deck| Raid: Atomgrad | How To Play "Support A Team" | Unlock Orion Camo | Aim Assist Settings | 
Modern Warfare 2 Fixes & Issues-Best NVIDIA GeForce Drivers | Dev Error 6036 | MW2 Missing Items | Unlimited Tactical Sprint Bug | Stuck On Installing Bug | Display Name Not Allowed Bug|Gold Camo Not Unlocking|Voice Chat Not Working| Display FPS Counter | 
Best Modern Warfare 2 Loadouts -  Best Weapon Tier List |  M4 Loadout|  PDSW 528 Loadout|TAQ-V Loadout|M4 Loadout|Fennec 45| No Recoil M4 Loadout | SA-B 50 Loadout | Kastov-74U Loadout |