The Call of Duty: Black Ops Cold War Alpha was barely released before players everywhere began angrily disputing the use of SBMM in the game. SBMM, for those out of the know, stands for skill-based matchmaking. It is the process of grouping players with those of similar skill levels.
SBMM does not belong in Call of Duty. There should be a ranked playlist for people to sweat in. I'm not trying to play Scuf wielding game fuel chugging demons with szn in their psn on Miami TDM. Also, to the noobies that are gonna cry about this tweet, hold this choppy gunny.

— Seth Huntsmen (@scump) September 19, 2020
The concept is fine enough. By placing newer players with others of their calibre, you ensure that each match feels fair and fun. But when you look at the higher end of the pecking order, things start to unravel.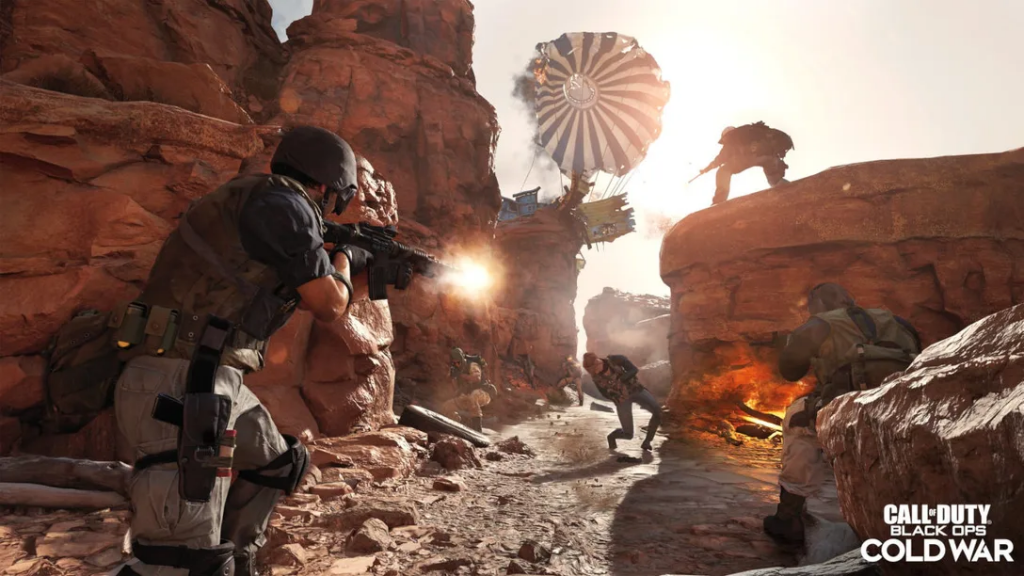 (Picture: Treyarch)
A few big names in the Call of Duty community have spoken out against SBMM and its inclusion in the franchise. One big argument for SBMM's exclusion is that constantly matching those who perform well with others of their skill level, leads to a lot of games where both sides are filled with 'sweaty tryhard players' where nobody is having a good time.
Those who oppose skill-based matchmaking in Call of Duty often like to mention that a fun game is one where they could be dominating the battlefield in one round, only to get far fewer kills in the next. Many seek a return to the so-called glory days of Modern Warfare 2 and the original Black Ops, but what's interesting is that these titles also had SBMM included.
They all had SBMM. https://t.co/POpRwO0qXR

— Martin Donlon (@wickerwaka) September 19, 2020
Treyarch developer Martin Donlon took to Twitter recently to shut down a fan who was spreading false information about past titles. When challenged on this claim, Donlon announced that he personally wrote the SBMM implementation for Black Ops 2.
Donlon went on to say that it's understandable for fans to dislike the current implementation of SBMM. According to the developer, skill-based matchmaking isn't just a feature that gets turned on or off, rather a complex series of tunable parameters that can be adjusted. Perhaps Treyarch will take note of this rather extreme fan feedback and adjust their SBMM in Cold War accordingly.
Perfectly valid viewpoint to have. SBMM is one of many many tuneable parameters in a matchmaking system. It's funny watching people talk about it like its a big switch that can only be turned on or off.

— Martin Donlon (@wickerwaka) September 19, 2020
Another possible solution would be to introduce a Ranked playlist for the new Black Ops, allowing those who want to have quick fun without worrying about running the top-tier loadouts to simply find that in Casual.
Whether or not the 'try-hard' players would stick to ranked mode though, remains to be seen.
---
For more Call of Duty news, be sure to check out our dedicated section or some of our MW2 Guides & Tutorials below:
Modern Warfare 2 Guides - Jack Links Skin | Unlock All Operators | Check Server Status | Get Twitch Drops | Post-Credit Scene Explained | Unlock Gold Camo | Get Burger Town Operator | MGB Nuke | Unlock Every Weapon | All Killstreaks| Safe Code Locations|Check KD Ratio|XP Farm Trick|Chopper Gun Glitch|Weapon Tuning|Change Name Color|Hardcore Tier 1 Mode| Turn Off Crossplay|Steam Deck| Raid: Atomgrad | How To Play "Support A Team" | Unlock Orion Camo | Aim Assist Settings | 
Modern Warfare 2 Fixes & Issues-Best NVIDIA GeForce Drivers | Dev Error 6036 | MW2 Missing Items | Unlimited Tactical Sprint Bug | Stuck On Installing Bug | Display Name Not Allowed Bug|Gold Camo Not Unlocking|Voice Chat Not Working| Display FPS Counter | 
Best Modern Warfare 2 Loadouts -  Best Weapon Tier List |  M4 Loadout|  PDSW 528 Loadout|TAQ-V Loadout|M4 Loadout|Fennec 45| No Recoil M4 Loadout | SA-B 50 Loadout | Kastov-74U Loadout |