The
Warzone Season 4 Reloaded update
released in the early hours of the morning on 15th July 2021 and boasts the
biggest weapon balance changes
in the history of Warzone. It also features a tonne of new content for players to enjoy, and one of these pieces of content is the new Submachine Gun (SMG), the OTs 9. While we've already covered
how you can unlock the OTs 9
, which appears to be a deadly new SMG addition, it's now time to get the best OTs 9 loadout to our readers, picking all the right attachments to mow down your enemies.
Best OTs 9 loadout for Season 4 Reloaded
The OTs 9 is a full-auto SMG that has some great firepower at close range combat, and decent visibility while firing. It has reliable recoil control but there's a caveat, the OTs 9 does have a smaller magazine size than you might find on most other SMGs.
The image by JGOD below shows the OTs 9's TTK and various other stats after multiple tests with the new SMG.

The OTs 9 looks like a very solid option, and you can make it even better with the best possible loadout for Warzone Season 4 Reloaded.
Check out the best loadout for the OTs 9 SMG at the start of Warzone Season 4 Reloaded below.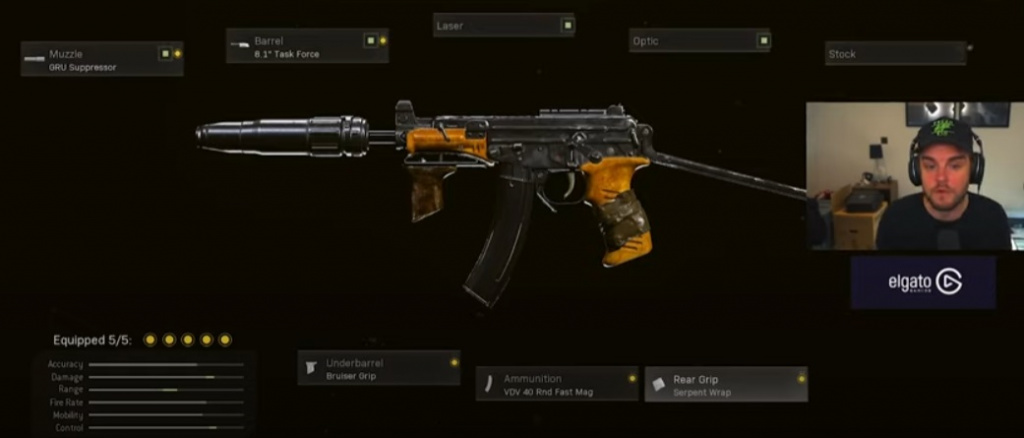 The best OTs 9 loadout at the start of Warzone Season 4 Reloaded is:
Muzzle: GRU Suppressor
Barrel: 8.1" Task Force
Underbarrel: Bruiser Grip
Ammo: VDV 40 Rnd Fast Mag
Rear Grip: Serpent Wrap
This loadout is all-around the best right now for the OTs 9 SMG in Warzone Season 4 Reloaded, increasing damage, range and control, since the OTs 9 is already well suited for fast, close-quarters combat.
The GRU Suppressor keeps you off the enemy radar with sound suppression, while adding vertical recoil control, effective damage range, and bullet velocity. It's an important attachment to use in the best OTs 9 SMG loadout, alongside the VDV 40 Rnd Fast Mag which adds much-needed ammo capacity and faster reloading.
The next piece of the puzzle is the 8.1" Task Force barrel attachment, which adds strafe speed, effective damage range and bullet velocity while losing a bit of recoil control. Then, the Bruiser Grip allows for more movement speed and hit fire accuracy, which is essential for the best OTs 9 loadout since it is all about close-range combat. Lastly, the loadout is finished off the Serpent Wrap, to allow for better ADS speed when needed.
Since the OTs 9 has very clean iron sights, no optic is needed to get the job done, just in case you were wondering.
Check out BennyCentral's video showcasing the OTs 9 SMG loadout in action, mowing down enemies in his path with relative ease.
So there you have it, the best OTs 9 loadout or class setup to use in Warzone Season 4 Reloaded. 
Don't forget to check out our dedicated Call of Duty section for news, leaks, guides, weapon tier lists, loadouts, and more.