The mid-season 4 update for Warzone has arrived and it comes with some drastic balance changes.
There's a lot of new things to explore and try out in Season 4 Reloaded, including the new Sentry Gun killstreak, two new weapons (the OTs 9 and the Mace), a brand new 20v20 Payload mode, as well as plenty of free rewards to grab during the Blueprint Blitz event.
But by far the most significant changes are coming in regards to weapon balance.
At the start of Season 4, Raven has revealed that one of their main goals with balance changes going forward is to make weapon adjustments in order to increase the average time-to-kill within Warzone across all classes.
In short, they want all the weapons to kill more slowly so that players have more time to react and reassess the situation.

With that in mind, there is a significant focus on Torso Multipliers with these changes.
"With reductions to these multipliers, we are placing a bigger emphasis on precision - a move which we feel is ultimately healthy for the game," Raven explains.
Developers want to emphasize that "weapon adjustments were not made in a vacuum," despite the fact that some of these changes might seem drastic.
Raven states that their ultimate goal is to provide "a myriad of options to choose from" and that's where they are aiming with this set of changes.
Check out all the changes below.
Season 4 Reloaded balance changes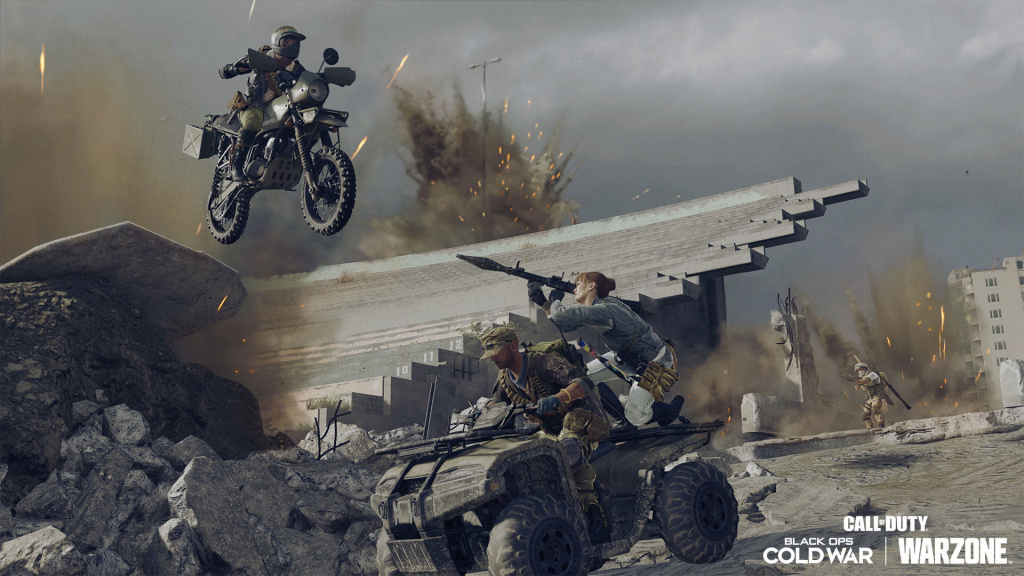 Assault Rifles
AK-47 (BOCW)

Headshot Multiplier decreased from 1.62 to 1.5
Upper Torso Multiplier decreased from 1.2 to 1
AK-47 (MW)


Upper Torso Multiplier decreased from 1.2 to 1.1
C58 (BOCW) 

Headshot Multiplier decreased from 1.62 to 1.58
Upper Torso Multiplier decreased from 1.2 to 1
Lower Torso Multiplier decreased from 1.1 to 1
Maximum Damage Range increased by 8%
Recoil increased
CR-56 AMAX (MW)

Headshot Multiplier increased from 1.5 to 1.55
Upper Torso Multiplier decreased from 1.1 to 1
Assault Rifle Bravo (MW)

Headshot Multiplier decreased from 2.05 to 1.62
Upper Torso Multiplier decreased from 1.2 to 1.1
FARA 83 (BOCW)

Maximum Damage decreased from 31 to 29
Recoil increased
FFAR 1 (BOCW)

Headshot Multiplier decreased from 1.5 to 1.4
Maximum Damage decreased from 27 to 25
Minimum Damage decreased from 25 to 23
Maximum Damage Range decreased by 20%
Neck Multiplier increased from 1 to 1.2
Assault Rifle Golf (MW)

Upper Torso Multiplier decreased from 1.2 to 1.1
Grau 5.56 (MW)

Minimum Damage increased from 22 to 24
Groza (BOCW)

Maximum Damage decreased from 28 to 27
Maximum Damage Range increased by 4.5%
Headshot Multiplier decreased from 1.62 to 1.5
Upper Torso Multiplier decreased from 1.2 to 1.12
Lower Torso Multiplier decreased from 1.1 to 1
Recoil pattern smoothed
Krig 6 (BOCW)

Minimum Damage increased from 25 to 26
M13 (MW)

Minimum Damage increased from 19 to 20
Assault Rifle Charlie (MW)

Maximum Damage decreased from 28 to 27
Minimum Damage increased from 22 to 23
Oden (MW)

Upper Torso Multiplier decreased from 1.3 to 1.2
QBZ-83 (BOCW)

Minimum Damage increased from 22 to 24
Base Move Speed reduced by 3%
Base ADS Move Speed reduced by 5%
Upper Torso Multiplier increased from 1.1 to 1.2
Lower Torso Multiplier increased from 1 to 1.1
RAM-7 (MW)

Maximum Damage decreased from 28 to 26
XM4 (BOCW)

Maximum Damage decreased from 32 to 30
Minimum Damage decreased from 28 to 27
ADS Speed decreased slightly
Recoil increased slightly
Light Machine Guns
M60 (BOCW)

Maximum Damage increased from 36 to 37
Headshot Multiplier increased from 1.5 to 1.6
MG 34 (MW)

Maximum Damage decreased from 31 to 29
Minimum Damage decreased from 28 to 27
Headshot Multiplier decreased from 1.5 to 1.4
Upper Torso Multiplier decreased from 1.1 to 1
MG 82 (BOCW)

ADS Speed decreased slightly
Light Machine Gun Alpha (MW)

Maximum Damage increased from 31 to 32
Maximum Damage Range decreased by 7%
Upper Torso Multiplier decreased from 1.1 to 1
SA87 (MW)

Upper Torso Multiplier decreased from 1.2 to 1.1



Light Machine Gun Alpha (BOCW)

Maximum Damage decreased from 34 to 33
Upper Torso Multiplier decreased from 1.1 to 1
Sniper Rifles
Swiss K31 (BOCW)

ADS animation updated
Now shares a base reticle with the ZRG 20mm
Submachine Guns
AK-74u (BOCW)

Maximum Damage decreased from 35 to 31
Minimum Damage increased from 25 to 26
Headshot Multiplier decreased from 1.62 to 1.6
Upper Torso Multiplier increased from 1 to 1.1
Bullet Velocity increased by 5%
Submachine Gun Alpha (MW)

Minimum Damage increased from 25 to 26
Headshot Multiplier decreased from 1.62 to 1.47
Bullfrog (BOCW)

Maximum Damage decreased from 32 to 31
Headshot Multiplier decreased from 1.62 to 1.5
Left Upper Arm Multiplier increased from .9 to 1
Right Upper Arm Multiplier increased from .9 to 1
Left Upper Leg Multiplier increased from .9 to 1
Right Upper Leg Multiplier increased from .9 to 1
KSP-45 (BOCW)

Headshot Multiplier decreased from 1.62 to 1.57
LC10 (BOCW)

Maximum Damage decreased from 30 to 27
Minimum Damage decreased from 25 to 24
Headshot Multiplier decreased from 1.62 to 1.55
Mac-10 (BOCW)

Maximum Damage decreased from 24 to 23
Minimum Damage decreased from 20 to 19



Milano 821 (BOCW)

Recoil increased slightly
Maximum Damage range decreased by 12%
Headshot Multiplier decreased from 1.62 to 1.38
Upper Torso Multiplier decreased from 1.2 to 1.1
Lower Torso Multiplier decreased from 1.1 to 1
Submachine Gun Alpha (BOCW)

Maximum Damage decreased from 33 to 31
Minimum Damage decreased from 25 to 24
Nail Gun (BOCW)

Maximum Damage decreased from 50 to 46
Headshot Multiplier decreased from 1.62 to 1.45
Upper Torso Multiplier decreased from 1.28 to 1
Submachine Gun Echo (MW)

Maximum Damage decreased from 35 to 34
Minimum Damage increased from 25 to 26
PPSh-41 (BOCW)

Maximum Damage decreased from 28 to 26
ISO (MW)

Minimum Damage increased from 20 to 21
Submachine Gun Delta (MW)

Minimum Damage increased from 25 to 26
Fennec (MW)

Maximum Damage decreased from 25 to 24
Minimum Damage decreased from 20 to 19
Tactical Rifles
Tactical Rifle Charlie (BOCW)

Headshot Multiplier decreased from 1.8 to 1.7
CARV.2 (BOCW)

Headshot Multiplier decreased from 1.7 to 1.6
M16 (BOCW)

Headshot Multiplier decreased from 1.8 to 1.6 
---
For more Call of Duty news, be sure to check out our dedicated section or some of our MW2 Guides & Tutorials below:
Modern Warfare 2 Guides - Jack Links Skin | Unlock All Operators | Check Server Status | Get Twitch Drops | Post-Credit Scene Explained | Unlock Gold Camo | Get Burger Town Operator | MGB Nuke | Unlock Every Weapon | All Killstreaks| Safe Code Locations|Check KD Ratio|XP Farm Trick|Chopper Gun Glitch|Weapon Tuning|Change Name Color|Hardcore Tier 1 Mode| Turn Off Crossplay|Steam Deck| Raid: Atomgrad | How To Play "Support A Team" | Unlock Orion Camo | Aim Assist Settings | 
Modern Warfare 2 Fixes & Issues-Best NVIDIA GeForce Drivers | Dev Error 6036 | MW2 Missing Items | Unlimited Tactical Sprint Bug | Stuck On Installing Bug | Display Name Not Allowed Bug|Gold Camo Not Unlocking|Voice Chat Not Working| Display FPS Counter | 
Best Modern Warfare 2 Loadouts -  Best Weapon Tier List |  M4 Loadout|  PDSW 528 Loadout|TAQ-V Loadout|M4 Loadout|Fennec 45| No Recoil M4 Loadout | SA-B 50 Loadout | Kastov-74U Loadout |