After last year's Call of Duty: Modern Warfare brought back elements of realism through a grittier campaign, Black Ops Cold War feels like an absurd, and welcome, sweet release.
Early trailers may have drawn heavily on historical footage to emphasise Cold War connections, but this self-importance is largely lost when digitised Ronald Reagan is babbling orders over New Order's Blue Monday, or where explosive RC cars can inexplicably catch up to planes. 
Luckily, bonkers is where Call of Duty has always been most comfortable. In a dishonestly titled "Alpha" two months before release, developers Treyarch and Raven Software gave PlayStation 4 owners a taste of Black Ops Cold War's multiplayer suite, where the chaos shines brightest. 
While it's too early to say if this is a return to competitive greatness after Modern Warfare's maligned multiplayer, Black Ops Cold War's Alpha gave a promising indication of what to expect - although not without some healthy dollops of concern. 
New maps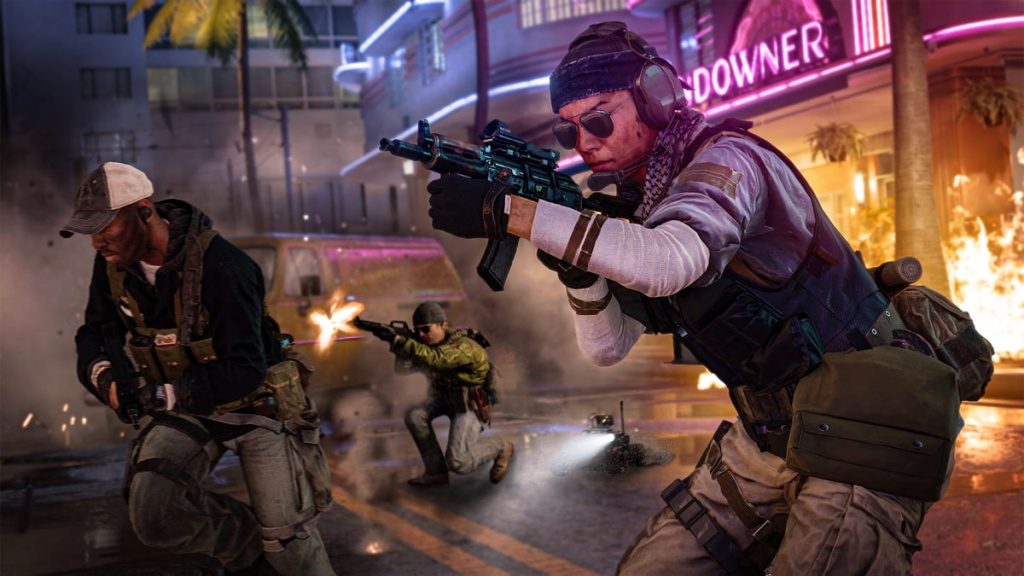 Miami is one of the more distinct maps (Picture: Activision)
Perhaps the greatest asset of Black Ops Cold War so far is map variety. Satellite, Miami and Moscow all feel distinctive in design and atmosphere, with the former built around a plane wreckage in the middle of the Angola desert. It's the most open of the three 6v6 maps, with deaths mostly a result of haphazard sprints across the upper terrain and underground passages.
In comparison, Miami and Moscow feel more layered and engaging - offering both broad open streets and claustrophobic close-range chokepoints in the classic Call of Duty multi-lane design. The weirdly eerie atmosphere of Miami, all abandoned cars, empty swimming pools and lavish hotels, especially feels perfect for Search and Destroy - even with a balcony spot which will likely be exploited by snipers.
Interestingly, map sizes are bigger in comparison to recent Call of Duty titles. While some may dislike the longer chase for combat encounters, I appreciated the chance to soak in the maps more and play around with numerous vantage points - especially compared to previous titles where running down the same corridor in a cyclical death loop is commonplace. 
Scorestreaks

Satellite in Black Ops Cold War (Picture: Activision) 
Perhaps the most significant change from past titles is killstreaks changing to scorestreaks - where instead of relying on scoring kills within one life to earn rewards, you gradually unlock them by earning points through kills, streaks, and helping with objectives.
The obvious concern is whether this will make streaks more frequent as a result. Thankfully, the Alpha felt pretty balanced in this regard - with the amount of points required to unlock streaks reasonably high, along with being tied to a cooldown timer after use. Killstreaks remain incentivised too by being a major source of points, so there's still a reason to string together kills aside from bragging rights.
It also addresses, to some degree, Call of Duty's past failings in rewarding objective-based teamwork. Capturing bases in Domination feels less like a bonus task to simply taking out opponents, moving away from the idea of the K/D ratio being the only barometer of a decent Call of Duty player. 
Combined Arms: Domination

Vehicles are a problem (Picture: Activision)
Black Ops Cold War's answer to Ground War is Combined Arms - which pulls back the player count from 64 to 24 players on 12v12 teams. It's basically Domination on a bigger scale, as teams fight for five capture points across a larger map. 
This mode is best showcased on Armada, which spans three boats connected by ziplines, the open sea and smaller combat ships. It's certainly the best designed map here, offering fresh and creative strategies in a relatively familiar experience. 
There are problems however, emphasised on weaker Soviet map Crossroads. The vehicles, ranging from snow mobiles and tanks, all feel loose and toy-like when compared to those in Battlefield, and even Warzone. It's likely a design choice to steer closer to games like Halo, but compared to the buttery, tight gunplay on-foot, there's something unsatisfying about navigating maps behind a wheel. 
Crossroads is also largely victim to the overpowered sniper rifles, something Treyarch is already planning to address. Coupled with a graphically uninteresting setting and sparse encounters outside of the chaotic middle capture point, and Crossroads does little to provide a memorable experience. 
Longer time to kill
Perhaps one of the most controversial additions will be the longer time to kill, which makes the pace of Black Ops Cold War feel slightly less frantic. It's a move which will largely fall down to personal taste, but I found it made games far more engaging and varied than the usual spot-and-pop affairs Call of Duty has largely become. 
It also leaves the opportunity open for satisfying narrow escapes and plays, allowing a small window to turn the tide on someone who has your visual first.
Overall, Black Ops Cold War both strips away baggage from past titles while adding some potentially divisive new ideas - which will either delight or frustrate those accustomed to the faster pace of recent entries. There's still many unanswered questions, including how it'll connect to Warzone, but this 1980s time-warp might come with an unexpected learning curve.
Call of Duty: Black Ops Cold War releases 13th November on PS4, PS5, Xbox One, Xbox Series X and PC.