UPDATE:
Activision Blizzard has confirmed Call of Duty: Modern Warfare 2 Remastered will release on PlayStation 4 first as a timed exclusive, and is available now for £19.99.
The game will launch on Xbox One and PC on 30th April, meaning PS4 players will have the title for a whole month before others.
Play alongside Soap, Shepherd, Ghost and other familiar faces as you fight back against Vladimir Makarov, the Inner Circle, and other unforeseen foes.

Download Modern Warfare 2 Campaign Remastered and play now on PS4. Pre-purchase for other platforms today to play on April 30. pic.twitter.com/i4GAKjmJgp

— Call of Duty (@CallofDuty) March 31, 2020
Original story:
After the existence of Call of Duty: Modern Warfare 2 Remastered was made clear by appearing on ratings boards and within files following the latest update, even more details have arrived about the title.
In listings which have appeared on PlayStation Store Germany, it states Call of Duty: Modern Warfare 2 Remastered will release on Tuesday 31st March.
A trailer for the new remaster was also released, showing off many of the game's classic missions with an impressive revamped visual overhaul.
It also appears to confirm previous reports this will only be a remaster of the single-player campaign, and won't feature any multiplayer component.
The listing is still up on the PlayStation Store and also mentions the previously leaked Classic Ghost Bundle, which features the UDT Ghost Operator skin, weapon blueprints and more.
You can check out the contents of the Classic Ghost Bundle (via CODtracker) below.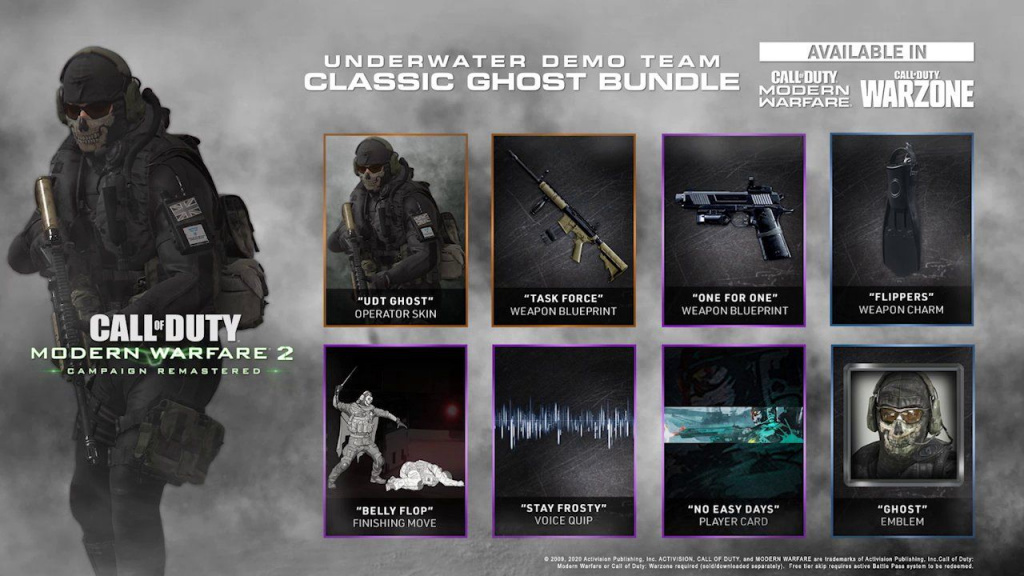 (Picture: Activision/via Codtracker)
Content from this bundle will also be available to use in Call of Duty: Warzone, according to the leaked shots.
A remaster for Modern Warfare 2 follows a previous remaster of the original Modern Warfare, indicating we could be getting an updated version of the third entry too.
While the release date has yet to be confirmed, we'll update this page once an official announcement is made.