Battle Royale games like Fortnite and Apex Legends might be some of the biggest on the planet but they're an acquired taste of first-person shooter. More often than not, you're spending just as much time looking for action than actually taking part in it; whether camping atop a roof waiting for the perfect shot or galloping through open wilderness chasing sounds of gunfire.
You may thrive off the prolonged tension or find firefights frustratingly abrupt for the time investment but it's the unpredictability of each round which keeps players coming back. In Call of Duty: Warzone however, these frustrations feel lessened through the lightning-fast immediacy of the franchise's gunplay and some excellent new additions to the formula.
The first time Call of Duty attempted Battle Royale was in Black Ops 4 mode Blackout, but Warzone makes notable improvements in both gameplay and accessibility.
Warzone is free-to-play for everyone, even if you haven't purchased Call of Duty: Modern Warfare. It also boasts the biggest player count of any Battle Royale title, supporting up to 150 players in matches (Fortnite allows 100, while Apex Legends supports 60).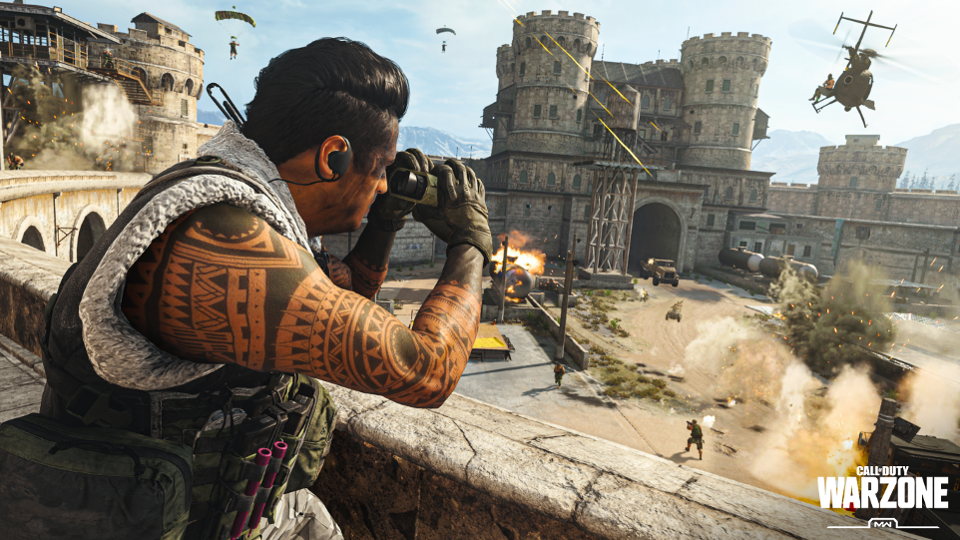 Warzone is an incredibly slick experience (Picture: Activision) 
It's a number you might shrug off at first but Warzone feels more in-step with Call of Duty's traditional multiplayer because of it. Compared to Blackout where the map felt too big for its own good at times, you're always never too far away from a firefight in Warzone. It makes the moment-to-moment action more dynamic, with available contracts tasking you with hunting down certain players or opening certain supply boxes also punctuating the downtime.
The biggest change however is Warzone's Gulag feature. After you die for the first time in a match, you're carted off to a prison where you can fight for a second chance. Here, you'll be placed into a 1v1 showdown with a randomly assigned loadout, where a win over your opponent allows you to return to the field.
It's one of best features in Warzone, providing a tense (and often hilarious) bite-size confrontation which makes death far less of a frustration. Your team can bring you back into the field too at Buy Stations even if you lose this face-off, which offers another incentive to carry on watching after death.
Outside of the traditional Battle Royale mode, there's also Plunder where players are chasing to loot cash to hit a $1 million milestone. In a similar vein to The Division's Dark Zone, the tension comes from having to secure cash at certain pick-up points scattered across the map, which become filled with enemy players hoping to steal your loot by taking you down.
With the ability to respawn after dying, this mode is a welcome change of pace to the overall package - playing out like a traditional Call of Duty mode on a huge, expansive scale.
The map itself, like Blackout, is also a sequence of classic Call of Duty maps smartly stitched together. They're clearly highlighted too as you make your first drop, with each zone signposted so you can easily get to your favourite location without vaguely parachuting in.
It's a small quality-of-life improvement, but it all combines into Warzone feeling like a less intimidating, and more playful, sandbox to jump into.
The only main gripe is across both modes you're forced into squads of three, with no option to roam solo or in duos. You're at a much bigger advantage within a squad, and while it's easy to simply split off if you want a more isolated experience, it feels like an arbitrary rule at this point - especially as Warzone doesn't quite possess the tactical team dynamic of Apex Legends.
How Activision and Infinity Ward support Call of Duty: Warzone moving forward will be the test of its longevity, but this is an enormously promising base to build from. 
There's enough distinctive features to make it stand apart from its competitors, while the streamlined improvements and accessible, snappy Call of Duty gunplay might make it far more appealing to those who haven't clicked with past Battle Royale titles. Want to understand what the craze is all about? Warzone might be the best jumping-on point of the bunch.