Following an update, a new splash screen has been added to support Black Lives Matter ahead of every match in
Call of Duty: Modern Warfare
. 
The new screen now appears every time the game is launched, along with on loading screens and when switching to Battle Royale mode Warzone. 
The message reads: "Our community is hurting. The systemic inequalities our community experiences are once again centre stage.
"Call of Duty and Infinity Ward stand for equality and inclusion. We stand against the racism and injustice our Black community endures.
"Until change happens and Black Lives Matter, we will never truly be the community we strive to be."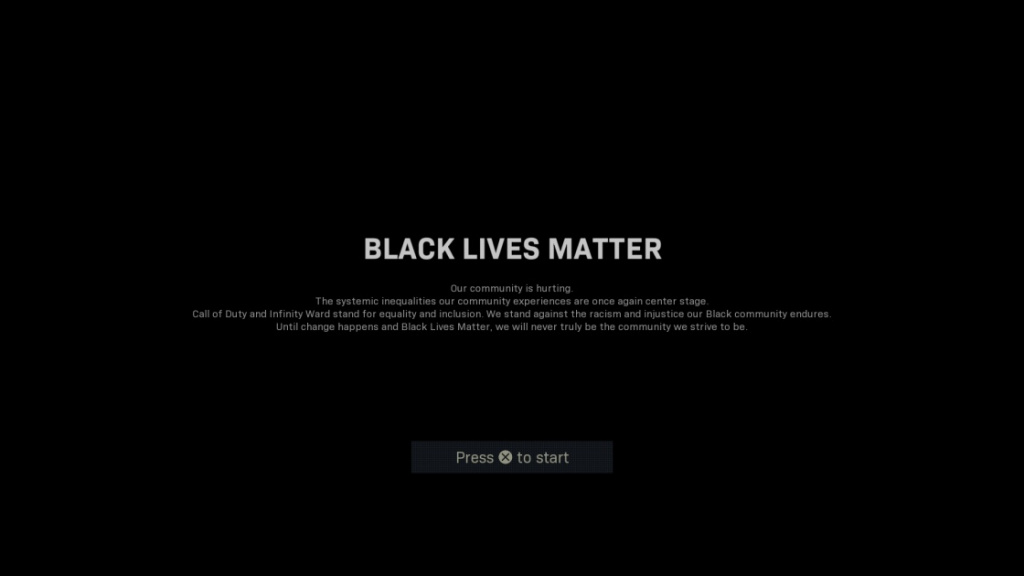 A new screen now appears in Call of Duty: Modern Warfare (Picture: Activision) 
A number of gaming companies have released messages of support for Black Lives Matter following protests in the US against police brutality - with many delaying events and update releases. 
This also follows Infinity Ward pledging to remove racist and hate-orientated usernames from Call of Duty, after many players pointed out the hypocrisy in their statement earlier the same day of "speaking up for equality, justice and change". 
"There is no place for racist content in our game," Infinity Ward's statement read. "We're issuing thousands of daily bans of racist and hate-orientated names. But we know we have to do more - and we are."
The fourth season of Call of Duty: Modern Warfare was delayed to an unspecified date due to the ongoing protests, sparked by the death of George Floyd at the hands of police.