Call of Duty: Vanguard is almost here, set for release on 5th November, before that players are getting the opportunity to jump into the game's beta and early access periods.
However, since 2019's Call of Duty: Modern Warfare the titles have become synonymous with enormous file sizes, something they're hoping to lessen somewhat by enabling players to pre-download and pre-load the title so that there everyone can get in and play on launch with no lengthy waits. 
So how can you pre-load Call of Duty: Vanguard? Here's what you need to know and how much hard drive space you'll need to clear.
How to pre-load Call of Duty: Vanguard on PS4, PS5, Xbox One, Xbox Series X and PC
Players who have pre-order any version of the game digitally will be able to pre-load Call of Duty: Vanguard ahead of release as well as take part in the open beta / early access period.
You'll also receive the Night Raid Mastercraft Weapon Blueprint, which can be used in Black Ops Cold War and Warzone.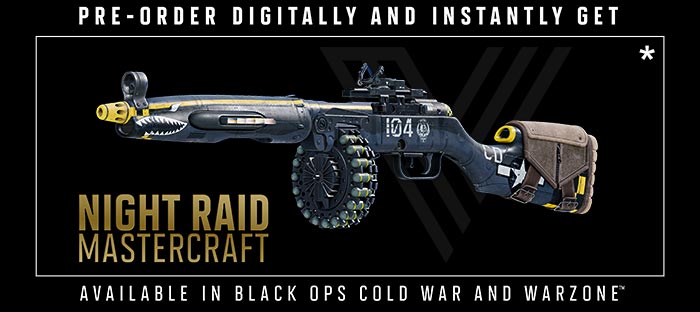 Digital pre-orders for all platforms are open now and purchases can be made on the official Call of Duty website.
Once you have pre-ordered you will be able to pre-load on both the PlayStation and Xbox family of consoles through their respective stores.
For PC players, they will be able to pre-load through the Battle.net platform.
The schedule for the open beta / early access is as follows:
16-17th September

Xbox + Battle.net PC early access
PlayStation open beta (open to those who haven't pre-ordered)

18-20th September

Open beta on all platforms (open to those who haven't pre-ordered)
What are the file sizes for Call of Duty: Vanguard? 
To pre-load Vanguard, you'll need to have the below space available on your respective platform - with next-gen consoles PlayStation 5 and Xbox Series X/S needing even more room. 
Before the release of the full game, players will have access to the game via an open beta, which boasts different file sizes depending on your platform of choice. These are some of the confirmed download sizes.
COD: Vanguard open-beta download size
PS4: 8.4GB
PS5: 8.4GB
Xbox One: 18.98GB
Xbox Series X/S: N/A
PC: N/A
COD: Vanguard full release download size
The full release will come in higher, however, there is likely an option to install certain components of the game to your choosing.
PlayStation 4: N/A
PlayStation 5: N/A
Xbox One: N/A
Xbox Series X/S: N/A
PC: 45GB 
We will update this section with more information as we get it.
Want to know more about Warzone Season 5 Reloaded? Then check out our dedicated Call of Duty section, featuring guides, best loadouts, weapon tier lists and much more.
Feature image courtesy of Activision.
---
For more Call of Duty news, be sure to check out our dedicated section or some of our MW2 Guides & Tutorials below:
Modern Warfare 2 Guides - Jack Links Skin | Unlock All Operators | Check Server Status | Get Twitch Drops | Post-Credit Scene Explained | Unlock Gold Camo | Get Burger Town Operator | MGB Nuke | Unlock Every Weapon | All Killstreaks| Safe Code Locations|Check KD Ratio|XP Farm Trick|Chopper Gun Glitch|Weapon Tuning|Change Name Color|Hardcore Tier 1 Mode| Turn Off Crossplay|Steam Deck| Raid: Atomgrad | How To Play "Support A Team" | Unlock Orion Camo | Aim Assist Settings | 
Modern Warfare 2 Fixes & Issues-Best NVIDIA GeForce Drivers | Dev Error 6036 | MW2 Missing Items | Unlimited Tactical Sprint Bug | Stuck On Installing Bug | Display Name Not Allowed Bug|Gold Camo Not Unlocking|Voice Chat Not Working| Display FPS Counter | 
Best Modern Warfare 2 Loadouts -  Best Weapon Tier List |  M4 Loadout|  PDSW 528 Loadout|TAQ-V Loadout|M4 Loadout|Fennec 45| No Recoil M4 Loadout | SA-B 50 Loadout | Kastov-74U Loadout |