At the Call of Duty League Seattle Surge Home Series, two key roster changes for Chicago Huntsmen and London Royal Ravens proved winning shake-ups for both teams. 
Heading into the series, all eyes were on London Royal Ravens and Chicago Huntsmen after they acquired Trei "Zer0" Morris and Preston "Prestinni" Sanderson respectively to turnaround their recent lacking performances. 
It turns out, both acquisitions appear to have rejuvenated each team in a big way. London Royal Ravens managed to beat New York Subliners and OpTic Gaming LA to earn a place in their first ever final, showing significant improvement with Zer0.
Chicago Huntsmen showed signs of their early formidable performances with new addition Prestinni, making their way through what was expected to be an easy home series win for the team, with Dallas Empire and Atlanta FaZe out the picture.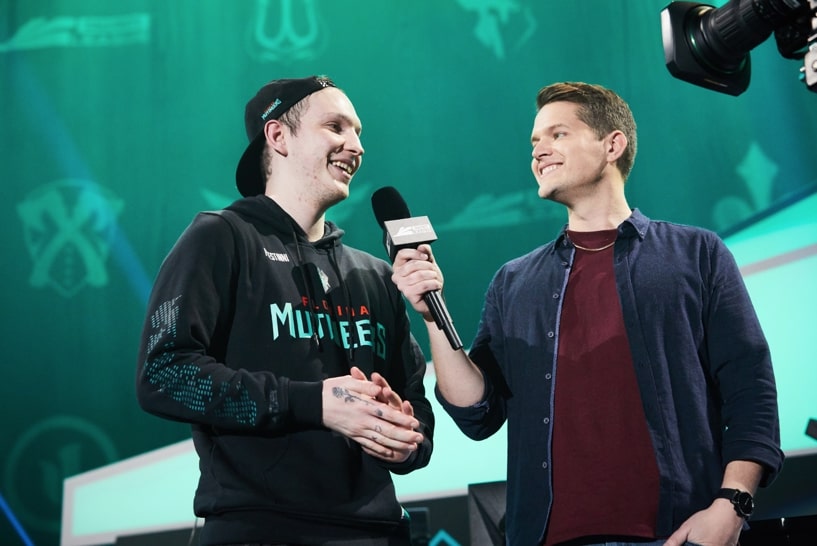 Prestinni reunited with his brother Arcitys on the Chicago Huntsmen roster from Florida Mutineers (Picture: CDL) 
They perhaps didn't expect the fight they got however with London Royal Ravens in the final, in what became a battle of the twin brothers between Huntsmen's Prestinni and Alec "Arcitys" Sanderson, and Matthew "Skrapz" Marshall and Bradley "wuskin" Marshall. 
It started out with Chicago Huntsmen dominating early in Hardpoint, holding the lead throughout and feeling one step ahead of London Royal Ravens to win the round 250-202.
After an early wipeout by the Chicago Huntsmen, London Royal Ravens adjusted their strategies to prove they're one of the best teams at Search and Destroy - with Wuskin's skills with a sniper helping them to equalise and take the round 6-2.
Domination was one of the closest matches the Call of Duty League has ever seen, with a last minute push by London Royal Ravens to secure the whole map almost tipping the win - with Chicago Huntsmen only beating them by one point at 155-154. 
The stacks were against London Royal Ravens heading into a second Hardpoint, and Chicago Huntsmen proved their dominance - outclassing London Royal Ravens to take the round 250-160 and win the series 3-1. 
While London Royal Ravens were clearly gutted, it was still a triumphant turnaround for a team who looked more threatening than ever against the CDL's top tier. 
It means Chicago Huntsmen are now riding high at the top of the table with 180 points, narrowly ahead of Atlanta FaZe with 170 points. This marks their second home series victory after previously winning the London Royal Ravens Home Series back in February.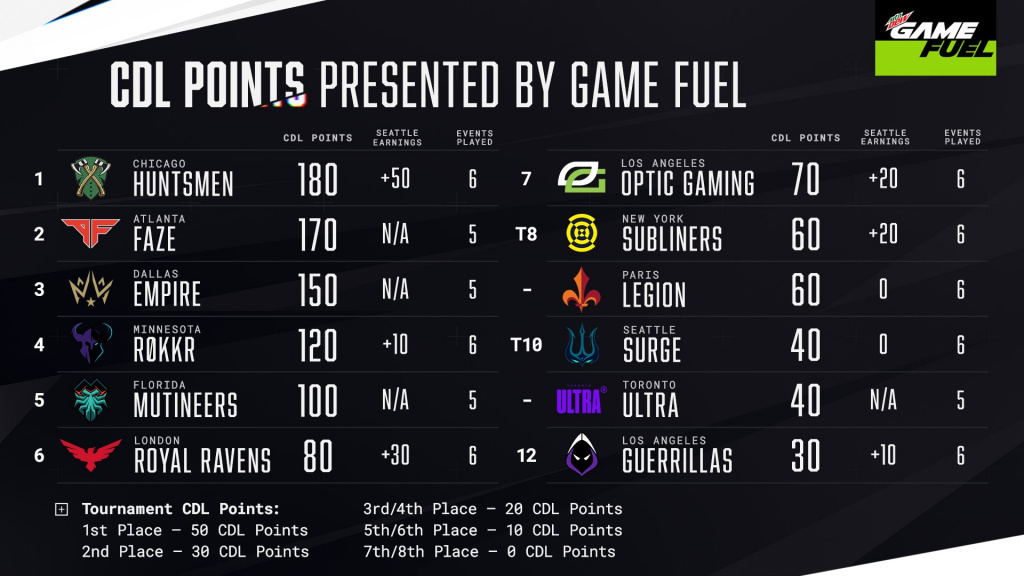 The Call of Duty League standings after the Seattle Surge series (Picture: CDL) 
Elsewhere Paris Legion managed to win the first ever Warzone tournament at the CDL, in a pre-recorded match featuring four-man rosters across all teams. 
The Call of Duty League continues with the Minnesota ROKKR Home Series on 5th June. 
---
For more Call of Duty news, be sure to check out our dedicated section or some of our MW2 Guides & Tutorials below:
Modern Warfare 2 Guides - Jack Links Skin | Unlock All Operators | Check Server Status | Get Twitch Drops | Post-Credit Scene Explained | Unlock Gold Camo | Get Burger Town Operator | MGB Nuke | Unlock Every Weapon | All Killstreaks| Safe Code Locations|Check KD Ratio|XP Farm Trick|Chopper Gun Glitch|Weapon Tuning|Change Name Color|Hardcore Tier 1 Mode| Turn Off Crossplay|Steam Deck| Raid: Atomgrad | How To Play "Support A Team" | Unlock Orion Camo | Aim Assist Settings | 
Modern Warfare 2 Fixes & Issues-Best NVIDIA GeForce Drivers | Dev Error 6036 | MW2 Missing Items | Unlimited Tactical Sprint Bug | Stuck On Installing Bug | Display Name Not Allowed Bug|Gold Camo Not Unlocking|Voice Chat Not Working| Display FPS Counter | 
Best Modern Warfare 2 Loadouts -  Best Weapon Tier List |  M4 Loadout|  PDSW 528 Loadout|TAQ-V Loadout|M4 Loadout|Fennec 45| No Recoil M4 Loadout | SA-B 50 Loadout | Kastov-74U Loadout |