COD Mobile Season 9 Conquest released on 16th August, bringing a tonne of new content to the game, including Shipment 1944, the Gunsmith feature, a tonne of improvements and more. However, Activision has even more in store for COD Mobile Season 9, with a new event, perk, a thermite grenade and a new skin coming to the game.
COD Mobile Season 9 roadmap: New event and more
Activision has shared the COD Mobile Season 9 roadmap, which points towards even more content coming to the game in August 2020.
While no exact release date for the upcoming COD Mobile Season 9 content was provided in the roadmap, some are marked with mid-August, while one is marked with the late-August release window.
Check out the COD Mobile Season 9 roadmap below.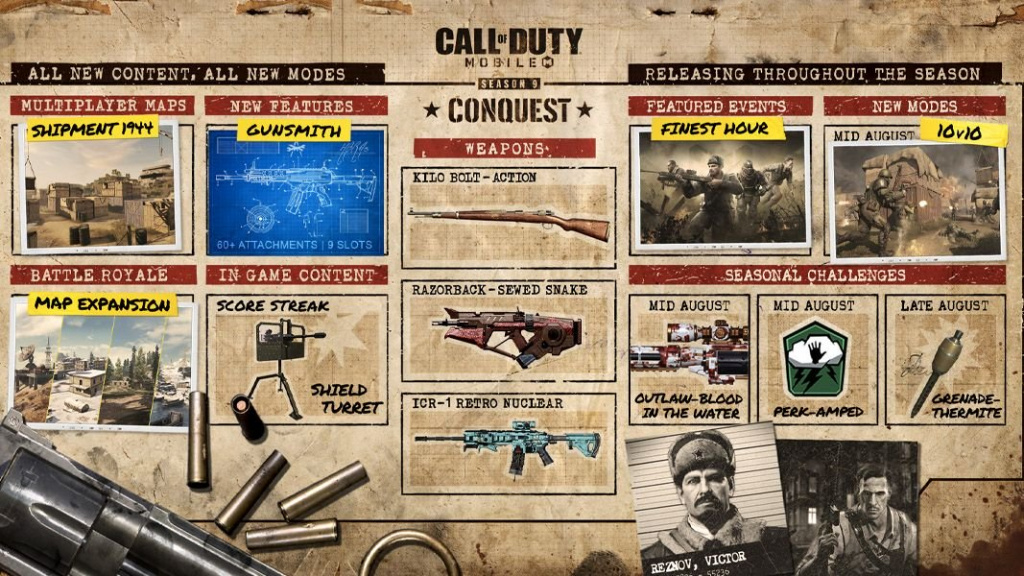 The COD Mobile S9 roadmap (Picture: Activision)
The most interesting of the new content coming to COD Mobile Season 9 is the Finest Hour featured event. This upcoming COD Mobile event is expected to be in the same line as Solstice Awakended event from the previous season.
Unfortunately, there's no release window attached to the event. When it does arrive, however, you can expect new weekly and daily challenges, as well as new cosmetic items to earn. Images of the new characters are attached to the new COD Mobile Season 9 Finest Hour event, namely: Reznov, Nikto, Lev Kravchenko, and Richtofen.
Other new planned content drops include the 10v10 mode, a new skin for the Outlaw weapon, and the Amped per coming in mid-August. The Thermite grenade is expected to release in late-August.