The fight against cheaters in Warzone and Modern Warfare is an ongoing one, and it appears Call of Duty publisher Activision isn't pulling any punches. 
Warzone cheat creator visited by PI
Late in August, we reported on how Activision took legal action against a Warzone and Modern Warfare cheat creator, CXCheats.
Read more: Activision takes legal action against Modern Warfare and Warzone cheat providers
The publisher doesn't seem to be slowing down at all, cracking down on cheat creators for Call of Duty Warzone as well as Modern Warfare.
While the publisher is also banning players who use cheats in Warzone and Modern Warfare by the thousands, it has taken a step further by reportedly sending a private investigator (PI) to a cheat creator's home. 
The cheat creator in question is GatorCheats, who explained on Discord how the publisher sent them a Cease and Desist letter in May. The Warzone and Modern Warfare cheat creator, however, apparently didn't adhere fully to the letter.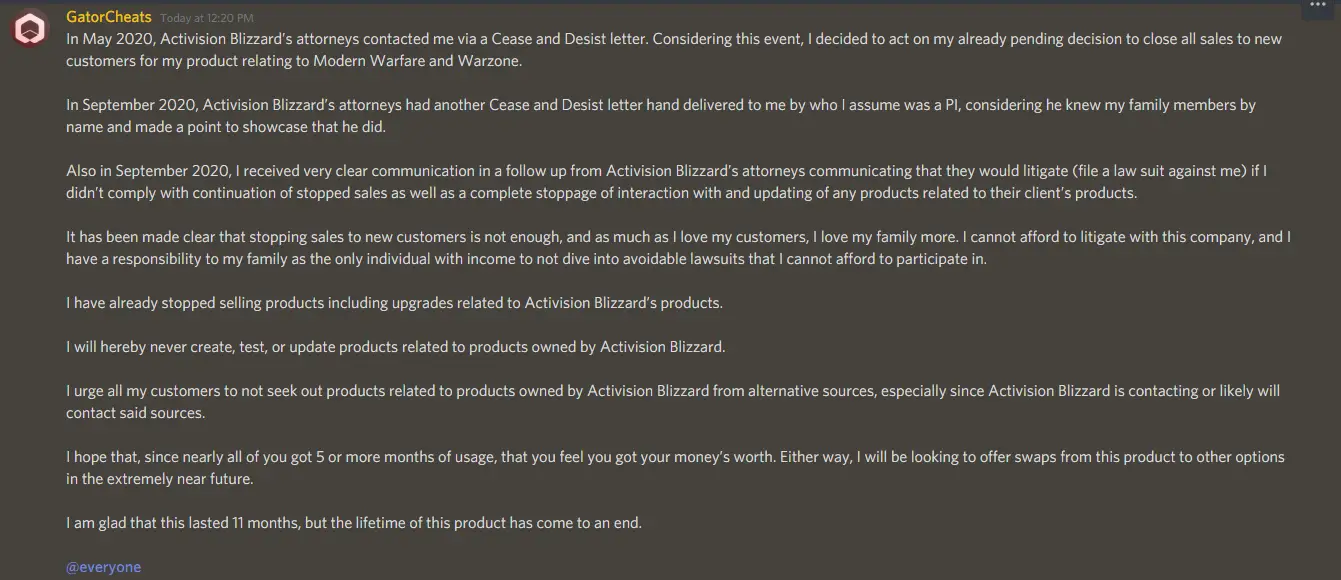 (Picture: CharlieIntel)
The owner of GatorCheats explained what happened this month: "In September 2020, Activision Blizzard's attorneys had another Cease and Desist letter hand-delivered to me by who I assume was a PI, considering he knew my family members by name and made a point to showcase that he did.
"Also in September 2020, I received very clear communication in a follow up from Activision Blizzard's attorneys communicating that they would litigate (file a lawsuit against me) if I didn't comply with continuation of stopped sales as well as a complete stoppage of interaction with and updating of any products related to their client's products."
It looks like the owner of GatorCheats got a good scare, and promises to never create cheats for an Activision product again.
At the time of writing, Activision has not commented publically on the matter.
YouTube channel Esports Talk explains the situation in the video below.