After the first day of matches, Dallas Empire and Atlanta Faze will battle it out for the
Call of Duty League Championship
trophy on Sunday. 
With both teams making it to the Championship Weekend through the upper bracket, both were largely expected to proceed to Sunday - especially after being the top two teams in the final standings. 
It's Dallas Empire who have the one map advantage heading into the final however, after beating Atlanta FaZe in the winner's finals through a closely-fought 3-2 win. 
As the renowned comeback kings of the Call of Duty League, pulling off a multitude of stunning reverse sweeps, Atlanta FaZe, more than any other team, certainly have the capacity to pull things back. 
From 6th seed to 4th place and $450,000.

It's been an eventful year, but with fans like you guys it's been a memorable and thoroughly enjoyable one.

From all of us here at the London Royal Ravens, we thank you, the #6thRaven for sticking with us all the way. ❤️ pic.twitter.com/VPBtd4E7SA

— London Royal Ravens (@RoyalRavens) August 29, 2020
While two teams progressed, two teams were also eliminated. After a stunning run in the playoffs, the London Royal Ravens fell against Chicago Huntsmen 3-1. While they put on an impressive fight against the odds, Chicago were on strong form - making their Hardpoint loss at the outset feel like a mere slip-up. 
The Ravens however will likely be satisified finishing in fourth position, going way above expectations to secure a spot in the Championship Weekend to begin with.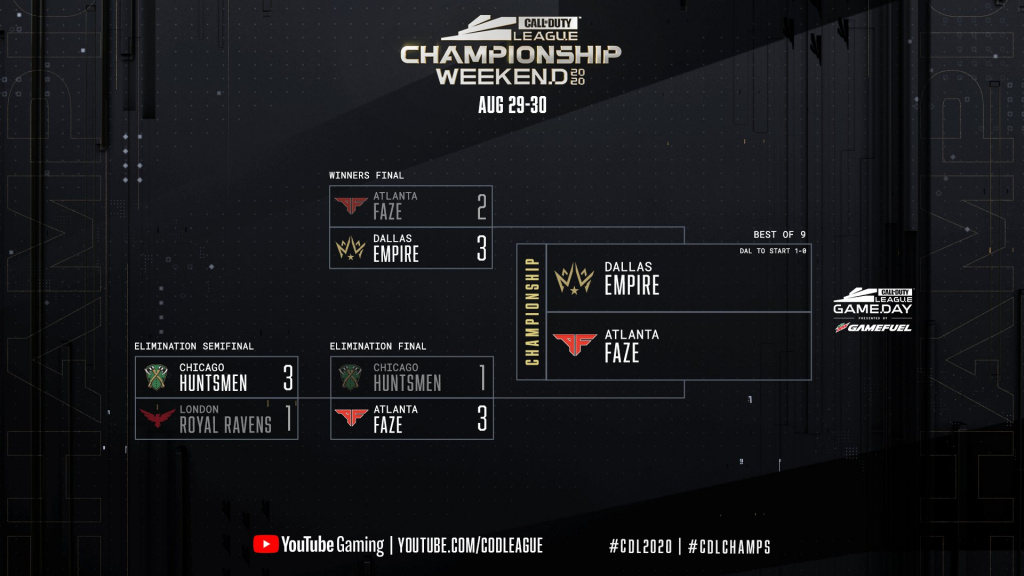 The final bracket is set (Picture: CDL) 
Despite having the momentum behind them, Chicago Huntsmen couldn't quite claw past Atlanta FaZe. It was a match which largely mirrored the first game against London Royal Ravens - albeit with Chicago achieving an early Hardpoint, before FaZe flipped the script in a sequence of tight face-offs. 
Dallas Empire and Atlanta FaZe are now the only teams remaining to take the lion's share of the $4.6 million prize pool, including a trophy, a ring and an assortment of hardware goodies. 
Who will win? You'll have to tune into the Call of Duty League Championship finals on Sunday 31st August at 9pm BST.