Call of Duty is, without a doubt, one of the biggest game franchises in the world. With such a big audience and multiple titles, some players are sure to run into security issues, albeit from user error.
Publisher Activision has shut down recent rumours of Call of Duty accounts being compromised but it is best to be safe rather than sorry.
Call of Duty accounts hacked?
According to Activision, recent reports have suggested Call of Duty accounts have been compromised.
The official Activision Support Twitter account shut down these rumours on 22nd September, explaining Call of Duty Accounts have not been compromised.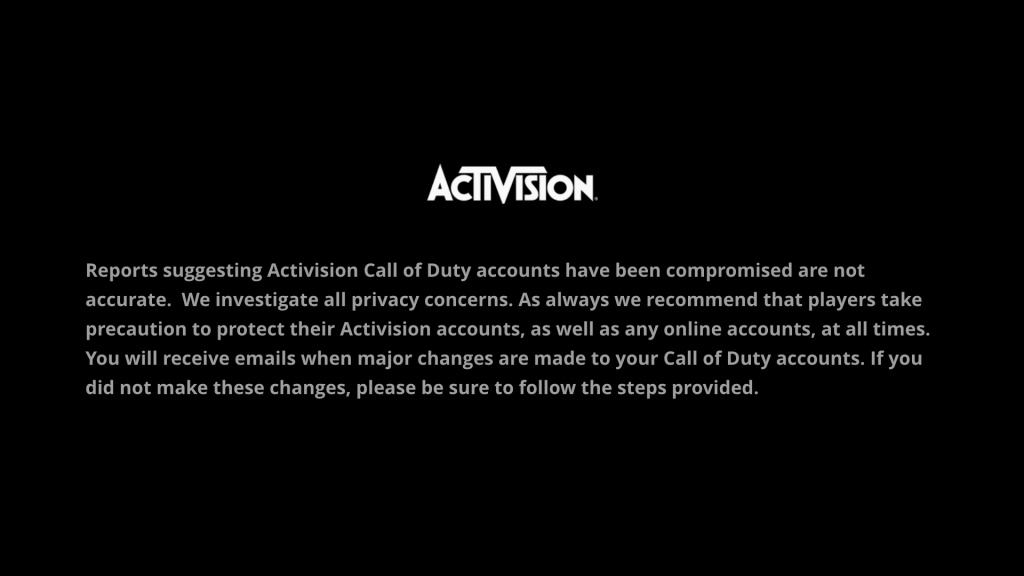 (Picture: Activision)
However, some players might have had their Call of Duty accounts hacked due to user error, or poor user security. 
For reference, the recent reports suggested over 500,000 Call of Duty accounts got hacked.
Yeah, it's legit guys. Change your Activision account passwords and add 2FA immediately.

Apparently over 500k accounts have been breached already and it's still ongoing. @Activision@ATVIAssisthttps://t.co/mjKecaty1m

— Okami (@Okami13_) September 21, 2020
How to safeguard your COD account
The internet can, at times, be like the wild west, and you should always do everything you can to safeguard your accounts, including your Call of Duty details.
In a dedicated support page, Activision notes how you should like your platform accounts, as well as use a strong password.
What is a strong password, you might ask? Well, according to Activision support, you need to tick the following boxes.
Use all the characters you can: Activision account passwords may contain between 8 to 20 characters, and we recommend using all 20.
Use a combination of uppercase and lowercase letters and numbers: Along with numbers, uppercase and lowercase letters add even more variables to your password.
Avoid passwords that may be easy to guess: Names and birthdates are the obvious examples of what to avoid, but you should also steer clear of using passwords that may relate to your gamer ID or the games you typically play.
Avoid using common passwords: You've probably heard that "password" is one of the most commonly used passwords. The most frequently used passwords are also the most vulnerable.
There are also some general tips to safeguard your Call of Duty account from hackers. For example, you should avoid scam websites, you shouldn't share your account details, log in on shared devices, buy or sell accounts, and lastly, never use the same password for multiple accounts.
If you do think your Call of Duty account might have been hacked, you should follow the steps below immediately.
Change your Activision account password immediately following the strong password guidelines above.
Unlink the accounts you have linked to your Activision account.
Change the passwords for the accounts you've unlinked.
Relink your accounts to your Activision account.
While Activision did shut down reports of CoD accounts being compromised, you should always err on the side of caution.