With
Call of Duty Mobile Season 9
, we didn't see any big weapon balance changes in the patch notes. Nearly a week after the new season began, Activision has finally released a new COD Mobile update which focuses just on weapon balance changes.
New COD Mobile update: Weapon balance changes
While there's a lot of new content to experience in COD Mobile Season 9, the one thing really missing was some much-needed balance changes. On 21st August, the developers have finally released some weapon balance changes to the game. 
This is a mini-update, and you might not even have to download anything. However, it does make some significant balance changes to several weapons, a few attachments, and finally nerfs the Molotov. The latter is something we believe most players will be happy about.
The image below showcases the COD Mobile gun balance changes with this mini-update.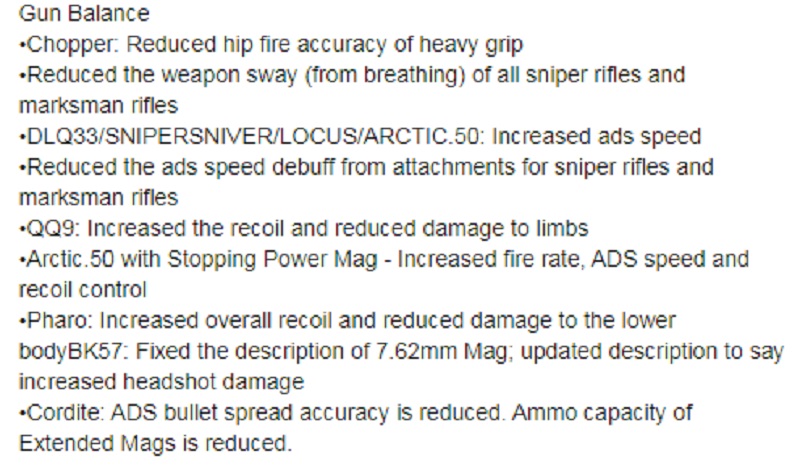 (Picture: COD Mobile News/Intel)
The developer didn't stop with just weapon balance changes. Instead, there are three relatively big general balance changes.
General balance:
Red dot sights and holo sights no longer reduce ads speeds.
Increase the sprint-to-fire speed of all weapons.
Increase the sprint-to-ads speed of all weapons.
Reduces the hip-fire accuracy of Merc grip.
Last but definitely not least, the developer has nerfed the Molotov throwable, and makes a change to spawned weapons in Battle Royale. 
Molotov nerf:
Decrease damage per second and total duration. Initial damage will only happen after the explosion.
BR weapons:
Spawned weapons in BR will no longer have skins. Camos set by players in loadouts will be applied instead.
While the new COD Mobile mini-update is small, it does make some significant balance changes for weapons, attachments, and importantly, the pesky Molotov.