With the nerfs to the MAC-10 in January 2021, you might be wondering what the strongest submachine gun (SMG) is in Warzone Season 1. To answer this question, famous Call of Duty content creator, Nick "NICKMERCS" Kolcheff has revealed what he believes to be the best new MP5 Cold War loadout in a recent video.
Best SMG in Warzone: New MP5 CW loadout
NICKMERCS recent video is entitled "The strongest SMG in Warzone!" and as always, the content creator puts his money where his loadout is, showing gameplay where he absolutely melts his opponents with this new MP5 loadout in Verdansk.
The Cold War MP5 in Warzone Season 1, as NICKMERCS calls it, is "in the top two of fastest-killing SMG's in Warzone right now". 
While NICKMERCS says the weapon does feel a bit awkward at times, especially at long range, it can still destroy opponents.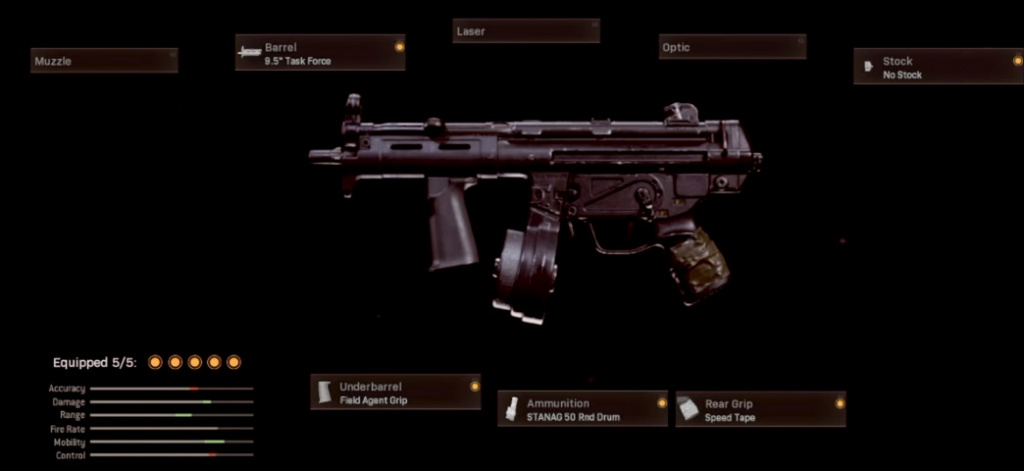 (Picture: NICKMERCS)
The best new MP5 loadout in Warzone Season 1 is:
Barrel: 9.5" Task Force
Stock: No Stock
Underbarrel: Field Agent Grip
Ammo: STANAG 50 Rnd Drum
Rear Grip: Speed Tape
NICKMERCS increases the range of the MP5 with the 9.5" Task Force barrel while adding more mobility with the Speed Tape rear grip attachment. 
This MP5 loadout is all about speed and mobility while adding some damage in the process. Don't expect long-range fights to go your way, however, as this is still more of a close-range loadout.
This best new MP5 Cold War loadout is perfect for those who want to get away from the MAC-10 or other popular SMGs.
In the video below, NICKMERCS shows off "the strongest SMG in Warzone" in action with a Quads team, including the likes of SypherPK and TimTheTatman.
As always, you should experiment with your own loadouts in Warzone Season 1, finding the best attachments which work for you.
This new MP5 loadout will provide you will an excellent starting point, especially for those who love close-quarters combat.
---
For more Call of Duty news, be sure to check out our dedicated section or some of our MW2 Guides & Tutorials below:
Modern Warfare 2 Guides - Jack Links Skin | Unlock All Operators | Check Server Status | Get Twitch Drops | Post-Credit Scene Explained | Unlock Gold Camo | Get Burger Town Operator | MGB Nuke | Unlock Every Weapon | All Killstreaks| Safe Code Locations|Check KD Ratio|XP Farm Trick|Chopper Gun Glitch|Weapon Tuning|Change Name Color|Hardcore Tier 1 Mode| Turn Off Crossplay|Steam Deck| Raid: Atomgrad | How To Play "Support A Team" | Unlock Orion Camo | Aim Assist Settings | 
Modern Warfare 2 Fixes & Issues-Best NVIDIA GeForce Drivers | Dev Error 6036 | MW2 Missing Items | Unlimited Tactical Sprint Bug | Stuck On Installing Bug | Display Name Not Allowed Bug|Gold Camo Not Unlocking|Voice Chat Not Working| Display FPS Counter | 
Best Modern Warfare 2 Loadouts -  Best Weapon Tier List |  M4 Loadout|  PDSW 528 Loadout|TAQ-V Loadout|M4 Loadout|Fennec 45| No Recoil M4 Loadout | SA-B 50 Loadout | Kastov-74U Loadout |