One of every player's early goals in COD: Mobile is to unlock the KN-44 assault rifle. Available at player level 23, the KN is arguably the most popular weapon in the entire game. Since it was beloved in its original title, Black Ops 3, fans were immediately drawn to the COD: Mobile iteration when it released in October of last year. 

(Picture: Activision Blizzard)
Naturally, whenever a weapon is popular like the KN is, players are going to want to make a class for it. However, with the new Gunsmith update arriving last month, some are confused as to what's the best loadout for the steady assault rifle. 
The best KN-44 in COD: Mobile 
There aren't too many ways you can go wrong when making a class for the KN, truth be told. The weapon is as balanced as they come and if you have an accurate shot, you'll do well with the weapon in your hands. However, there are always going to be versions of a weapon that excel among others. 
In our loadout, we chose attachments that boost up the KN-44's current strengths and minimize its few weaknesses. There are some unbalanced loadouts you can make that turn the AR into a one-trick pony but we felt a more balanced approach was the way to go.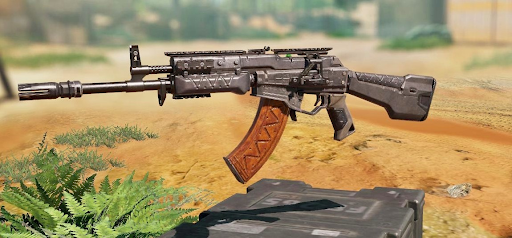 (Picture: via Activision Blizzard)
Barrel: OWC Ranger
Stock: YKM Combat Stock
Underbarrel: Tactical Foregrip
Ammunition: 38 Round Fast Reload
Rear Grip: Stippled Grip Tape
All in all, this loadout is terrific for any kind of playstyle. The OWC Ranger barrel and Tactical Foregrip allow you to maintain recoil control and deliver accurate shots.
The Stippled Grip Tape and YKM Combat Stock give you an advantage in close-quarters engagements. Finally, the 38 Round Fast Reload provides some extra bullets and a built-in Sleight of Hand perk. You'll be ready for any situation that arises in COD: Mobile. 
---
For more Call of Duty news, be sure to check out our dedicated section or some of our MW2 Guides & Tutorials below:
Modern Warfare 2 Guides - Jack Links Skin | Unlock All Operators | Check Server Status | Get Twitch Drops | Post-Credit Scene Explained | Unlock Gold Camo | Get Burger Town Operator | MGB Nuke | Unlock Every Weapon | All Killstreaks| Safe Code Locations|Check KD Ratio|XP Farm Trick|Chopper Gun Glitch|Weapon Tuning|Change Name Color|Hardcore Tier 1 Mode| Turn Off Crossplay|Steam Deck| Raid: Atomgrad | How To Play "Support A Team" | Unlock Orion Camo | Aim Assist Settings | 
Modern Warfare 2 Fixes & Issues-Best NVIDIA GeForce Drivers | Dev Error 6036 | MW2 Missing Items | Unlimited Tactical Sprint Bug | Stuck On Installing Bug | Display Name Not Allowed Bug|Gold Camo Not Unlocking|Voice Chat Not Working| Display FPS Counter | 
Best Modern Warfare 2 Loadouts -  Best Weapon Tier List |  M4 Loadout|  PDSW 528 Loadout|TAQ-V Loadout|M4 Loadout|Fennec 45| No Recoil M4 Loadout | SA-B 50 Loadout | Kastov-74U Loadout |