One of the biggest Call of Duty Warzone esports tournaments so far took place on 5th and 6th August 2020. It is called the
Toronto Ultra 0k Warzone
tournament, featuring 32 of the top streamers and pros who battled it out for their share of the 0,000 prize pool. In the end, Team NICKMERCS took the win in a thrilling final.
Toronto Ultra 100k Warzone results
After some of the best Warzone esports action we've ever seen, the Toronto Ultra 100k Warzone tournament is now over, with Team NICKMERCS coming out on top. 
Nick "NICKMERCS" Kolcheff, a prominent streamer and player, managed to win the tournament with his teammates Swag and Biffle. They claimed the lion's share ($50,000) of the $100,000 prize pool, and the title of Toronto Ultra Warzone champions.
Team Rated and Team NICKMERCS made their way to the grand finals after each taking down two opponents in the single-elimination bracket. In the first round of the single-elimination bracket, Team Rated beat Day 1 leaders Team Kayzah, and managed to beat team Aydan convincingly to make it to the grand finals.
Team NICKMERCS had a close quarter-finals match against Team Ricky, and proceeded to stomp Team TeePee in the semi-finals to make it to the grand finals in style.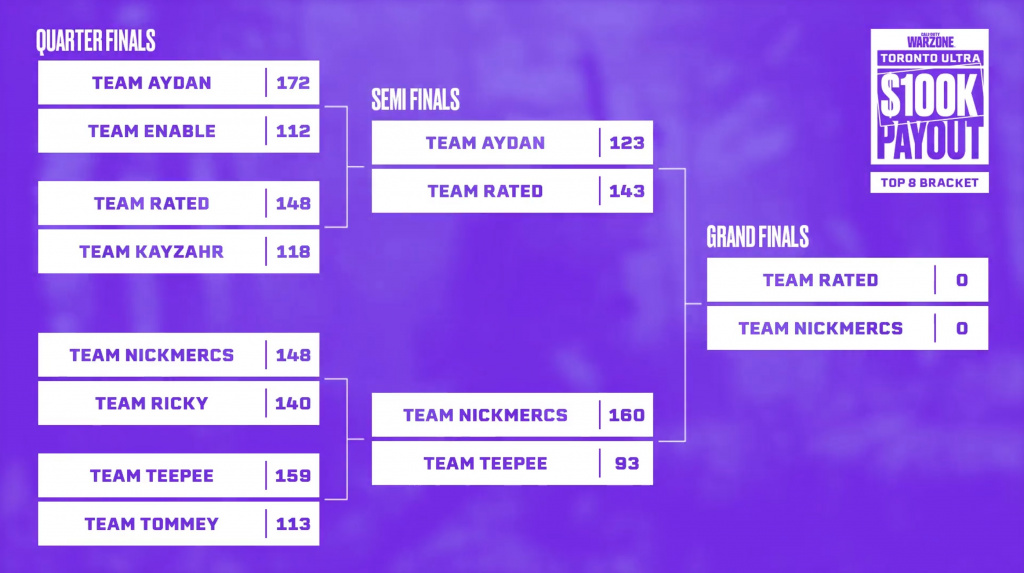 The Toronto Ultra Warzone bracket (Picture: Toronto Ultra)
The first map score in the grand finals couldn't have been closer, as a tie actually took place with both teams scoring 95 points.
However, Team NICKMERCS managed to beat Team Rated by the skin of their teeth, with the grand final score ending up at 185 versus 178 in the favour of Team NICKMERCS.
The final team standings and results for Toronto Ultra Warzone is:
1st place - $50,000 (NICKMERCS)
2nd place - $30,000 (Rated)
3rd & 4th place - $10,000 (Aydan & TeePee)
5th to 8th place - $3,000 (Enable / Kayzar / Ricky / Tommey)
In case you couldn't watch the action live, you can watch the entire final day of the Toronto Ultra Warzone tournament below.