Cheating is severely frowned upon in gaming, especially if you're a Twitch streamer trying to lure viewers with your prowess, only to realise unfair advantages like hacks taint the experience for everyone involved.
This is the case of MrGolds, a Call of Duty: Warzone streamer that accidentally revealed he was using cheats while streaming on his channel. Twitter user ERA7E captured the moment of MrGolds waiting on a Warzone lobby, criticising those who could spot he was indeed cheating, trying to defend himself.
"Just because I have good recoil, I'm good at the game. (This is) the first time you see someone good at the game. I play, and I look at the chat, and it's like, what's going on? You know what I'm saying? What's going on, guys? Have you ever seen anyone play like me?" MrGolds said during the clip.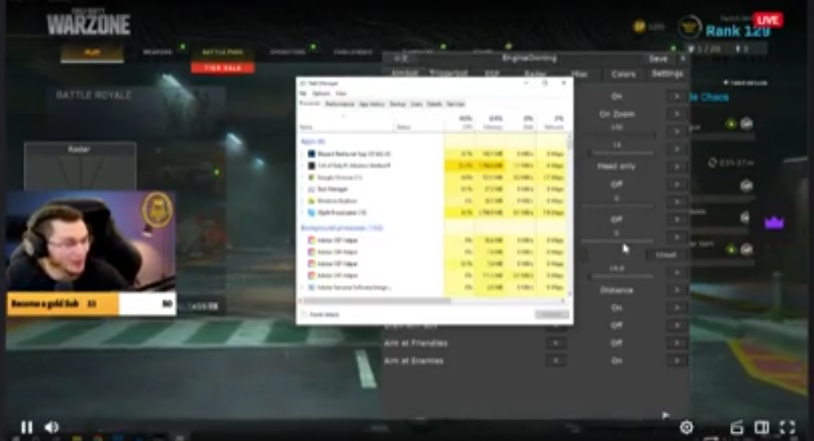 The EngineOwning hacks can be spotted behind the task manager (Photo: MrGolds)
Sadly for the streamer, you can spot an EngineOwning tab while streaming. The service delivers users with a variety of cheats for games like Modern Warfare and Warzone. "We believe that everyone should have the ability to win and enjoy online matches," the creators mention on the official website.
The cheats offered as part of EngineOwning's deal include aimbot with features to make it less obvious such as smooth aim, fire delay, and aim delay.
Despite an Instagram post made by MrGolds claiming he was not using cheats, Twitch acted swiftly, deleting his channel, most likely permanently, as their community guidelines forbid cheating in any capacity.
For many Warzone players, dealing with cheaters has become a clear pain, turning them off from the game while Infinity Ward comes up with a solution.