It is no secret that the launch of Call of Duty: Vanguard and Warzone Pacific Season 1 didn't exactly sit well with fans. Some believe that not even Microsoft's acquisition of Activision Blizzard can save Warzone, and others hope for a completely fresh, new start, on a better engine, focusing on new hardware for a true next-gen battle royale experience. That's where the rumours of COD Warzone 2 come into play, and they are from some credible sources.
Getting all excited about the possibility of a brand-new battle royale in the Call of Duty universe, we provide you with speculation on Warzone 2's release date, platforms, weapons, maps and more.
Please note that we will endeavour to update this article once more information about Warzone 2 and its content becomes available. No images inside this article are from Warzone 2, as it has not been officially revealed.
What is Warzone 2's release date?
At the time of writing, there's no official release date for Warzone 2. While Activision has yet to even announce the next battle royale experience, we can speculate a bit.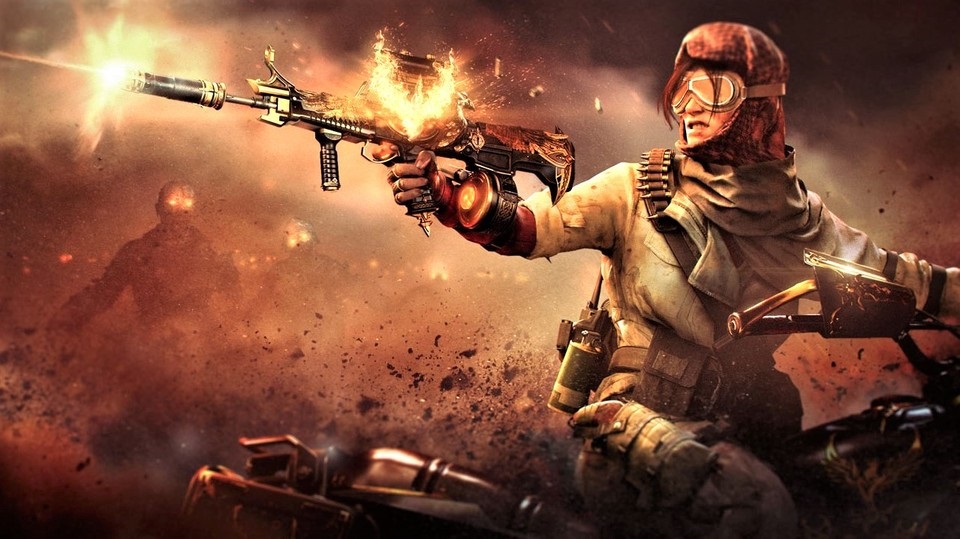 Warzone released in March 2020, and players really shouldn't expect Warzone 2 to release this year. Instead, the earliest release date window we can estimate for Warzone 2 is late 2023, and this estimation is based on a tidbit of platform information.
Warzone 2: Expected platforms
Warzone 2 is expected to be a current-gen experience. To be clear, this means Warzone 2 might only be available on PS5, Xbox Series X/S, and PC.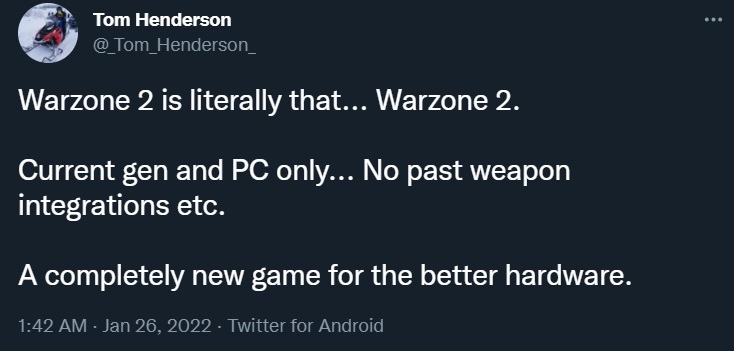 According to industry insider Tom Henderson on Twitter: "Warzone 2 is literally that... Warzone 2. Current gen and PC only...No past weapon integrations etc.  A completely new game for the better hardware."
Mr Henderson went on to explain the current-gen situation, and mentioned next year's COD title as well: "I think Xbox and Sony are producing 20-25 million current-gen consoles combined now. There's 20 million or so already in circulation, so 60 million minimum by the time it releases. COD 23 is also current-gen only as well last I heard. All just depends on COVID."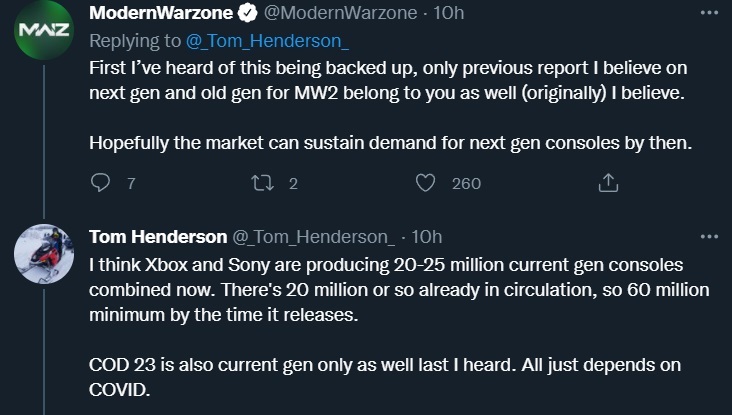 Therefore, the expected platforms for COD Warzone 2 is PC, PS5 and Xbox Series X/S, with PS4 and Xbox One consoles being left behind.
Warzone 2 weapons and map
Industry insider Tom Henderson explained that there will be "No past weapon integrations" in Warzone Season 2.
For a lot of players, the number of weapons in Warzone Pacific is just too high, as multiple COD titles' guns have been integrated, even from different eras. A smaller, more focused list of weapons could be exactly what Warzone 2 needs, and if the game wants to be successful, Activision will surely have to ramp up their anti-cheat efforts even more.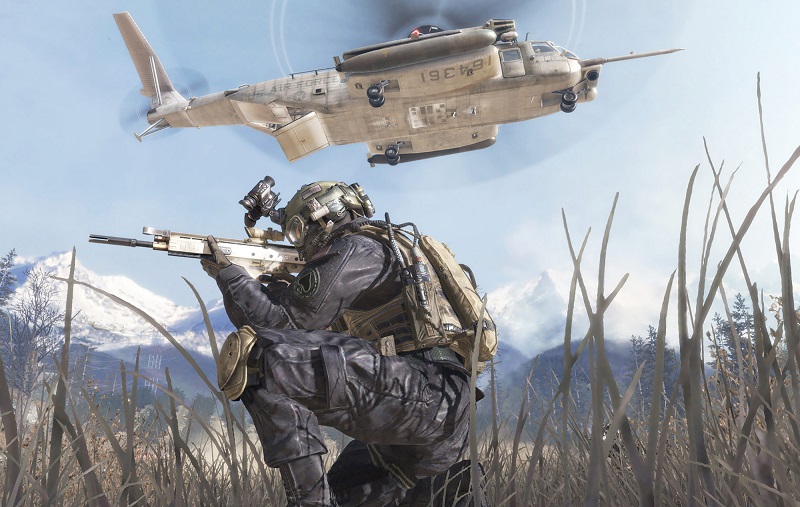 With Warzone 2 being a completely new game, we expect a completely new map as well, and multiple game modes to go along with it. Speculation is that Warzone 2 could feature a modern or even futuristic map, depending on the setting and timeline of Call of Duty 2023.
Remember to take information such as this with a grain of salt until Warzone 2's content details are officially revealed to the world. The information inside this article will be updated once we know more.
At the time of writing, it is based on speculation and recent rumours from an industry insider.
Don't forget to check out our dedicated Call of Duty section for news, guides, tier lists and much more on the iconic FPS franchise.
Featured image courtesy of Activision.
---
For more Call of Duty news, be sure to check out our dedicated section or some of our MW2 Guides & Tutorials below:
Modern Warfare 2 Guides - Jack Links Skin | Unlock All Operators | Check Server Status | Get Twitch Drops | Post-Credit Scene Explained | Unlock Gold Camo | Get Burger Town Operator | MGB Nuke | Unlock Every Weapon | All Killstreaks| Safe Code Locations|Check KD Ratio|XP Farm Trick|Chopper Gun Glitch|Weapon Tuning|Change Name Color|Hardcore Tier 1 Mode| Turn Off Crossplay|Steam Deck| Raid: Atomgrad | How To Play "Support A Team" | Unlock Orion Camo | Aim Assist Settings | 
Modern Warfare 2 Fixes & Issues-Best NVIDIA GeForce Drivers | Dev Error 6036 | MW2 Missing Items | Unlimited Tactical Sprint Bug | Stuck On Installing Bug | Display Name Not Allowed Bug|Gold Camo Not Unlocking|Voice Chat Not Working| Display FPS Counter | 
Best Modern Warfare 2 Loadouts -  Best Weapon Tier List |  M4 Loadout|  PDSW 528 Loadout|TAQ-V Loadout|M4 Loadout|Fennec 45| No Recoil M4 Loadout | SA-B 50 Loadout | Kastov-74U Loadout |