Since its launch in early December 2021, both Call of Duty: Vanguard and Warzone Pacific Season 1 has been filled with issues. Many players are hoping for a refreshed battle royale experience in the Call of Duty universe, and recently, famous content creator Dr Disrespect said that not even Microsoft can save Warzone, referring to Microsoft's acquisition of Activision Blizzard. So what's the answer to all the issues the developers are facing with the battle royale? Probably Call of Duty: Warzone 2 right?
Recent rumours have started to surface about the possibility of Warzone 2, and what this new battle royale experience could be.
Please note: No images inside this article is from Warzone 2, as it has not been officially revealed.
What is COD Warzone 2?
According to Bloomberg's Jason Schreier in a report about the next Call of Duty titles coming to PlayStation despite Microsoft's purchase of Activision Blizzard, there's a very interesting tidbit of information.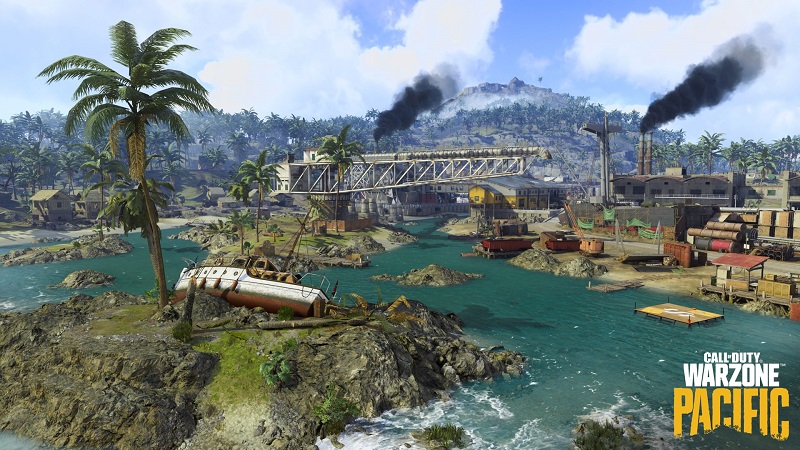 In the report, Jason Schreier mentions that four people with knowledge of the deal spoke anonymously, mentioning this year's Call of Duty (a new Modern Warfare) as well as this little gem: "The deal also includes a planned new iteration of Call of Duty Warzone, the lucrative free-to-play game that was released in 2020."
Interestingly, industry insider Tom Henderson recently took to Twitter to specifically mention Warzone 2.
The insider states: "Warzone 2 is literally that... Warzone 2. Current gen and PC only... No past weapon integrations etc.  A completely new game for the better hardware."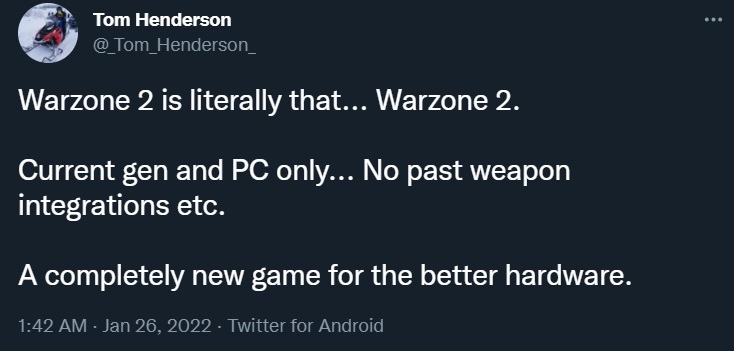 No additional information is available at this time but with all the current issues, a completely new experience in the form of Warzone 2 does make a bit of sense.
This means that we could see Warzone 2 drop the Xbox One and PS4 series of consoles entirely. It is, however, expected to release in 2023 at the earliest, so that more gamers can actually own a next-gen console, with stock remaining stretched at this time.
Please remember to take information such as this with a large helping of salt until such time as Activision officially reveals details about Call of Duty: Warzone 2. 
Don't forget to check out our dedicated Call of Duty section for news, guides, tier lists and much more on the iconic FPS franchise.
Featured image courtesy of Activision.
---
For more Call of Duty news, be sure to check out our dedicated section or some of our MW2 Guides & Tutorials below:
Modern Warfare 2 Guides - Jack Links Skin | Unlock All Operators | Check Server Status | Get Twitch Drops | Post-Credit Scene Explained | Unlock Gold Camo | Get Burger Town Operator | MGB Nuke | Unlock Every Weapon | All Killstreaks| Safe Code Locations|Check KD Ratio|XP Farm Trick|Chopper Gun Glitch|Weapon Tuning|Change Name Color|Hardcore Tier 1 Mode| Turn Off Crossplay|Steam Deck| Raid: Atomgrad | How To Play "Support A Team" | Unlock Orion Camo | Aim Assist Settings | 
Modern Warfare 2 Fixes & Issues-Best NVIDIA GeForce Drivers | Dev Error 6036 | MW2 Missing Items | Unlimited Tactical Sprint Bug | Stuck On Installing Bug | Display Name Not Allowed Bug|Gold Camo Not Unlocking|Voice Chat Not Working| Display FPS Counter | 
Best Modern Warfare 2 Loadouts -  Best Weapon Tier List |  M4 Loadout|  PDSW 528 Loadout|TAQ-V Loadout|M4 Loadout|Fennec 45| No Recoil M4 Loadout | SA-B 50 Loadout | Kastov-74U Loadout |