Call of Duty: Warzone is about to receive a complete overhaul on 8th December when the long-awaited Pacific update hits the game, ditching Verdansk in favour of the new, tropical, Caldera. 
The new map is far from the only thing coming to the free-to-play battle royale, as plenty of fresh weaponry will also become available, alongside playlists to showcase every change in Warzone Pacific. 
If you're feeling overwhelmed with everything that's coming to Warzone with the Pacific Season 1 update, don't worry, we've broken it all down for you.
It's worth noting that when we mention the update being available on 8th December, that's exclusively for Vanguard owners, if this isn't your case, you'll have to wait until the 9th.
Warzone Pacific Season 1 - patch notes
The following will be available starting 8th December for all players: 
40 Weapons: The core 38 weapons from Vanguard's launch, plus two free functional weapons in the Season One Battle Pass.
Over a Dozen Operators: Each of the Operators from S.O.T.F. 002–005 are ready to drop in alongside Special Operations Task Force 006 arriving this season.
Calling Cards, Emblems, and more.
Cross-progression between Vanguard and Warzone will be enabled, allowing you to rank up through Seasonal Prestige and unlock new content through the Battle Pass and Challenges.
Vanguard Royale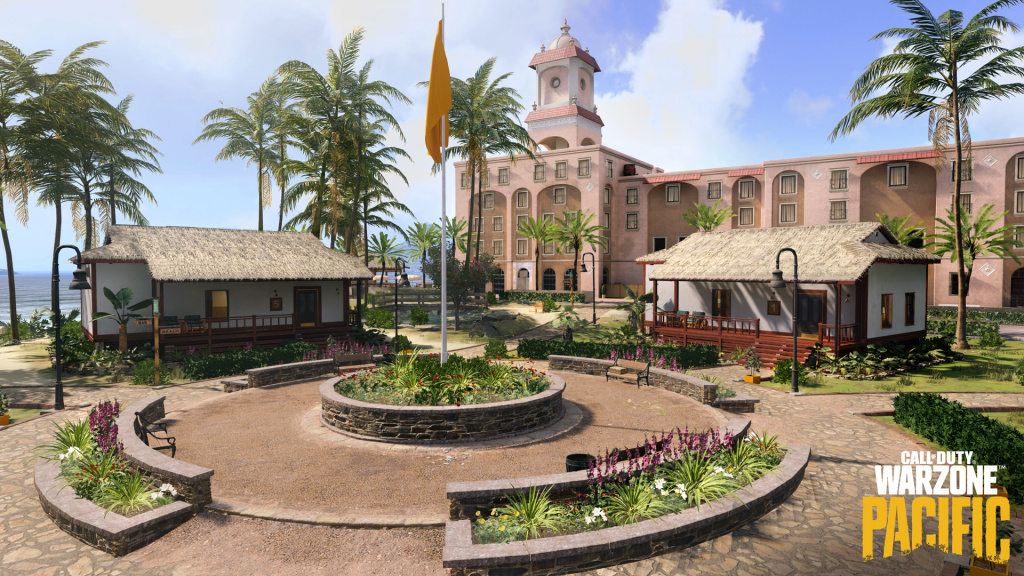 Available for all on the 9th, with Vanguard users getting to try it a day earlier, this mode will only feature vehicles, weapons, and loadouts from Vanguard.
New Vehicles and Dogfighting. Fly fighter planes that rain down fire on foes or head for the AA guns or trucks to shoot them out of the skies. There are also other ground-based vehicles, including a Squad Transport all-terrain car that will help your squad cut through and around the island.
A Focus on Vanguard Weapons. Loadouts can only contain Vanguard weaponry, streamlining the meta for more accessibility and room for experimentation. Expect all weapons around the island to also be from Vanguard. Operator selection is also limited to Vanguard soldiers.
Circle Collapse Changes, In-Game Events, and more. The radii and times for Circle Collapses are altered to offer a different pace of play, especially with dogfighting overhead. Also, expect an in-game event at each Circle Collapse, Bombing Runs, and different items both within Caldera's overworld and contract rewards.
Warzone Pacific Season 1 battle pass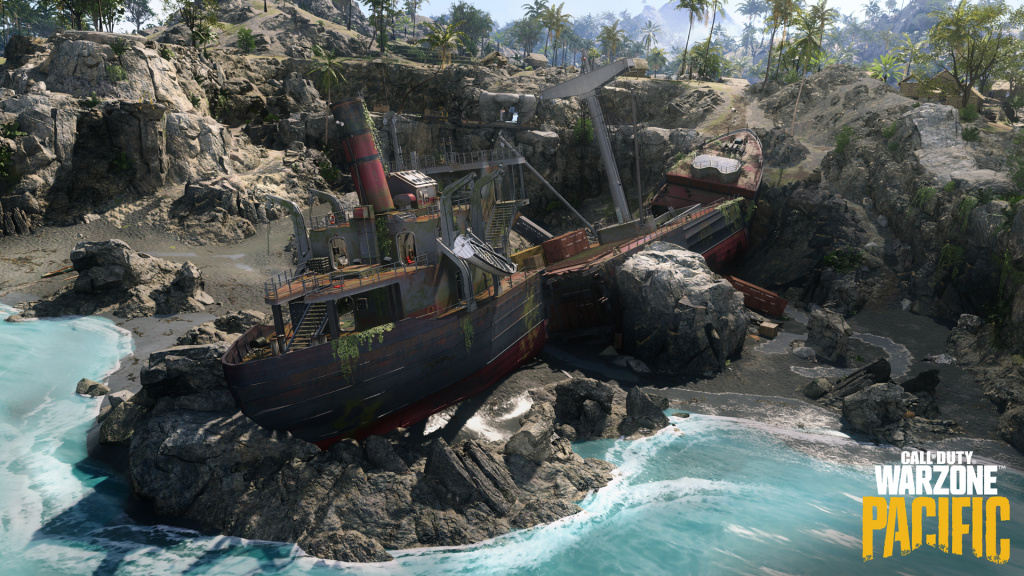 No specifics were shared regarding the Pacific Season 1 battle pass, we do have confirmation that it will feature two exclusive weapons only available through completion of it.
With cross-progression on deck right from the get-go, players should feel rewarded regardless of if they're playing Warzone or Vanguard multiplayer.
For more details, check the full Activision blog post right here.
Make sure to give a look at our dedicated section as we will bring you everything you need to know about every COD Warzone news, loadout tips and more.
Feature image courtesy of Activision
---
For more Call of Duty news, be sure to check out our dedicated section or some of our MW2 Guides & Tutorials below:
Modern Warfare 2 Guides - Jack Links Skin | Unlock All Operators | Check Server Status | Get Twitch Drops | Post-Credit Scene Explained | Unlock Gold Camo | Get Burger Town Operator | MGB Nuke | Unlock Every Weapon | All Killstreaks| Safe Code Locations|Check KD Ratio|XP Farm Trick|Chopper Gun Glitch|Weapon Tuning|Change Name Color|Hardcore Tier 1 Mode| Turn Off Crossplay|Steam Deck| Raid: Atomgrad | How To Play "Support A Team" | Unlock Orion Camo | Aim Assist Settings | 
Modern Warfare 2 Fixes & Issues-Best NVIDIA GeForce Drivers | Dev Error 6036 | MW2 Missing Items | Unlimited Tactical Sprint Bug | Stuck On Installing Bug | Display Name Not Allowed Bug|Gold Camo Not Unlocking|Voice Chat Not Working| Display FPS Counter | 
Best Modern Warfare 2 Loadouts -  Best Weapon Tier List |  M4 Loadout|  PDSW 528 Loadout|TAQ-V Loadout|M4 Loadout|Fennec 45| No Recoil M4 Loadout | SA-B 50 Loadout | Kastov-74U Loadout |