With the
Haunting of Verdansk event running in Warzone
from 20th October to 3rd November, there's a whole lot of content for players to enjoy. One of the new additions is a Trick or Treat scavenger hunt, where players are tasked to find Supply Boxes scattered through Verdansk. Here are the locations of the Trick or Treat Supply Boxes, and the rewards you can get.
Warzone Trick or Treat Supply Box locations
The Warzone Trick or Treat Supply Boxes spawn at various locations across Verdansk, specifically, 16 locations in total.
These Supply Boxes for the Trick or Treat event contain various items (see the next section) and some also hold a "Terrifying Fright". Thankfully, the fright deals no damage, so you don't have to worry about your search for Trick or Treat supply boxes negatively impacting your match. 
The first location for the Trick or Treat Supply Boxes in Warzone is the moving train. Then, you can also find these Supply Boxes in 15 other locations, as outlined below.
Sector One – North
Gora Dam
Arklov Peak Military Base
Karst River Quarry
Sector Two – West
Verdansk International Airport
Storage Town
Atlas Superstore
Zhokov Boneyard
Sector Three – Southwest     
Hospital
Novi Grazna Hills
Sector Four – Central and South
BCH TV Station
Verdansk Stadium
Downtown
Sector Five – East
Gorengrad Lumber Yard
Port of Verdansk
Zordaya Prison Complex (Gulag)
Part of the fun in this Trick or Treat scavenger hunt is heading to these locations and searching for the Supply Boxes. Spawns seem to be random, so enjoy the hunt some great rewards.
Trick or Treat rewards in Warzone
There are some great rewards for the Trick or Treat scavenger hunt in Warzone with the Haunting of Verdansk. 
In total, players can get 16 rewards, from weapon blueprints to charms and more. After you've managed to unlock all 16 rewards by opening Trick or Treat Supply Boxes, you will also get an additional reward in the form of a "Pumpkin Punisher" Legendary Assault Rifle Blueprint.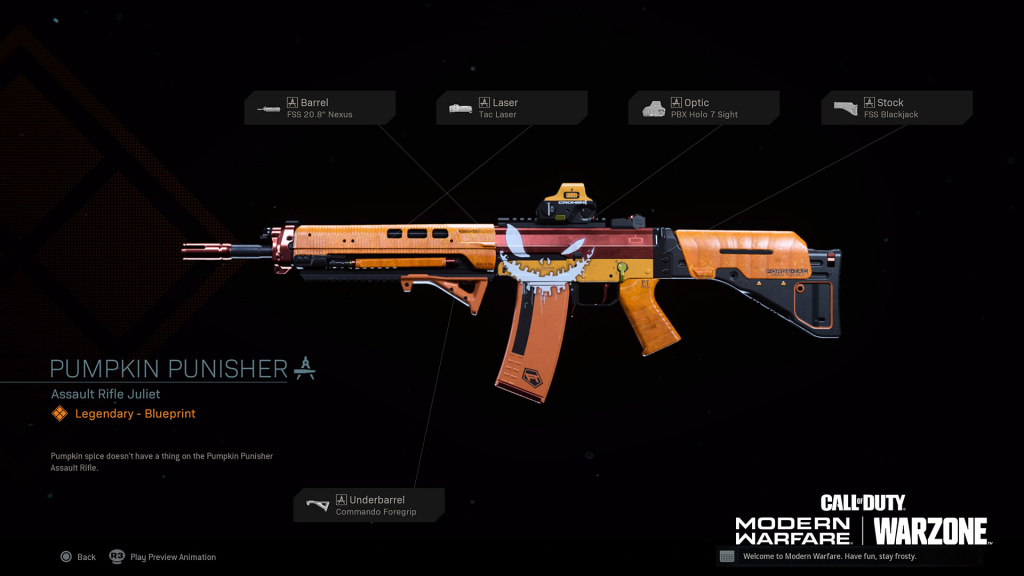 (Picture: Activision)
Check out the full list of Trick or Treat rewards from the spooky Warzone event below.
Spooky Scene Animated Calling Card 
Jack-O-Lantern Charm
Skeleton Crew Spray
Time of the Season Watch
Lil' Demon Charm
The Joker Sticker
The Woodsman Spray
Return to Dust Assault Rifle
Pumpkin Peril Animated Calling Card
Freak of Nature Spray
Chainsaw Fiend Spray
Flashy Fate Sticker
The Harvester Animated Emblem
Ghoulish Gift Animated Emblem
Scary Patch Animated Emblem
The Cleaver Melee Weapon Blueprint
Keep an eye out for the Warzone Trick or Treat Supply Boxes across the map, and claim all the rewards before 3rd November 2020.