Day 1 of the Warzone Royal Ruckus saw fifty Trios battling it out in a pub stomp format in an attempt to secure just one of eight places in the Day 2 finals. Of course, with teams fronted by the likes of Nick "NICKMERCS" Kolcheff and Vikram "Vik" Barn, it was going to be a tournament filled with high kill games, however, one team stood out above the rest when the dropped a world record-breaking 93 kill game.

(Picture: Metaphor)
It was a result that catapulted the Trio, comprised of "Metaphor", Drew "Frozone" and Sean "MuTaySean" Ellis, into 1st in the leaderboards and a place in the history books.
They may not be exactly household names but these guys are no flash in the pan, Metaphor sits in 9th place in the Warzone kill charts, with Frozone in 8th, while MuTaySean is a two-time Call of Duty National Champion. 
The previous Trio world record was held by Apathy, Pristahh, MuTeX who managed 92 kills, but this new record is extra special because it was completed during a tournament.
Their record though was not totally without its detractors with some noting that this is one of the few times that the new 'Jailbreak' event, which sees everyone who has been relegated to a spectator role given another chance to drop in and which was activated during this game, played a part in their ability to get so many kills.
The guys clearly knew they had the ability to break it, when they were sitting on 23 kills one can be heard saying that, "We can beat the record by the way." Another tries to keep focused saying; "I know, I know, let's just do this."
Whatever the circumstances they had to do it, do it they did, having sat in 2nd place for much of the Day 1 the huge point game put them into 1st, a placement they held for the rest of the day.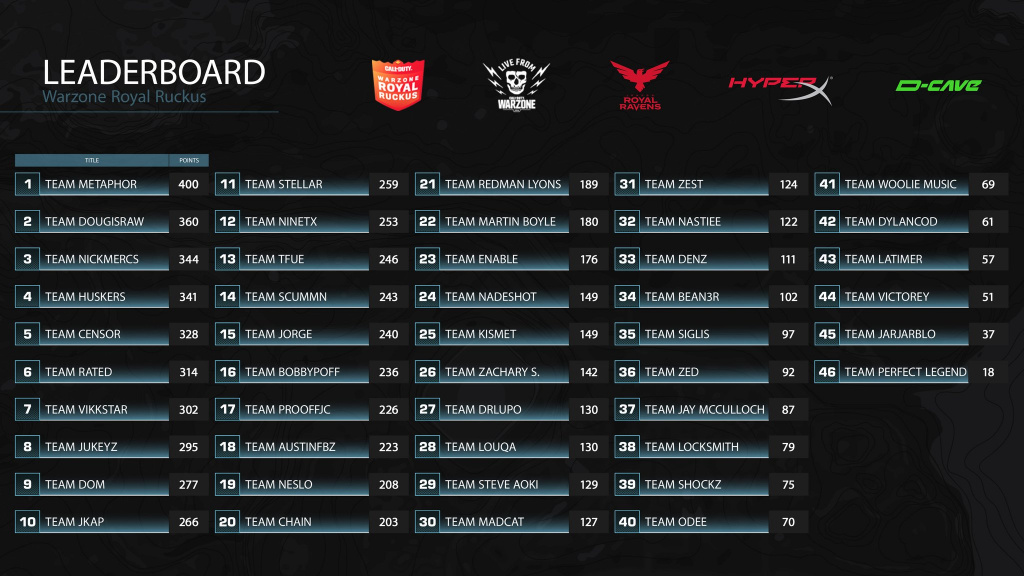 (Picture: London Royal Ravens)
Metaphor will enter Day 2 as favourites with the performance today all but guaranteeing their place in the quarter-finals. There are some stacked teams here, and when it comes down to just eight teams the dynamics change and it is anyone's game.
For all the info you need before Day 2 and a look at the format and schedule check out our Warzone $150K Royal Ruckus viewing guide.