To celebrate the
launch of Season 4
of Call of Duty: Modern Warfare, Call of Duty League team the London Royal Ravens paired up with HyperX, D-Cave and Activision Blizzard to host the Warzone Royal Ruckus, a two-day event with a 0,000 prize pool.
150 players took part featuring a mix of COD pros content creators like Turner "Tfue" Tenney and Nick "NICKMERCS" Kolcheff, as well as a number of bonafide celebrities from the world of music and sport.
It was all in support of the Equal Justice Initiative a charity which is committed to ending mass incarceration and excessive punishment in the United States. $100,000 was donated with another $50,000 going to the top four teams.


(Picture: London Royal Ravens)
It was a great event, which saw one team beat the Trio World Record for kills in Warzone, while the winners have been accused of playing dishonestly.
Here is everything you need to know about the event.
Warzone Royal Ruckus Final Standings

London Royal's very own Skrapz, and his trio ultimately took home first place and $30,000 after defeating Team Huskers in the final.
However the result but was not without controversy as it emerged that the Trio were playing with cross-play play set to 'off' meaning they were only matched against other PS4 players, a distinct advantage in a pub stomping format.
Everyone else was playing with cross-play turned on, and the Team Huskers were not best pleased with the found out that their opponent in the final had an easier time of it.
Got 2nd in the $150k Royal Ruckus tourney today w/ @Symfuhny and @aydan cause the opposing team has crossplay disabled LMAO ggs

— HusKerrs (@HusKerrs) June 13, 2020
Others, like COD pro Censor, accused the winning Trio of outright cheating, but having cross-play turned on wasn't actually a tournament rule and it appears was likely an overlooked stipulation by the tournament organizers.
So the team that knocked us out played on PS4 lobbies only and acted like they didn't know cross play should be enabled.

Tournament did not have a rule and they took advantage of it.

Competitive integrity needs to be communicated clearer.

— Censor (@Censor) June 13, 2020
And while that is a slightly sour note for the tournament to end, it doesn't detract from the great Warzone action we witnessed or the money raised for a good cause. 
Metaphor entered the day as the no.1 ranked team after dropping a world record 93 kill game. They were dumped out by Team Stellar in the quarter-final before they themselves were put out by eventual winners Skrapz. 
Team NICKMERCS and Rated also went out in the quarter-finals which set up a match against DougisRaw and Huskers, it was close but Huskers pulled away with 109 points booking their place in the final.
Then, it was Skrapz vs Huskers with team Skrapz scrapping over the finish line with 108 to 106 points. 

Day 1 Recap
It was a crazy day of action and those that tuned in witnessed Team Metaphor top the table with a performance that included a Trio kill world record, wracking up 93 kills in a single game.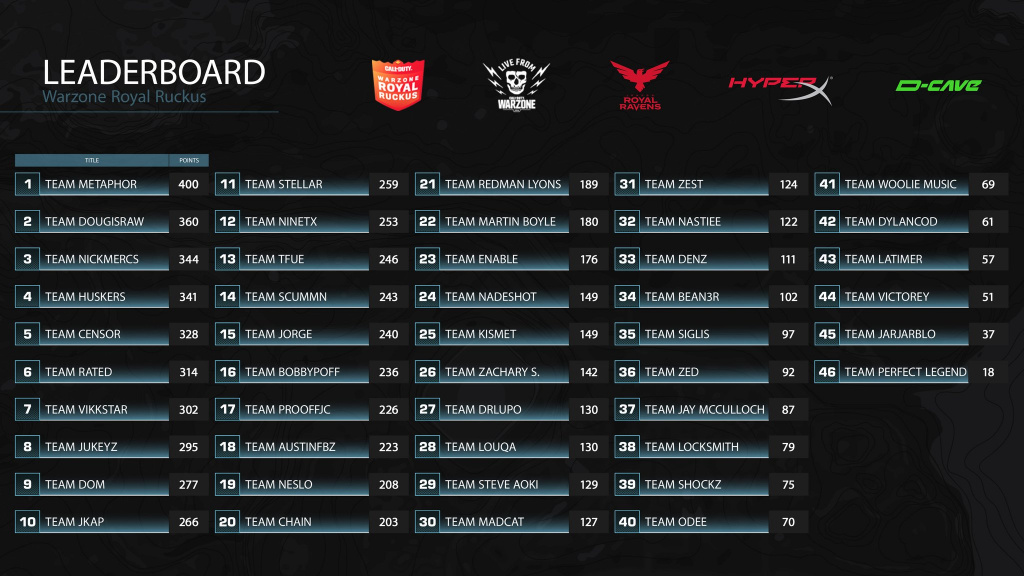 (Picture: London Royal Ravens)
Schedule
I know you probably just read but to be clear, this is a two-day event.
Day 1: Thursday, 11th June kicks off at 10 am PT / 1 pm ET / 6 pm BST
Day 2: Friday, 12th June kicks off at 10 am PT / 1 pm ET / 6 pm BST
Each day is scheduled to run for four hours.
Format / Scoring System
The format will be familiar to those that have tuned into Keemstar's Warzone Wednesdays or NICKMERC's MFAM Gauntlet.
A kill race on public servers, teams will be comprised of three players aka Trios, with a COD pro, influencer and celebrity making up each team.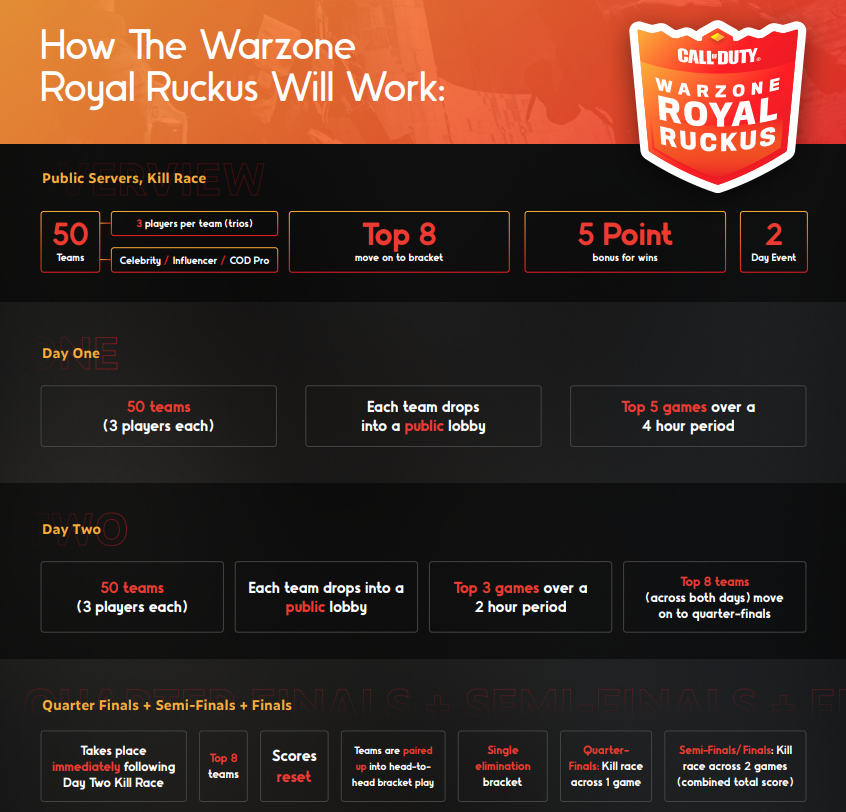 (Picture: London Royal Ravens)
Prize Pool
The tournament will have a total prize pool of $150,000 with $100,000 of the winnings going to the Equal Justice Initiative, which is committed to ending mass incarceration and excessive punishment in the United States. The other $50,000 will be split among the top four teams with $30,000 going to the top team.
Teams / Players
Teams have yet to be announced but these are the celebrities and pro gamers/content creators confirmed to be in attendance.
We will update this as and when the information becomes available.
Celebrities:
Rudy Gobert - Two-time NBA Defensive Player of the Year
Steve Aoki - Music legend and member of Rogue ownership team
Jofra Archer - Pro international cricketer for England 
Taylor Fritz - Avid gamer and first tennis pro to invest in esports
Landon Collins -  Washington Redskins strong safety and ReKTGlobal investor
Nicky Romero - International DJ and producer
Pro Gamers:
Wuskin -  London Royal Ravens
Skrapz - London Royal Ravens
Tfue - Top streamer and Fortnite player
SypherPK - Pro Fortnite player and top streamer
Huskers - Warzone Solos World Record setter
DaisyMichelle - Top YouTube content creator
Tommey - Team Envy
NICKMERCS - Former MLG National Champion 
Teams
How to watch the Warzone Royal Ruckus
The Royal Ruckus will be streamed on the official Call of Duty Twitch channel. We have embedded the official broadcast for you below. It is likely that the content creators and pro gamers will be streaming their POV from their own streams so if you are a fan of NICKMERCS or want to get an education with SypherPK, pop into their channels.